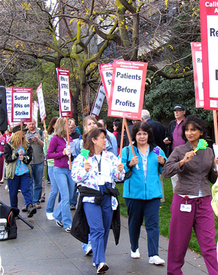 BERKELEY, Calif. — Nearly 5,000 registered nurses at 15 northern California hospitals walked the picket line Oct. 10-11 in the largest strike of RNs in the state in a decade. Most struck hospitals belong to the Sutter Health chain; two are associated with the Fremont-Rideout Health Group.
The nurses, members of the California Nurses Association (CNA), are demanding that Sutter improve its staffing practices to end unsafe conditions for patients. They object to the chain's proposals to close facilities or curtail services in San Francisco, Santa Rosa and San Leandro, which they say would especially hurt medically underserved communities. They also oppose Sutter's efforts to cut nurses' health benefits and are calling for a better retirement plan.
Joining the nurses on a noontime picket line at the Alta Bates Summit Medical Center here Oct. 10 were members of other unions including teamsters, autoworkers, teachers, government employees, professional and technical workers, and the University of California labor coalition.
More nurses, better care
A key demand is that state-mandated staffing levels should be maintained at all times including while nurses have meal and rest breaks, said Jim Ryder, CNA's director of collective bargaining for Northern California. He said CNA is also calling for each hospital to have a rapid response team including a critical care RN to stabilize patients in emergencies, and for each emergency department to have an admittance RN to speed patient assessments and placements.
Particular outrage has been sparked by a Sutter proposal that RNs should participate in a "wellness" program with coaching by a non-health-care professional. "We think this is an invasion of privacy," Ryder said, because nurses would be vulnerable to having their health information accessed by insurance companies.
Another example of profit before people
California Labor Federation head Art Pulaski said in a statement that Sutter is "refusing to ensure safe conditions for its patients," and "has sidestepped its patient-care responsibilities by deciding to close hospitals and reduce services simply so it may increase its bottom line."
CNA said 95 percent of RNs at the 15 hospitals participated in the strike. The nurses pledged to return to work Oct. 12, though the union said it would consider further labor action if Sutter fails to respond. But several hospitals locked the strikers out for additional days, citing their contracts with strikebreakers.
Sutter, officially a nonprofit entity, announced last spring that its net income jumped by nearly one-third last year and its operating profit increased by 28.1 percent.
mbechtel @pww.org