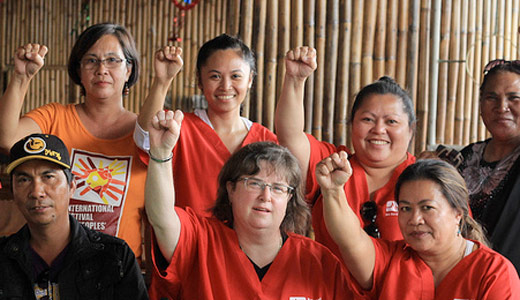 From California to Maine, nurses around the nation will be on hand in New York Sunday, September 21 to join with environmental, labor, health, and community activists in what is expected to be the largest global mobilization for action to stem the worsening climate crisis.
RNs will also be joining support actions Saturday in Los Angeles and Sunday in Oakland, Ca. and holding a pre-march rally Sunday in New York.
The great People's Climate March begins at 11:30 a.m. Sunday, September 21 on the West Side of Central Park in New York City, between 65th and 86th Streets, marching to 11th Avenue between 34th and 38th Streets. The National Nurses United (NNU) delegation will include RNs from California, Illinois, Kansas, Maine, Massachusetts, Minnesota, New York, and Texas.
Prior to the main march in New York, RNs will join with activists calling for a Robin Hood tax on Wall Street speculation that would set a small tax on trades of stocks, bonds, dividends and other financial transactions. They will gather at 10 a.m. at the corner of West 58th and Broadway.
The Los Angeles action is Saturday, September 20. RNs are convening at 1 p.m. at the corner of Wilshire and So. Benton Way.
In Oakland, Ca., RNs and other climate activists will rally Sunday from 2 to 5 p.m. at the Lake Merritt Amphitheater in Oakland, near 12th Street, near the Lake Merritt BART station.
NNU members also joined a rally in Chicago's Daley Plaza September 6 with climate activists who launched a cross-country march last spring from Los Angeles.
"We are facing a world health emergency," said NNU Co-President Jean Ross, RN. "Nurses now regularly see patients suffering a variety of ailments, from asthma and other respiratory illnesses to cardiovascular disease that are directly linked to environmental pollution, which is daily exacerbated by the climate crisis."
"Further delay, and inadequate and unenforceable treaties to mitigate global environmental pollution is no longer an option if life and our planet's health are to be protected and preserved," she said.
The march will take place on the eve of the United Nations Climate Summit with heads of state. Activists will call on national leaders to commit their governments to serious action to halt the further degradation of the global environment, as well as to support those nations already suffering the brunt of climate disruption.
Such commitments must be demonstrated at the UN COP20 climate treaty negotiations, set for December in Lima Peru, where similar social movement mobilizations are being organized.
The Robin Hood tax is embodied in HR 1579, introduced by Rep. Keith Ellison with more than two-dozen co-sponsors.
It could raise hundreds of billions of dollars every year with funding to be provided for attacking the climate crisis and cuts in public health programs as well as helping fund other human needs. RNs note that the climate crisis and austerity budget cuts are both contributing factors to the rise of global epidemics, such as the current Ebola outbreak.
RNs also support a carbon tax to finance the investment required to mitigate climate destruction and a just transition from fossil fuels to sustainable forms of energy and energy distribution.
Photo: RNs at climate crisis press conference following Typhoon Haiyan/Yolanda, NNU.