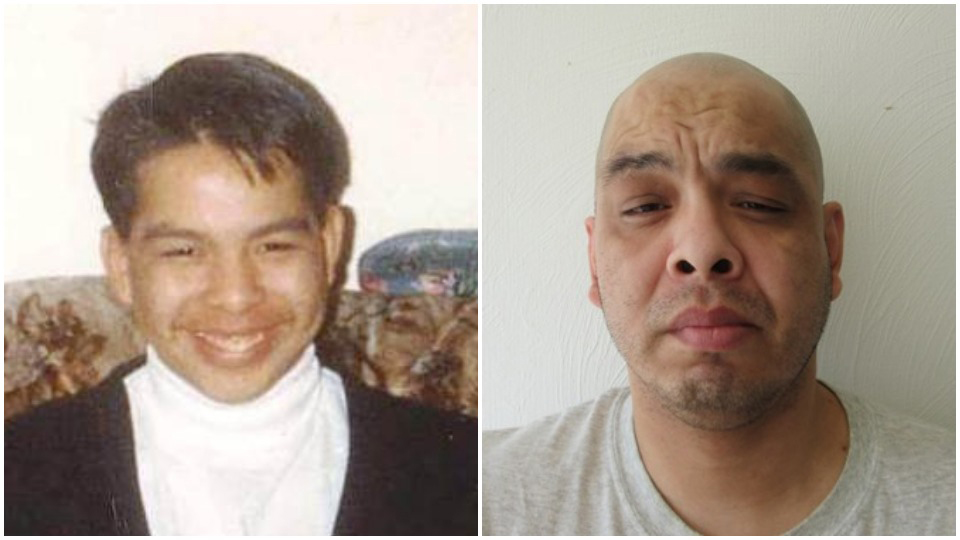 WEWOKA, Okla.—As Charles Mitchell hung his head in sweltering heat outside the Seminole County Courthouse, he wept. "I was so glad to see him, just to be a few feet away," he sobbed. "But it hurt so deeply to see him sitting by himself in chains."
Robert Mitchell was brought to Wewoka jail mid-afternoon on Tuesday, May 8, for his Post Conviction Relief hearing. Twenty-five years ago he sat inside a cell there. Surely this was disquieting for him. Twenty-five years ago, he was 15 years old.
Robert's step-sister Pearl Seaboy used social media for Indigenous people to come out to support Robert. About 65 folks from all over Oklahoma came to Wewoka at the Seminole County Courthouse. Wewoka is about 16 miles due south of I-40 and about 30 miles southeast of Prague, Okla., on Highway 56. The Natives there lined the court to an overflowing capacity. The 65 were all in pews with only 14 of the murder victim's family members. The police expected something, with their 11 officers placed all over the court. Yet the Native people silently were there for Robert. Robert smiled knowing he finally had folks behind him.
Pearl Seaboy said, "I actually seen him walk in the courthouse downstairs. I just stood there and watched till he got on the elevator. I waved and he smiled and I wanted to cry, but I was happy he was there for his own hearing. It's just hard knowing they took 25 years of his life."
I can tell you I caught myself fighting back tears, as I saw Robert sitting in a bright orange jumpsuit. Big black lettering on his back stated: INMATE. So degrading. In my mind, I reviewed the pictures of him at 15 years of age, and now today he's 41. So much of his life has been stolen from him.
In my previous article, I mentioned the Miller family who had taken Robert under their wing with his traditional and spiritual training. Members of the Miller family who took Robert to many a stomp ground were present at the hearing today. "My mom that was sitting beside me was Carol Miller," said a Miller family spokesperson who asked to remain anonymous due to her job security. "We are the Miller family that you wrote about in your article. My mom and dad kept Robert. He went to stomp dances with us. We are the family he was with when he was away from his dad and grandma. You know, it is so emotional for me," she admitted about being there and seeing Robert again.
Read Mark Maxey's previous coverage of the Mitchell case:

15 is too young for life without parole, especially if you're innocent
The hearing started about 3 pm on Wednesday, May 9th. Robert's attorney, D. Michael Haggerty III, at the beginning asked for a sidebar with the Hon. Judge George W. Butner and District Attorney Paul Smith, who was the Assistant DA during the original 1994 trial. The discussion reverberated softly off the granite walls for what seemed to be thirty minutes.
Around 3:30 pm the discussion ended. The judge told Robert Mitchell and the 80 people in the courtroom that a new trial would be held.
A KFOR television reporter stated, "Now, the family is hoping some recent United States Supreme Court rulings can help get him released." Such rulings, said DA Paul Smith, stipulate "that life without parole was not appropriate punishment for juvenile killers."
The only evidence—a bloody sock and shoe—were never tested for DNA.
"There was no DNA evidence, you know, there was so much that was missing from his original hearing and why he got such a harsh punishment at the age of 15," said Seaboy.
A pre-trial hearing is set for June 13, with a new trial to begin in November.
Seaboy told People's World that Robert's attorney would now for the first time be able "to review Robert's Juvenile Court evidence file."
My first article brought some challenges off of social media. Zzfat on Reddit stated:
"The Seminole Producer newspaper had a big article on it April 29th. Kids bloody footprints were near body. His shoe had her blood on them as well as a rag in his laundry basket. His socks had a bloody knife imprint wiped on them. His story changed with each new piece of evidence. Frankly the comments saying 15 year olds don't know right from wrong are just BS. For those wanting him released, let him live next door to your grandmother this time."
Charles Mitchell said exclusively to People's World, "No, that is not correct. I was at my boy's trial, and the only evidence admitted was a sock with speck of blood."
"First I've heard of it, and it's not truthful," Seaboy said. She was speaking to the remarks of a bloody rag found in a laundry basket and his sock having a bloody knife imprint. "What they said is just not the facts."
This People's World reporter is investigating the discovery evidence with the Seminole County Court Clerk's office. The Evidence Facts of Conviction has yet to arrive at press time. Robert's father, Charles, stated once again that the only evidence entered in the trial was a sock.
People's World will be at the hearing in June and the subsequent new trial. With over 60 Indigenous folks engaged, a fresh air of justice is in the air for a wrongfully convicted Indigenous man. Robert Mitchell has had a quarter-century of his life stolen from him. Freedom is the first step of healing.