Culver City, Calif. — Following last year's American premiere production of the musical The Braille Legacy, about the inventor of the Braille alphabet, the nation's only all-blind theater company has now seen fit to stage the "jukebox musical" Romeo Rocks the 80s, a version of Shakespeare's Romeo and Juliet with additional commentary in the form of classic songs from the 1980s.
"Seen fit?" People need to watch their language! Can we use an expression like that about blind performers?
I used to find myself apologizing for using expressions like that with my late husband Ruben, who was blind. But he'd always reassure me, saying, "There are many ways to see," and I know Louis Braille would have agreed.
Would William Shakespeare have understood that? It's notable that among the most romantic and telling utterances in this play there's such an abundance of reference to eyes, vision, and light. The actors in this staging bring a unique poignancy to these lines (not all are included in this abridged version):
[Romeo; these two passages refer to Romeo's earlier love interest, Rosaline]
One fairer than my love! the all-seeing sun
Ne'er saw her match since first the world begun.
[Benvolio] Tut, you saw her fair, none else being by,
Herself poised with herself in either eye.
[Romeo, upon beholding Juliet for the first time]
O, she doth teach the torches to burn bright!…
The measure done, I'll watch her place of stand,
And, touching hers, make blessed my rude hand.
Did my heart love till now? forswear it, sight!
For I ne'er saw true beauty till this night.
[Romeo, at Juliet's balcony]
But, soft! what light through yonder window breaks?…
She speaks, yet she says nothing: what of that?
Her eye discourses, I will answer it.
I am too bold, 'tis not to me she speaks:
Two of the fairest stars in all the heaven,
Having some business, do intreat her eyes
To twinkle in their spheres till they return.
What if her eyes were there, they in her head?
The brightness of her cheek would shame those stars,
As daylight doth a lamp; her eyes in heaven
Would through the airy region stream so bright
That birds would sing and think it were not night.
[Friar Laurence, as Romeo asks to marry Juliet]
Holy St. Francis, what a change is here!
Is Rosaline, that thou didst love, so dear,
So soon forsaken? young men's love then lies
Not truly in their hearts, but in their eyes.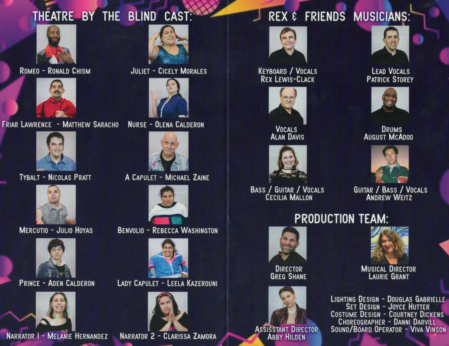 There's much more, of course, but you see what I mean.
The star-crossed lovers in this all-blind production certainly have found "many ways to see."
Music for the show is provided by Rex & Friends, named in honor of Rex Lewis-Clack, who was born blind and then diagnosed with autism as a toddler. This program provides support and training in musical abilities and performance opportunities for individuals with disabilities. Rex appears on keyboard and has the entire score memorized. He often joins in the singing as well. August McAdoo plays drums, vocals are provided by lead Patrick Storey and Alan Davis, and the two other musicians, on bass, guitar, and vocals, are Cecilia Mallon and Andrew Weitz.
Romeo Rocks the 80s features hit songs such as "Holding Out for a Hero," "Live and Let Die," "Beat It," "The Rose," "Wanted Dead or Alive," and "In Your Eyes," as well as original raps by the cast. The lead rap artist in the show (and break dancer) is the Romeo, Ronald Chism, who also provided rap commentary in the Braille production. Musical direction is by songwriter Laurie Grant.
It seems appropriate, for the age we live in, in a country so in need of "sexual healing" in Marvin Gaye's concept, to mount Romeo and Juliet in any form. Has the U.S. ever been so divided as now, with our modern Capulets and Montagues?
Romeo Rocks the 80s is presented under the aegis of ArtsUp! LA, a nonprofit theater and arts program serving people with disabilities, military veterans, and opportunity youth. They remove barriers to participation and provide unlimited possibilities for artistic expression, building diverse artists and audiences who are changing how the arts are presented and experienced. One of their programs called The Butterfly Effect, takes performers into schools for dialogue about disability.
One of the guiding principles of the program is "Saying Yes," which they explain: "The arts must work for everyone. We promote optimism in all we do, shouting YES to ideas and possibilities. We break barriers and destroy boundaries because we can. We say yes. Every time."
At the conclusion of the opening night performance (April 21), director Greg Shane, ArtsUP! LA's artistic director and co-founder, who is himself blind in his right eye, told us that some of the performers we'd seen had never been on a stage before, and never taken a step without their canes. Floor mats "map" the stage to help orient them to entrances and exits, enabling them to walk unassisted. Nor had they ever worked with such a large cast and creatives that encouraged both their self-confidence and their commitment to work as a team. This show, he said, "had more heart than any cast I've worked with in 20 years," despite the demanding Shakespeare dialogue with its difficult hurdles.
Shane introduced a few of the performers. The Juliet of the production, Cicely Morales, said she has appeared in a number of TV and theater projects, always playing some version of herself. But she is excited by this role because it has nothing to do with disabilities. Apart from giving her the opportunity to sing before a live audience, "we're flipping the script, not by playing ourselves, but other characters." "This program," she said, "has meant the world to me."
A production like this will surely convince audiences that blindness is no impediment to living a full, meaningful life. The blind—and more pointedly, the general public—must value people for what they are able to do, not what they are unable to do. "From each according to their ability," we should have learned by now, "to each according to their need."
"We all battle with obstacles in our lives, but the blind actors and characters in this production face challenges steeper than most," says Shane. "It is the experience and living truth of the actors that fill these characters' stories with physical and emotional authenticity."
Other cast members include Matthew Saracho as Friar Lawrence, Olena Calderon as the Nurse, Nicolas Pratt as Tybalt and Paris, Michael Zaine as a Capulet, Julio Hoyas as Mercutio, Rebecca Washington as Benvolio, the preteen Aden Calderon as the Prince, Leela Kazerouni as Lady Capulet, Melanie Hernandez and Clarissa Zamora as Narrators.
On the production team, Dopulas Gabrielle provided the lighting design, Joyce Hunter the set design, Courtney Dickens the costume design, Danni Darvill the choreography, and Viva Vinson serves as sound designer and board operator.
Romeo rocks through May 6, Fri. and Sat. at 8 pm, and Sun. at 3 pm, at the company's 50-seat theater, The Blue Door, 9617 Venice Blvd., Culver City 90232. Tickets are available online or at The Blue Door's box office. On opening night, the director announced the show as sold out except for May 5, but who knows, it might still be possible to obtain tickets for other performances in case there are cancellations.
We hope you appreciated this article. At People's World, we believe news and information should be free and accessible to all, but we need your help. Our journalism is free of corporate influence and paywalls because we are totally reader-supported. Only you, our readers and supporters, make this possible. If you enjoy reading People's World and the stories we bring you, please support our work by donating or becoming a monthly sustainer today. Thank you!