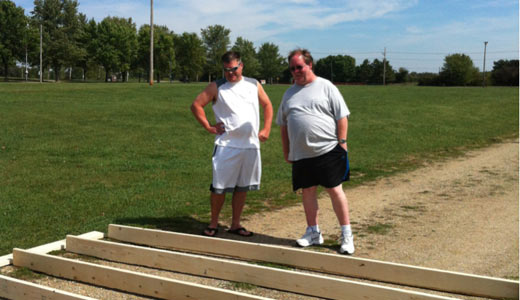 FREEPORT, Ill. – Workers about to be outsourced by Mitt Romney's Bain Capital are gathering today in "Bainport," an encampment they are building across the road from the Sensata factory here.
Having just received their official 60-day pink slips, they are protesting Bain's decision to ship their jobs overseas and are demanding that former CEO Romney, who they note is still profiting directly from Sensata, help save their jobs.
"Romney has so far ignored us but we will camp out here until he comes to Freeport to meet with us," said Tom Gaulrapp, a long-time worker at the Sensata plant.
"But that's not the only purpose of this encampment," said Gaulrapp. "Every day that we are here we will dramatize and make clear to everyone in this town and to people all across America what Romney's plan for our country will really look like."
As he worked on putting together a stage in the center of "Bainport" Gaulrapp said that the workers have no worries about being thrown out of their new encampment because both the mayor and the town council have assured them they can stay on the town fairgrounds opposite the Sensata plant for all long as they want.
Over the past few months Sensata workers have tried to contact Romney with a 35,000 signature campaign, frequent protests outside the plant, and trips to Romney campaign offices.
In July the Freeport City Council unanimously passed a resolution calling upon Romney to come meet with the workers and use his influence at Bain to intervene on their behalf.
Illinois Gov. Pat Quinn echoed their call during a trip to Freeport that month and the issue has become front and center in the congressional race in Illinois' 17th District.
The Republican incumbent, Rep. Bobby Schilling, is under heavy criticism from Cheri Bustos, his Democratic challenger. She has attacked Schilling's record in Congress as one of continual support for the policies that encourage or allow corporate outsourcing of U.S. Jobs.
When Romney failed to respond to pleas from the workers they took their campaign directly to him at the Republican National Convention in Tampa, Fla.
"Mitt Romney refused to meet with us in Tampa, but as a presidential candidate he can't keep ignoring American workers," said Bonnie Bowman, a 23 year veteran at the plant. "We are asking him again to come to Freeport and help us save our jobs," she said. "If he wants to show leadership he should stand up for workers not for companies like Bain that are shipping jobs overseas. And we are not leaving until he does."
Sensata Technologies, which was created by Bain Capital in 2006, develops, manufactures and sells sensors and controls for major auto manufacturers such as Ford and General Motors. Despite rising profits the company plans to make its final layoffs here in November – just in time for the holidays.
Workers are training their replacements who have been flown in from overseas to stay in Illinois hotels at company expense.
Photo: Sensata workers Mark Schrek and Tom Gaulrapp assessing the construction of the stage for Bainport.(bainport.com)