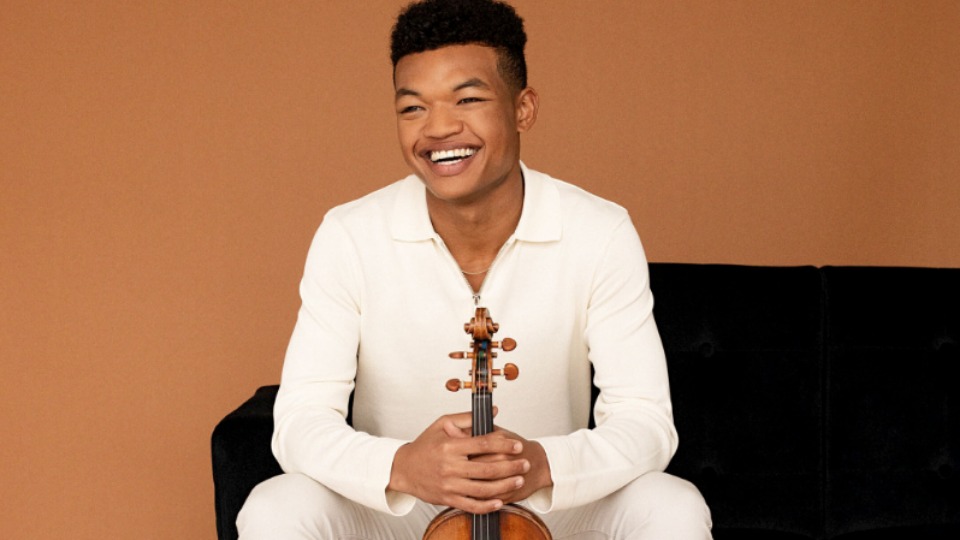 The violin, or its cousins in the many musical cultures of the world, is considered among the most expressive of instruments, closely tuned to the timbres and pulse of the human voice.
In Roots, his debut CD featuring his instrument, the 26-year-old Randall Mitsuo Goosby, son of a Korean mother and Black father, brings to the fore the music of Black American composers, several pieces receiving their first recordings here. The album includes two substantial contributions from non-Black composers, George Gershwin and Antonín Dvorák, whose appreciation for the Black soul opened many concert-house doors to non-European idioms and performers.
When I say "his" instrument, I should be more specific. The violin is the instrument he has mastered, but the specific one he performs on for this generous 76-minute CD is a Guarneri, one of the two top names in violin production, namely the "Sennhauser" Giuseppe Guarneri del Gesù instrument built in 1735, on loan from the Stradivari Society in Chicago. Such is the confidence bestowed on this genial young man's talents.
Goosby opens with Shelter Island, the only entry by a living composer, Xavier Dubois Foley (b. 1994), a renowned double bass player and composer. He plays his bass in a duet with Goosby in what comes across as a blues fanfare celebrating the now in music. The violin soloist then turns his attention to musical figures of the past.
"Many of these African-American composers—William Grant still, Florence Price, Coleridge-Taylor Perkinson—" Goosby says in the CD program booklet, "had to navigate this industry at a time when racism, prejudice, and segregation were commonplace. Today, artists like myself and other young artists of color enjoy more of a sense of freedom and confidence in pursuing a life in classical music. If it weren't for these composers, these artists, and this music, I wouldn't be able to do what I'm doing today. This recording is a tribute to their lives and experiences, and their dedication to creating this art that we all love."
Goosby has also helped to bring back to prominence the French-African composer Joseph Bologne, a contemporary of Mozart, whose violin concerto Goosby chose for his prestigious Hollywood Bowl debut last August.
Coleridge-Taylor Perkinson (1932-2004) bears no family relationship to the British-African composer Samuel Coleridge-Taylor, also represented on the album. It's just that the American-born Perkinson's mother named him in homage to the famous Black Englishman, and the musical muse appropriately followed the name. Perkinson's Blue/s Forms for solo violin explores multiple ways of feeling the blues in three movements, "Plain Blue/s," "Just Blue/s," and "Jettin' Blue/s." The first sounds as if Bartók were Black; the second is slow and enigmatic; and the third is a virtuosistic ear-opening hoe-down such as one might hear at a concert of experimental Appalachia, sounding ripped off as a spontaneous "improvisation," which of course it is not.
Two Jews created the suite of selections from Porgy and Bess, the opera's composer George Gershwin (1898-1937) and the arranger, world-famous violinist Jascha Heifetz. For most listeners, these will be the most familiar items on the CD, along with the later spiritual "Deep River." Here Goosby is joined for the first time by his expert accompanist on the piano, Zhu Wang, who will be his musical partner for the rest of the CD. The featured songs are "Summertime" and "A Woman Is a Sometime Thing," played without pause, then "It Ain't Necessarily So" performed with deliciously flashy technique, and finally "Bess, You Is My Woman Now," in which we hear just how emotionally Goosby can make that old Guarneri sing.
William Grant Still (1895-1978), long considered the "Dean of African-American Composers,"contributes his Suite for Violin and Piano. While this is not this piece's first recording, it will surely be a revelation to a new generation of listeners; devoted concertgoers will surely scratch their heads in consternation that such consistently interesting works like this one are so rarely programmed in the concert hall. It's in three movements, each named for a specific sculpture by different artists who emerged during the famous Harlem Renaissance of the post-World War I years. "African Dancer" contains audible Orientalist touches in its grand opening statement, reminding us of the considerable, though often unacknowledged Arabic influence on African-American music. In "Mother and Child" we get a soaring, almost orchestral melody that summons the lush lyricism of film music. And in "Gamin," we can imagine a clever young habitué of the streets, with all his endearingly impish, sly, darting moves. A wonderful piece ripe for rediscovery!
Florence Price (1887-1953) is the only woman represented on the CD, whose gender and race both conspired to make her work almost totally ignored without a real champion during her lifetime. A first set of recordings of her complete symphonies is currently in the works under the baton of Yannick Nézet-Séguin. All three of her pieces for violin and piano included on Roots are also first recordings, the two "fantasies" edited by John Michael Cooper presumably from manuscript. What gems these are! The first is Adoration, its long-lined Italianate personality sounding like it might have been the inspiration for a popular sentimental song of her day, such as "The Lord's Prayer." Its double notes recall the female duet from Léo Delibes's opera Lakmé. The Fantasie No. 1 is lively and Slavonic in inspiration, a good example on this CD of the performer disappearing into the mood of each of his selections without asking for undue focus on himself. Her Fantasy No. 2 seems to have derived from some "spiritual" material; a listener almost knows the accompanying words, and indeed, I couldn't help thinking of "Didn't My Lord Deliver Daniel?" especially in the Paul Robeson recording where he points up the succeeding phrase, "And why not every man?"
The original Samuel Coleridge-Taylor (1875-1912) is heard in an arrangement by the famous violinist of her day, Maud Powell, in "Deep River," No. 10 from his 24 Negro Melodies. The tune itself is one of the most heartrending of the entire catalogue, here turned into instrumental drama. Clearly Goosby has not hand-picked a garland of bright showstoppers to show off his talent for pyrotechnical astonishment. Perhaps that will have to wait until someone composes a specially commissioned violin concerto for him; maybe it's already been written.
The CD concludes with his homage to Antonín Dvorák (1841-1904), his 1893 Sonatina op. 100, written while he headed New York City's National Conservatory of Music, which admitted both women and African-American students. Dvorák's respect for the national character of music did not apply only to his native Czech identity at a time when his country was subsumed into the Austro-Hungarian Empire. "The future music in this country," he is quoted in the CD booklet, "must be founded upon what are called Negro melodies. This must be the real foundation of any serious and original school of composition to be developed in the United States…. These beautiful and varied themes are the product of the soil. They are American."
The sound world of this four-movement work, called a "sonatina" rather than a "sonata," somewhat lightening the listener's expectations, is consistent with the mood of his New World symphony with the original "Going Home" theme or the American String Quartet in its distinctly African-American intonation. The lasting impression is one of optimism and joy. Its second movement has a slow keening melody and the final movement is a fusion of African-American with Central European and Roma folk gestures that is in no way ponderous or pretentious.
How lucky we are to have this extraordinary talent with us. Magnificent horizons will open up for this unselfconscious young artist, whose aspirations, I am convinced, will not be confined to the classical music world. This is his first public statement and it is eloquent.