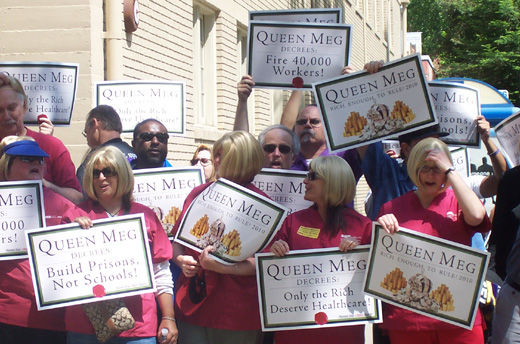 SACRAMENTO, Calif. – Teachers, nurses and state workers crowded around the entrance to the exclusive Sutter Club near the California State Capitol here April 23, to protest the appearance there of Meg Whitman, who is seeking the Republican nomination for governor.
Whitman, former Goldman-Sachs director, ex-CEO of e-Bay, and "the first self-made white female billionaire," according to Wikipedia, apparently entered the club by another entrance, along with former Massachsetts Gov. Mitt Romney.
Wearing their union T-shirts, and many with blonde wigs simulating Whitman's coiffure, the demonstrators bore signs produced by the California Nurses Association that proclaimed "Queen Meg Decrees: Fire 40,000 Workers," "Build Prisons not Schools" and "Only the Rich Deserve Healthcare."
Sarcastically, they chanted, "We can't afford democracy, so why not try a monarchy?", "2-4-6-8, we want Queen Meg to coronate!" and "Wealth, not health!"
With Whitman sneaking into the club, her place was filled outside by a talented member of SEIU 1000 (the largest union representing California state workers) who, wearing a crown and waving a sceptre, declared to the crowd from the Sutter Club steps: "Health care for the rich, education for the few, and prisons for all! Who needs democracy when we can buy it?"
The California Nurses Association says its own "Queen Meg" and union members will be showing up at every Whitman event around the state.
Photo: PW/Gail Ryall