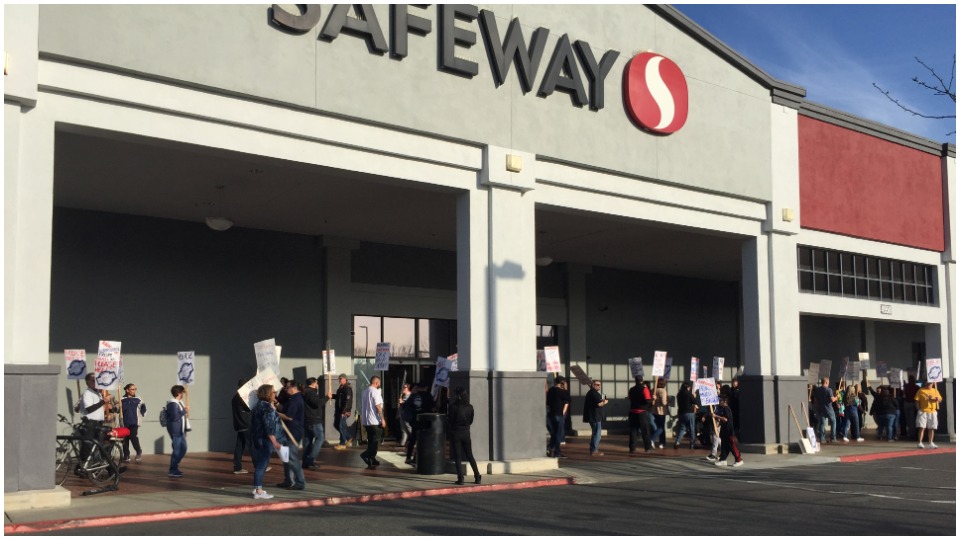 SAN JOSE—"Safeway, Safeway, you can't hide, we can see your greedy side," rang out across the parking lot of the large Safeway store on busy Almaden Boulevard in San Jose as around 250 Safeway workers from UFCW Local 5 and their supporters rallied to demand a fair contract.
Safeway's contract with its San Francisco Bay Area employees expired in October 2018, and the workers have been working without a new contract for 16 months. Local 5 is trying to reach an agreement with Safeway, but the company is offering terms that are well below workers' needs in the area, which has some of the highest housing costs in the nation.
Safeway's wage offer is below that recently agreed to by UFCW members in the Sacramento Valley where living costs are considerably lower. The company proposal offers no clear pathway to full-time jobs, while 80% of Safeway employees in the Bay Area are part-timers. And it takes 13,000 hours to get to the highest pay grade offered by the company. "It takes longer to get to the top of the pay scale at Safeway than it does to become a doctor," Michael Funna, West Bay Director of Local 5, told People's World.
Claudia, a rank-and-file Local 5 member, complained that the workers are not even getting a cost-of-living adjustment. "Safeway makes so much money, they should share it with the workers who are the ones who bring in the customers," she said. "People should be able to live on just one job."
Judging from the frequent horn blasts from passing motorists, the Safeway workers have lots of community support.