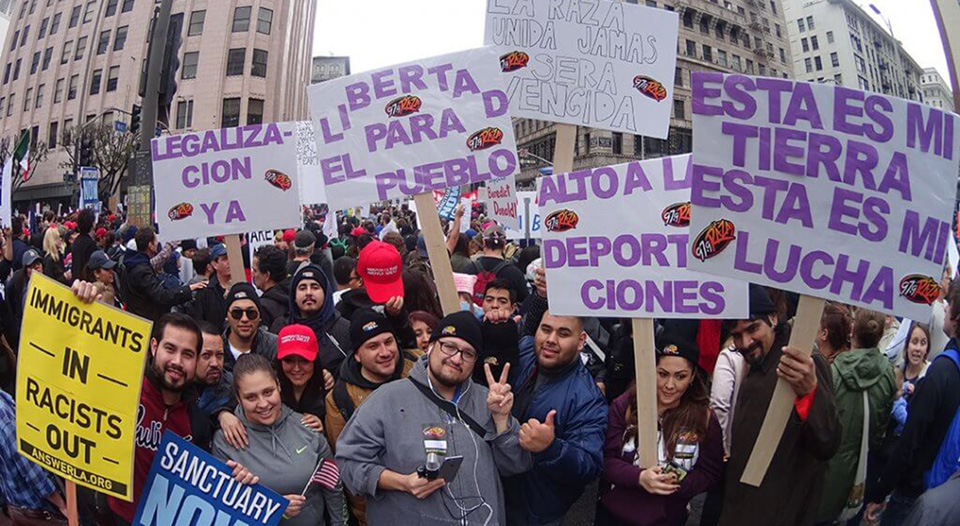 LOS ANGELES — Workers at two radio stations owned by the Spanish Broadcasting System (SBS) here are fighting to force the company to negotiate in good faith a first contract.
The workers voted to join the Screen Actors Guild-American Federation of Television and Radio Artists (SAG-AFTRA) last August. They are on-air talent at SBS's two biggest radio stations, La Raza (KLAX/KXOL – 97.9 FM) and MEGA (96.3 FM).
After the vote, instead of beginning to negotiate a contract, "SBS has violated federal law by refusing to bargain in good faith with SAG-AFTRA, and by retaliating against its on-air talent for unionizing by terminating eight employees who were openly supportive of SAG-AFTRA's organizing effort and/or were owed monies in connection with SBS' wage violations," according to a statement issued by SAG-AFTRA.
"The SBS employees organized because they face unfair working conditions," the statement continues, "such as getting pay less than the mandated minimum wage and being denied overtime pay, meal and rest breaks and access to bathrooms during events."
"It is appalling that in this country and in this day and age SBS, one of the largest Spanish-language media and entertainment companies, would terminate employees who are fighting for fair wages, safe working conditions and human dignity," said SAG-AFTRA President Gabrielle Carteris.
"We are not done, she said.
"We will continue to fight on behalf of La Raza and La Mega's on-air employees to win the reinstatement of the eight employees unlawfully terminated for their union activities, and to negotiate a fair contract that will improve their livelihoods and protect jobs."
SBS also owns 20 other radio stations and six TV stations in the U.S. and Puerto Rico.
The California Federation of Labor and the Los Angeles County Federation of Labor has supported the organizing drive at SBS by staging citywide rallies and urging its members to send e-mails supporting the workers to SBS management in Miami and the stations' managers in L.A.
Last month, after more than a one year intensive campaign, performers at the Telemundo TV network, the largest employer of Spanish language performers in the U.S., voted to join SAG-AFTRA.