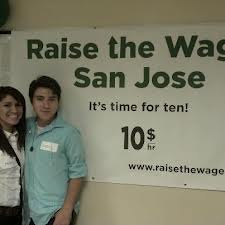 San Jose activists gathered on Monday, November 12 at Sacred Heart Community Services to celebrate the victory of Measure D, an initiative raising the minimum wage in the city from $8.00 to $10.00 per hour and to map out plans for future struggle for the working poor and the unemployed.
Students in a San Jose State University sociology class spark-plugged the initiative drive. Joining with Sacred Heart and the South Bay Labor Council, they gathered 36,000 signatures, well above the 19,000 needed to qualify for the ballot. Despite heavily funded opposition from the Chamber of Commerce and other business interests and from the area's major media outlets, the initiative scored a solid victory, winning nearly 60 percent of the vote.
Sacred Heart combines direct service to those in need with advocacy for the political and social change needed to end poverty. Previous campaigns have included getting the city to reinstate funding for vans to take seniors to community centers, fighting to keep those centers open, supporting a Children's Health Initiative, and reinstating funding for crossing guards at schools. The campaign for Measure D was Sacred Heart's first effort at a large-scale political initiative.
Organizers at Sacred Heart point out that a large percentage of those forced to seek aid from the agency to meet basic needs are full-time workers unable to make ends meet, giving the lie to the right-wing charge (part of defeated Republican candidate Romney's stock-in-trade) that people are poor because they are "shiftless." Ricky Alexander, a community organizer at Sacred Heart, noted that even with Measure D's boost in the minimum wage a family of three would have to have 2.5 minimum wage jobs just to meet the basic living costs in San Jose, which come to over $45,000 annually.
The South Bay Labor Council AFL-CIO played a major role in the victory. The Council teamed up with Sacred Heart virtually from the beginning of the campaign, helping fund signature gathering, providing space and financing for phone banking, and sending out two campaign mailers. This was all in addition to the Council's other electoral efforts, including successful drives to elect labor-friendly candidates, pass a state measure to tax the rich, and turn back a "paycheck deception" measure to blunt labor's political clout.
The Monday meeting concluded with a discussion of where to go from here. Sacred Heart organizers are planning to meet with activists to chart further steps to attack not just the effects but the societal root causes of poverty.
Photo: Henry Millstein/PW