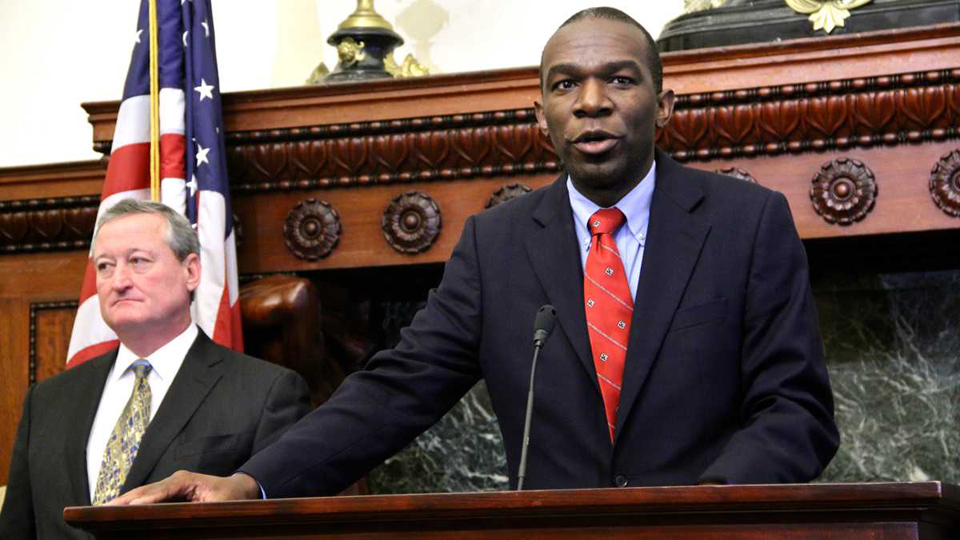 The nation's "sanctuary cities," plus the states of California and Connecticut, are in a big confrontation with the GOP Trump administration's Justice Department over the fate of the 11 million undocumented people in the U.S., including the "Dreamers" — youths and 20-somethings whose parents brought them here when they were young children.
At issue: Whether cities and states can protect the Dreamers, and everyone else without documents, against Trump agencies' deportation schemes. Or whether the agency will successfully use its financial leverage – up to $376 million in grant money in the fiscal year that ends September 30, and more beyond that – to force them to knuckle under to the feds.
Since Trump took over, action on both sides has accelerated: Trump's Homeland Security Department's Immigration and Customs Enforcement (ICE) agents have been zealously rounding up anyone they could find, undocumented or not. Almost all are Latinos and Latinas who have been here for years.
The sanctuary cities, and there are almost 300 of them nationwide, are resisting cooperating with the agency. Individuals, Latino/Latina and other immigrant organizations, cities and states are fighting back.
Trump's Justice Department is now joining DHS in the repression, also using money as its lever. Attorney General Jeff Sessions announced July 25 that DOJ would withhold grant money from cities that don't cooperate with DHS.
"So-called 'sanctuary' policies…undermine our laws and protect illegal aliens who commit crimes," Sessions charged, painting with a broad brush. "From now on, the Department will only provide" justice assistance "grants to cities and states that comply with federal law, allow federal immigration access to detention facilities, and provide 48 hours notice before they release an illegal alien wanted by federal authorities."
Hugh-profile targets include New York City, Chicago, Los Angeles, Philadelphia, Milwaukee, Miami, New Orleans and the states of California and Connecticut. They've refused to hold people they arrest for minor offenses until DHS checks them out. DHS has been summarily deporting many of them, instead.
The cities have yet to respond to Sessions' new threat, but past responses, especially from New York, Chicago, Los Angeles, New Orleans and Philadelphia, are variations of either "Nuts!" or "We're doing what the law requires, and that's all we'll do." And the California legislature is considering a bill to turn the entire state, the nation's most-populous, into a sanctuary.
The cities point out that federal law does not require them to hold an arrestee for ICE beyond a scheduled release date on bail, and they can't do so, unless there's a federal warrant. And ICE often doesn't produce warrants. The law also doesn't order the cities to cooperate with ICE.
Philadelphia Solicitor Sozi Pedro Tulante pointed out that not holding people for ICE and not sending immigration information about people to the feds also sends a positive message to crime witnesses, victims and other "law-abiding persons" that it is safe to cooperate with the city in solving crimes.
"Philadelphia believes the foundation of a safe city is a strong community. Our officers have worked hard to gain the trust cooperation of city residents, crime victims, and witnesses — regardless of their immigration status — and these efforts are showing results," Tulante wrote.
New York and New Orleans told the Justice Department that they will hold only those people accused of particularly violent crimes, and New York reminded the feds that ICE still needs warrants for them.
And when Sessions said undocumented people in New Orleans are members of the violent Salvadoran-based gang MS-13 and thus deserve to be rounded up and held for ICE, Mayor Mitch Landrieu (D) replied that isn't true.
"Undocumented people who commit violent crimes must face the criminal and immigration legal systems of this country. But that does not mean that all people are illegal immigrants that are part of violent gangs," Landrieu wrote to the Justice Department.
Chicago's gone even farther. It set up an Office of New Americans last November to specifically welcome and help the undocumented. "We continue to provide a home to hardworking, honest individuals — regardless of their place of birth," the office's website, quoting Mayor Rahm Emanuel, says. It noted the city council passed, and Emanuel signed, a pro-sanctuary ordinance in 2012.
That law "protects the rights of immigrants, and grants all residents access to city services, regardless of immigration status. The Welcoming City Ordinance also codified local policies to help ensure undocumented residents are not prosecuted solely due to their immigration status… The Sanctuary City protection covers Chicagoans of all ages — in school, at work and as they seek city supports and resources. This means that Chicago police officers cannot arrest on the basis of immigration status," the website declares.
In California, the cities of San Anselmo and Fairfax, plus San Francisco and Marin County, already openly support SB54, the sanctuary state bill. The State Senate has passed the measure, as have two State Assembly committees. The full Assembly may consider it in late August.
SB54 "prohibits state and local law enforcement agencies from investigating, interrogating, detaining, detecting or arresting people for immigration enforcement purposes," a summary says.
And 10 states, led by California, are challenging Trump's anti-sanctuary cities executive order in court. Santa Clara County first sued and a federal judge in San Francisco sided with the county, issuing a nationwide injunction against Trump's prior anti-sanctuary cities edict.
"The Trump administration does not have the right to coerce states, counties or municipalities to do the federal government's job," state Attorney General Xavier Becerra said in announcing the lawsuit on June 30.
"California's state and local law enforcement officials are in the business of public safety, not of deportation. Threatening public safety funding to compel localities to do immigration work is a dangerous game that undermines public safety."
The right-wing Republicans in the U.S. House have also gotten into the act against undocumented people. It approved legislation, on party-line votes, targeting the undocumented. Sessions, a former Alabama senator, urged lawmakers there to agree. So did Trump's Office of Management and Budget, which "strongly recommended" he sign the two bills.