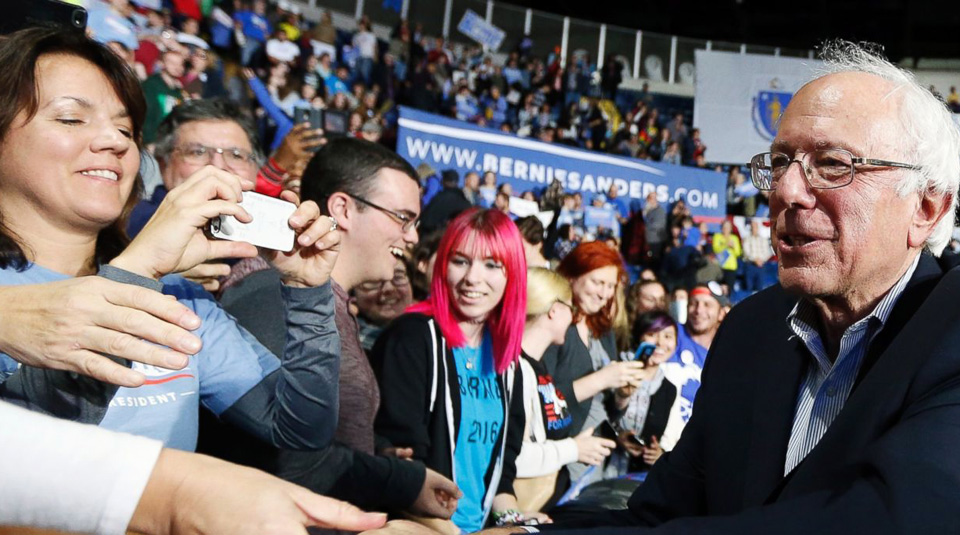 January is packed full of actions and protests before, during, and after the inauguration of Donald Trump, but what's different about a few of them is that they may be being organized by your Democratic elected officials. Or at least that's what Sen. Bernie Sanders, (D- V.T.) is working toward.
In his capacity as Outreach Chair for the Congressional Democrats, Sanders (with the endorsement of a few other ranking members of Congress) sent a letter to his colleagues urging them to step out of their comfort zone and organize large rallies in their districts.
After listing some of the most damaging aspects of Trump's agenda, like the loss of insurance for 30 million Americans and giving tax breaks to the wealthy, Sanders said "On Sunday, January 15th, ahead of Martin Luther King, Jr. Day, there will be a day of action—"Our First Stand: Save Health Care. Rallies will be held around the country to vigorously oppose the Republican plan to end Medicare as we know it and throw our health care system into chaos."
Below that, and underlined, reads, "We need your help to organize a rally or other event in your own state."
Our First Stand comes on the heels of a Republican "Vote-o-Rama" that has laid the groundwork for the repeal of the Affordable Care Act. Instead of postponing repeal in order to develop a comprehensive replacement, 51 of 52 Senate Republicans voted in the wee hours of the morning for a budget that sees the ACA repealed immediately.
Initially senators and representatives appear to be joining in with the grassroots approach. Democratic Senate Minority leader, Chuck Shumer, for example, is accompanying Sanders on a trip to Michigan. Senators is saying, however, that he wants to bring the grassroots organizing approach to all 5o states, including states like Alabama and West Virginia where large numbers of workingclass people voted against their own interests, he says, by backing Trump.
Organizers of the demonstrations urge people to let elected officials who back these efforts know that their support is appreciated. For those interested, here is the website that lists the places where rallies will happen.