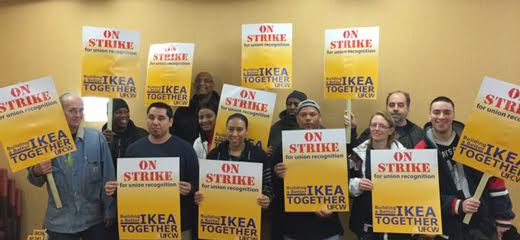 STOUGHTON, Mass. (PAI) – Workers at the IKEA warehouse in Stoughton, Mass., were forced to strike on Nov. 16, one day after they presented union recognition election cards to their bosses, seeking United Food and Commercial Workers Local 1445 to represent them.
But IKEA, despite a well-deserved reputation in Scandinavia for its pro-worker policies, and despite its own corporate standards, previously hired notorious union-buster Jackson-Lewis to try to kill the organizing drive among the 32 workers in Stoughton.
That sequence drew the attention of Democratic presidential hopefuls Sen. Bernie Sanders, Ind.-Vt., and former Gov. Martin O'Malley, D-Md. They urged IKEA to recognize and bargain with the union. UFCW would represent the Goods Flow In warehouse workers, not workers at the adjacent retail store. Twenty-four Goods Flow In workers signed the cards.
"I love working at IKEA, and I want to make a career here," worker Chris DeAngelo told UFCW's blog. "A union is the best way to work together to live our values and build an even better IKEA. We've gone through a lot at our store, but this is a chance to turn over a new leaf and reset the relationship between IKEA's hard-working men and women and management.
"If IKEA does what is right and chooses to recognize our union, it will show that IKEA respects our right to join a union without fear of retaliation or harassment," he said.
But Jackson-Lewis has apparently engaged in such tactics, Sanders told IKEA's U.S. nationwide director, Lars Petersson. He said such tactics widen income inequality. "Companies that fight workers who wish to bargain collectively are culpable in exacerbating the gap between the rich and poor in America. I know this is not how IKEA USA would like to be considered by the American public. IKEA's vision and values not only allow you to recognize the Stoughton workers decision to unionize, they demand it," he declared.
"For these reasons I was surprised when I heard disturbing reports of anti-worker behavior by IKEA U.S. management. Blatant intimidation plus subtle but effective psychological warfare against workers who wise to unionize have no place within IKEA."
But the anti-union agenda "is no surprise" due to the hiring of Jackson-Lewis, "the pre-eminent union-busting law firm in America," Sanders said. "A good first step would be to immediately sever ties with this firm and the egregious practices it promotes." O'Malley reminded Petersson that IKEA warehouse workers in Maryland just voted on a contract. "I urge you to follow your core values and immediately recognize the (Stoughton) warehouse workers' decision to unionize," he said.
IKEA_Stoughton workers have ended their strike and are back at work. Organizers will continue to #StandWithStoughton until they win their union.
Photo: Alan Hanson, union organizer, Twitter