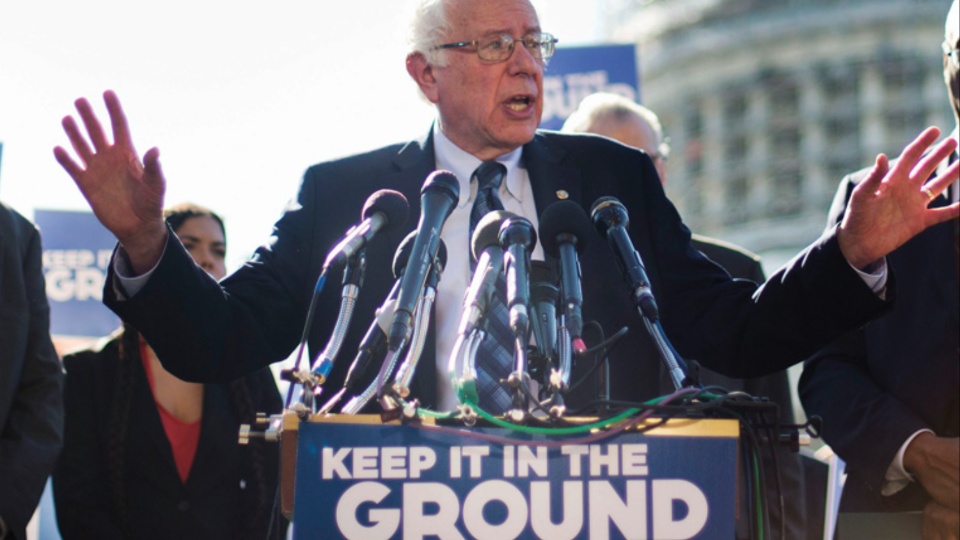 WASHINGTON—Sen. Bernie Sanders, Ind-Vt., is proposing the United States and the People's Republic of China mutually agree to cut military spending, shifting the money to combatting global warming.
Sanders made his proposal in an Op-ed in The Guardian on Aug. 21. But when he proposed a 10% cut—at least $90 billion—on July 27 during Senate debate on the annual U.S. military money bill, he lost by an 88-11 margin.
The only response in that brief debate came from Senate Armed Services Committee Chairman Jack Reed, D-R.I. "The senator's amendment excludes defense health programs, military personnel accounts, and assistance to Ukraine, but that means the actual cuts on every other function will be much greater than 10%," said Reed.
The Senate rebuke didn't stop Sanders, a longtime foe of bloated military spending and champion of environmental causes. He repeatedly points out the U.S. outspends every other nation on its military, that the Defense Department can't pass an audit, and that the Pentagon is a cash cow for military contractors, whose weapons eat up approximately half of the military money.
In that brief Senate debate, Sanders cited unmet domestic priorities and Pentagon waste as well as combatting global warming as reasons for the cut. In the Guardian op-ed, he stuck to fighting that threat, but put it in context of "a radical rethinking" of global relationships, especially between the two powers.
"The U.S. and China must unite to fight the climate crisis, not each other," Sanders wrote. It's "absolutely necessary for the survival of the planet." But "the cooperation required to address this existential threat is being undermined by hawks…who are moving us toward a disastrous cold war."
That's a criticism of Democratic U.S. President Joe Biden, who, like Sanders, grew up in the Cold War era, but when the USSR was the main target. Both men were born in 1941. Biden has kept that Cold War era mindset, but with China now substituted as a sometime antagonist, both militarily and on trade.
Sanders did not propose a specific cut in each power's military spending, but if the Chinese matched his 10% proposal, their reduction would be around $30 billion. China is second to the U.S. in military spending among all nations, which Sanders noted in his op-ed.
A negotiated military money cut should be "part of a radical rethinking of geopolitics to reflect the reality that international cooperation is not only in the best interests of all countries, but is absolutely necessary for the survival of the planet," said Sanders, a longtime campaigner, starting in college decades ago, against U.S. wars abroad.
"Here's the reality. The last eight years have been the eight hottest on record. This year is on track to be the hottest year in recorded history, and this past July was the hottest month on record. Across the United States, July broke more than 3,200 daily temperature records and dozens of American cities broke or tied their previous daily temperature records three or more times.
"Phoenix experienced 31 days in a row at or above 110F, 13 days longer than the previous record. El Paso, Miami, Austin and many other places also suffered under record-breaking stretches of extreme heat. South of Miami, [Atlantic] waters reached 101F. You're supposed to find temperatures like that in a hot tub, not the ocean.
"But it's not just the U.S. that is dealing with record-breaking heatwaves and enormous climate-caused devastation. China experienced record-high temperatures last month, including the country's all-time temperature record of 126F, and recent flooding has killed about 100 people, destroyed nearly 200,000 homes, displaced some 1.5 million people and caused more than $13 billion in damage.
"Into the future, scientists tell us that great cities like Shanghai and New York will be underwater if we do not act effectively against the climate crisis."
Global warming is truly global, the senator noted. "In Iran, the heat index hit 158F, testing the limits of human survival. Cuba, the Dominican Republic, and El Salvador all saw temperature records fall. It's winter right now in South America, but that hasn't stopped temperatures from exceeding 100F."
All this evidence of global warming cries out for spending money to combat it, first and foremost, he said. The U.S., under Biden, has started with $300 billion in last year's Inflation Reduction Act, but must do more, Sanders added. China spent almost double that last year—$546 billion—"and continues to manufacture and deploy more renewable energy than the rest of the world combined."
But it's also now the global leader in carbon emissions, having overtaken the U.S. The emissions cause greenhouse gases that produce global warming. "Right now, China is building six times as many coal-fired power plants as the rest of the world combined—the equivalent of two new coal plants every week. Last year, they quadrupled the number of new coal plants approved compared with 2021."
But as long as the U.S. and China engage in a new arms race, they can't divert money to combatting the common threat of global warming, Sanders declared. The path to that goal is cutting a deal to reduce arms spending and use the freed-up funds to combat the "existential threat" to the world.
"Organizing most of our national effort around a zero-sum global confrontation with China…will alienate allies and partners," Sanders warned. "Most importantly, it could doom our planet by making climate cooperation impossible between the world's two largest greenhouse emitters. We need to move in a bold new direction."
The senator then offered what he called "a 'radical' idea." Instead of spending enormous amounts of money planning for a war against each other, the U.S. and China should agree to "mutually cut their military budgets and use the savings to move aggressively to improve energy efficiency, move toward sustainable energy, and end our reliance on fossil fuels. They should also provide increased support for developing countries who are suffering from the climate crisis through no fault of their own."
Sanders forecast reaching such an agreement would face opposition from "establishment politicians" and special interests in the U.S.
"My response is this: Go talk to the people in Vermont who lost their homes because of unprecedented flooding and the families in Hawaii who lost loved ones in the recent fires. Go talk to the more than one million people in China who have been displaced by catastrophic floods. Go talk to the people in southern Africa who are starving because of the terrible drought and floods they are experiencing or farmers around the world who can no longer grow their crops because of water shortages.
"Perhaps most importantly, go talk to the hundreds of millions of young people in every country on earth who are losing hope, wondering whether they should even have children of their own, given the enormous challenges the climate crisis poses for a normal life.
He then recalled the words of the late Nelson Mandela, who famously remarked, "It always seems impossible until it's done." Sanders then concluded by taking up the challenge: "If we are to save the planet, now is the time for bold action. Let's do it."
We hope you appreciated this article. At 

People's World

, we believe news and information should be free and accessible to all, but we need your help. Our journalism is free of corporate influence and paywalls because we are totally reader-supported. Only you, our readers and supporters, make this possible. If you enjoy reading 

People's World

 and the stories we bring you, please 

support our work by donating or becoming a monthly sustainer today

. Thank you!