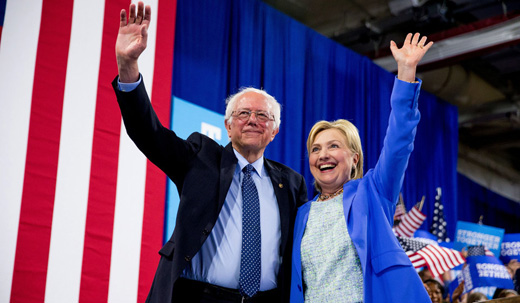 This article is part of a series on the Democratic National Convention.
PHILADELPHIA – In a preview of what he was expected to say to the entire Democratic National Convention opening here Monday night, Bernie Sanders urged a meeting of his supporters to enthusiastically work for Hillary Clinton.
"Trump is a bully and a demagogue," Sanders said. "Trump has made bigotry and hatred the cornerstone of his campaign."
Sanders said that Donald Trump is dangerous and a threat to the Constitution. He urged supporters to make defeating Trump their top priority.
Out of the 4,767 delegates to this convention, some 1,900 are pledged to Sanders. Many are angry that the Democratic National Committee (DNC) had plans to undermine the Sanders campaign by, among other things, questioning his religious faith. This fact was revealed by a large number of DNC e-mails which were made public by people DNC spokespersons say are connected to the Russian government.
"This is the real world," Sanders said, putting all that aside and adding that he knew "from the beginning" that the DNC, which shared campaign funds with Clinton, "leaned to Clinton."
Nevertheless, Sanders stressed the need for Democratic Party unity to defeat Trump and reiterated his pledge "to do everything I can to make sure Hillary Clinton is elected President of the United States."
The DNC has issued an apology to the Sanders campaign and asked for, and got the resignation of Debbie Wasserman-Schultz, the chair who presided over the DNC when the anti-Sanders plans were discussed.
There is no evidence that the plans were ever actually carried out.
Nina Turner, a former member of the Ohio legislature, told a group of Sanders supporters who expressed hostility toward Clinton, "Republicans got their own problems – don't bring that nonsense here," she said.
All opinion polls show that the vast majority of Sanders supporters have pledged to vote for Clinton.
Photo: Andrew Harnik/AP