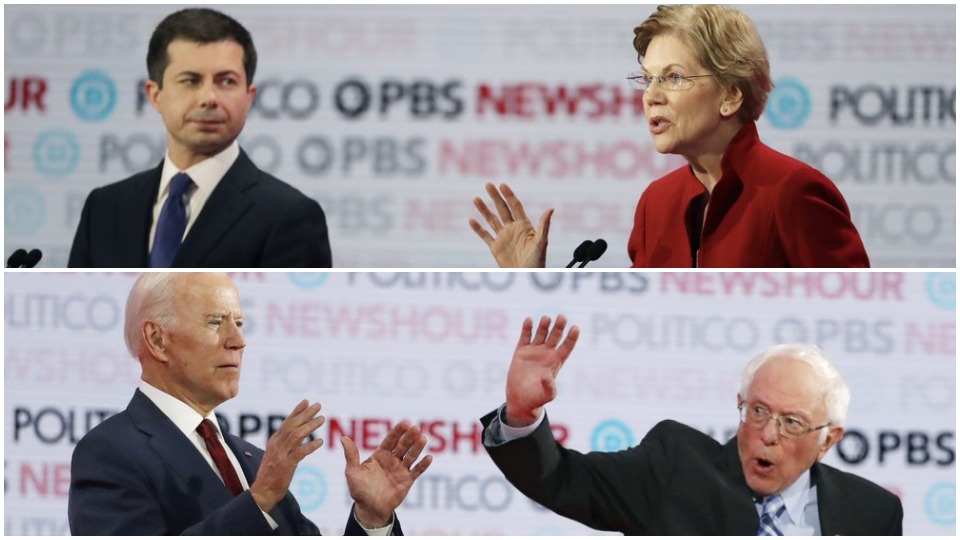 LOS ANGELES—It took an hour and a half for them to warm up and stop being too polite, but seven Democratic presidential hopefuls spent the last half of their Dec. 19 debate in Los Angeles mixing it up over campaign financing and health care, while one—Tom Steyer, the richest—made an unexpected (and unconvincing) bid for union voters. But the whole affair, which took place at the campus of Loyola Marymount University, almost didn't come off at all; more on that in a bit.
Sens. Bernie Sanders of Vermont and Elizabeth Warren of Massachusetts tangled with former Vice President Joe Biden over single-payer health care vs. improving the Affordable Care Act by adding a public option. "Under Joe's plan, you retain the status quo" where Big Pharma and the insurance companies run the U.S. health care system, Sanders said.
Medicare For All would raise taxes on people at middle and higher incomes, Sanders admitted—but it saves people far more by eliminating the insurers and their high co-pays, deductibles, and denial of care, and by forcing lower prices on drug makers. People would pay no more than $200 yearly for medicines, the senator stated.
Warren, another Medicare For All supporter, added that "on day one, I'll attack prices on commonly used prescription drugs," like insulin. But her version wouldn't raise taxes for people in the middle income brackets, she says.
Biden called Sanders's overall savings claim "absolutely preposterous," repeating his well-worn claim that it would cost $30 trillion over ten years.
The tussle over health care, and similar jousts, led Sen. Amy Klobuchar, DFL-Minn., to jump in and forcefully remind her colleagues and the audience that the real foe is GOP President Donald Trump and that the way to beat him is with supposedly Midwestern common-sense solutions: hers, of course. And by someone who can get things done and legislation passed—her, again.
When the debate shifted to how candidates are financing their campaigns, Warren and Sanders were pitted against South Bend, Ind., Mayor Pete Buttigieg and Biden. The two senators used campaign finance as a proxy for class.
Sanders, the only avowed Democratic Socialist in the Senate and in the campaign, hit the class theme by noting his large and broad base and average contribution of $18. "Real change always takes place from the bottom up, not the top down," he declared, once again saying the nation needs a revolution to break the grip of the rich and corporations on the government and policies.
Sanders shuns money from the rich and corporate campaign finance committees. "We need campaign finance reform so that Washington is not for the wealthy and the 1%," he added. Then he turned the campaign finance issue on Biden, the Democratic "establishment" favorite.
Biden has 44 billionaire megadonors in his stable, compared to Buttigieg's 39, the senator noted. Sanders and Warren have none, and Steyer is financing his own campaign. Biden turned the issue aside by responding his donors give an average of $43. He did not admit he holds frequent fund-raisers with high rollers.
Warren slammed Buttigieg for holding a closed and exclusive high-donor fundraiser in a wine cave, compared to her reliance on small donors and rewarding supporters with selfies on the campaign trail. Repeating her campaign theme, she declared "we have a government that works great for those with money and not so good for anyone else." Then she touted her 2% wealth tax.
Buttigieg shot back that Warren was hypocritical, since her fundraising included transferring money from her senatorial campaign committee—which he alleged, without proof, she fueled with dollars from big donors.
Besides, to beat Trump, who already has more than $300 million in the bank—much if not most from the corporate class and Wall Street financiers—Buttigieg said he'd accept money and votes from any source, including defecting Republicans. "We need all the help we can get" to beat Trump, he said, defensively.
And so it went on the stage of Loyola Marymount College in Los Angeles in the latest party-sponsored, nationally televised debate. It almost didn't, though.
To debate or not to debate?
Just four days before, whether debate would happen at all was in doubt. French-based conglomerate Sodexo runs Loyola Marymount's food services and had refused to negotiate a new contract recently with UNITE HERE Local 11, which represents 150 foodservice cooks, dishwashers, cashiers, and servers. The old pact expired in March.
The union local prepared to erect a picket line. Warren was the first of the seven Democrats to say she wouldn't cross it, even if it meant skipping the debate.
So Democratic National Chairman Tom Perez, a former Obama administration Labor Secretary, and State Sen. Maria Elena Durazo (D), a former Local 11 and L.A. County Federation of Labor leader, pushed Sodexo back to the table rather than sacrifice the debate.
The result was the local and Sodexo agreed late at night on Dec. 16 on a three-year contract with a 25% raise over its life, a 50% drop in health care costs, and better job security. The workers now earn $13.25-$16 hourly, and at least one is homeless. The workers unanimously ratified the new pact the next day.
"Today, workers will go home knowing that they will have the means to take care of their families. And they will know that when they need leadership, the Democratic Party will have their backs," said Local 11 Co-President Susan Minato.
So the debate went ahead as planned, and the jousting got started.
Impeachment impacts
The seven hopefuls agreed on some issues. Comprehensive campaign finance reform was one, with Klobuchar, Warren, and Sanders particularly hitting the issue. Ousting Trump was another.
The debate came the day after the Democratic-run U.S. House voted virtually on strict party lines to impeach Trump for abuse of power—notably bribing Ukraine to dig up dirt on Biden for next year's election—and for unconstitutionally hamstringing congressional investigations of his abuses.
When House Speaker Nancy Pelosi, D-Calif., sends the impeachment articles to the GOP-run Senate, expected in January, the trial will take Sanders, Klobuchar, Warren, and Sen. Cory Booker, D-N.J., who failed to qualify for the L.A. tussle, off the campaign trail to serve as jurors.
"We have a president who's a pathological liar, who's running the most corrupt administration in the history of the country and who has told working people one thing and done something else," Sanders said. "What even conservatives understand is that we cannot have a president with that temperament."
Invited to get mad at Trump, Biden declined, even though he's Trump's target in the Ukraine mess. "We need to restore the integrity of the office of the president," he stated.
Klobuchar was more forceful, reiterating a line she's used before: "The president is not a king. The law is king." And, she stated, if Trump is innocent, he should let key witnesses testify before the Senate.
Billionaire candidate and long-time impeachment advocate Steyer agreed, adding "the American people deserve the truth" and that even Trumpites would be forced to confront testimony by top administration officials involved in the Ukraine mess with Trump. But Senate Majority Leader Mitch McConnell, R-Ky., working hand-in-glove with Trump's defense team, refuses to let witnesses testify.
Business owner Andrew Yang offered one dissent. He said that while Trump should go, impeachment rarely comes up as he talks on the campaign trail with voters. Instead, "It's about losing manufacturing jobs and how we've got to start digging in and solving the nation's problems."
Trade and climate change
His comment led the moderators, from Politico and public broadcaster PBS, to quiz Sanders and Klobuchar, but not Warren, on NAFTA's replacement, the U.S.-Mexico-Canada Agreement (USMCA). Klobuchar's for it; Sanders, who has opposed all prior so-called "free trade" pacts, isn't.
With organized labor support and endorsement, after trade unionists and their Democratic allies forced Trump to rewrite its labor section in workers' favor, the House approved legislation to implement the USMCA earlier that day, 381-43. The Senate will consider the measure in January, probably after the Trump trial.
"This is a modest improvement" over NAFTA, which labor strenuously opposed 26 years ago, as did he, Sanders said. Then, workers forecast correctly that business-written pact would cost hundreds of thousands of well-paying union factory jobs. The USMCA will "also hopefully have Mexican workers organizing into independent unions," instead of company unions, the Vermonter said.
"But it's not going to stop the outsourcing" by U.S. firms of jobs to Mexico. "So I still will not be voting for it."
Klobuchar said "I agree" with Sen. Sherrod Brown, D-Ohio, one of the Senate's other strongly pro-worker Democrats, who will vote for the USMCA. Ohio has been a big victim of the NAFTA-inspired factory job exodus to Mexico, especially in cars and parts. The USMCA has higher average wage standards for autoworkers and higher North American content for vehicles written into its text.
Climate change gave Steyer his opening to bid for union members' votes, by exclaiming it's an "existential threat" and battling it would be his top priority in the White House, as it has been in years of self-financed national ads. He said he'd shift to a green economy to curb carbon emissions—a shift, Steyer repeatedly said, that would produce "millions of new green jobs, done by union members."
Indeed, Steyer repeated that phrase so often that his mentions of the word "union" in the L.A. debate virtually equaled all utterances of "union" by all the hopefuls in all prior Democratic Party-run and nationally televised debates combined. Most of the others, notably Biden, sing pro-union tunes only when appearing before union audiences.
The others also all went in the same direction on climate change. Buttigieg and Klobuchar endorsed imposing a carbon tax, though neither mentioned clean energy jobs. Klobuchar and others said they'd resume U.S. participation in the Paris climate accords. Steyer agreed, but said scientists now report the Paris goals are too low. He advocated even stronger measures.
But the three did not discuss the impact of climate change on low-income people, whom it would hit the hardest. Sanders did.
"People of color will be the people suffering the most if we don't deal with climate change. We have an obligation to speak about that" along with criminal justice reform and wealth inequality, he declared. All slam minorities. "I'd stop" the GOP "purging of voter rolls" of people of color, Klobuchar added.
Debate with little diversity
The obligation to talk about people of color is needed, Yang said, since Booker didn't qualify for the debate and Sen. Kamala Harris, D-Calif., suspended her campaign after running out of cash. Former Massachusetts Gov. Deval Patrick, an African American with a corporate background, just got into the race and didn't qualify for L.A.
Discussing the impact of policies on people of color is also politically necessary for the remaining hopefuls. One reason Biden leads in national polls is his apparently strong support among older African-American voters, gained from his service as Democratic President Barack Obama's veep. But he trails in the first two states to vote, overwhelmingly white Iowa (90.6%) and New Hampshire (93.4%). Conversely, Biden leads strongly in state #3, South Carolina, where African Americans, especially women, will be a majority of Democratic primary voters.
The lack of diversity on stage let Yang lament the fact that the seven debaters included only two women and one person of color, him. After predicting Booker will return, Yang added the current political system, including money, is rigged in favor of white men—especially those with money.