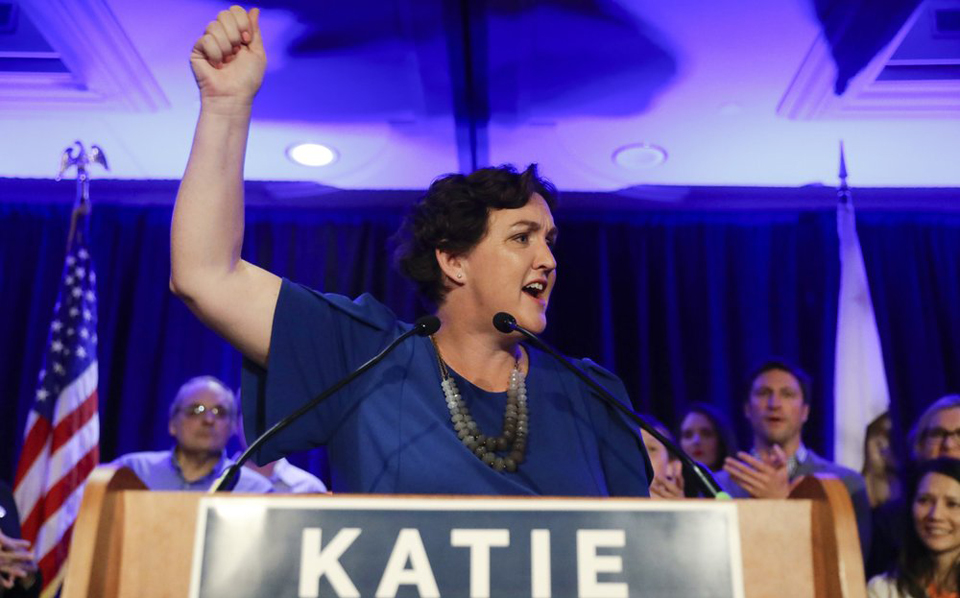 LOS ANGELES—As predicted, Sen. Bernie Sanders handily won the presidential primary race in California, adding 155 delegates to his total with 33.6% of the vote (over a million votes). Sanders had a powerful organization on the ground, and key to his victory was the Latinx vote.
Former Vice President Joe Biden won 93 delegates, 24.9% of the vote. With all that Biden reminds voters of his closeness to Barack Obama, Latinx may well have held against him the former president's record as the greatest "Deporter-in-Chief." Runner-up candidates were former NYC Mayor Michael Bloomberg and Sen. Elizabeth Warren, both of whom have since retired from the campaign. Biden won outright in only five counties, all in Northern California.
But there was much more on the ballot up and down the state, and we'll take a closer look.
In the House
The Big Blue Wave of 2018 hit the California coast especially hard. Out of the state's 53 Congressional seats, Democrats held all but fourteen, but by the time the dust settled on the 2018 election, seven of the fourteen Republicans had lost their House seats, several in long-time GOP districts. Now there are only six Republicans left, as District 50's Rep. Duncan Hunter has finally resigned his seat, but too late to schedule a Special Election for the remainder of his term. Demographics have shifted markedly in the state with the growth of the Latinx population. The seven Democrats who defeated Republicans will not have an easy time defending their seats, however.
In District 10, first-termer Josh Harder won 39.8% of the vote in a six-way election, and his leading GOP opponent Ted Howze took 37.5%. They are headed for a November showdown. The combined vote with other GOP challengers pushes the Republican numbers higher than Harder's, so voters there are expecting a nasty fight.
In District 16, Republican Kevin Cookingham took 38.5% vs. Democratic incumbent Jim Costa's 37.5%. The saving grace for Costa is that the two other candidates in the race were both Democrats, who together garnered 24% of the vote, so if the turnout holds up, and it should in this presidential-year election, Costa's seat is probably safe.
Former GOP Rep. David Valadao from District 21 campaigned to regain his seat from T.J. Cox, who narrowly unseated Valadao in 2018 by only 862 votes. In this rematch, Valadao came in with 53.1%, and 36.1% for Cox. Valadao's wide lead suggests that this will be a hard-fought race.
In District 22, Trump's loyal lapdog Devin Nunes won 59.2% of the vote to his leading Democratic challenger Phil Arballo's 23.4%. In 2018, Andrew Janz came within 5 points of defeating Nunes in the general election, so right now it looks as though Nunes will hold onto his loyal GOP base.
District 25 in northern L.A. County faced a peculiar situation this year, enabling voters to cast ballots twice for their favorite candidate. First, there was a Special Election to fill out the remainder of 2018 freshman Rep. Katie Hill's term—she was the Blue Wave Democrat who defeated Republican two-term Rep. Steve Knight and who resigned in an orchestrated sex scandal last year. But also voters were asked to vote in the primary election for the full term starting in 2021.
This was a highly contested election in a fast-changing district becoming more liberal and Democratic with each passing year. There were no fewer than twelve candidates, including a couple of well-known names, such as George Papadopoulos, a Republican operative fresh off a jail term for corruption, and The Young Turks host Cenk Uygur running as a Democrat. Also in the race was Steve Knight, trying to regain his old seat.
State Assemblywoman Christy Smith, a centrist not always responsive to the most progressive Democratic aspirations but who was generally hailed as the legitimate successor to Katie Hill, came in first with 34.3%. Republican Mike Garcia came in second, with 27%, outpacing former Rep. Knight by at least 5 points. Garcia is a small business owner, former Navy pilot and a defense contractor with Raytheon. The Special Election will be held on May 12.
The combined Republican vote is greater than Smith's, so this seat will also be targeted for GOP takeback.
In District 39, former state Assemblywoman Young Kim, a Republican, won 50.8% against 2018 Democratic newcomer Gil Cisneros at 44.3%. The GOP will certainly target this seat as a potential win-back.
District 45's newcomer Katie Porter, a protégée of Sen. Elizabeth Warren who made herself widely known as a tough witness questioner on the House Financial Services Committee, pulled in 48.1% of the vote against six different GOP contenders. Leading them was Mission Viejo Councilman Greg Raths with 18.9%. Given her incumbency and the demographic changes in Orange County, it seems unlikely that Porter could be unseated now.
First-term Congressman Harley Rouda in District 48 topped the field of six with 44%, and he will face Orange County Supervisor Michelle Steel, who won 36.6%, in November. Conscious of his somewhat precarious standing in coastal Orange County, Rouda promises to continue his strong bipartisan commitment. Republican money will surely flow into this race to try and unseat Rouda.
Back in 2018, Rep. Duncan Hunter and his campaign manager wife Margaret were already under indictment for multiple violations of campaign contributions. But in the long-time Republican District 50 in eastern San Diego County, he won anyway. His main opponent was a former Obama White House aide, mixed Palestinian-Latinx Ammar Campa-Najjar, who gave Hunter a good, and almost successful fight.
This time around, with Hunter out of the picture and awaiting sentencing, Campa-Najjar came out on top of a seven-way race with 34.4%. He will face off in November against extreme right-wing former Rep. Darrell Issa, at 24.9%, who retired in 2018 and whom voters believed they had seen the last of. The third runner-up was Carl DeMaio, at 21%, whom Issa had savagely gay-baited during the campaign.
In theory, the combined GOP vote could again stave off victory for a Democrat, but the bad blood among the Republicans now may divide them. Campa-Najjar reminds voters that "My opponent quit Congress after nearly 20 years. Every voter has to ask themselves: Why would he go back if he couldn't fulfill his promises at that time? But listen, my far-right Republican opponent and his cronies will spend millions trashing me and trying to destroy my campaign."
In Los Angeles
The race for Los Angeles County District Attorney was particularly heated this year. Incumbent two-term Jackie Lacey ended election night with 54% of the vote, but her numbers have declined to a bare majority with the late counting of absentee ballots. Her opponents were former San Francisco District Attorney George Gascón, a prominent restorative justice reform advocate, and progressive lawyer Rachel Rossi, who has never had a career in law enforcement. Gascón's latest count stands at about 27%, and Rossi's at about 22%.
All three candidates are registered Democrats. The controversy over Lacey is that even as a Black woman, she has not prosecuted any killings of Black people by the police, and has evaded difficult conversations in which Black Lives Matter has tried to engage her. If the final vote tally gives Lacey more than 50%, she wins re-election outright. Otherwise, she faces the runner-up in November, most likely Gascón.
In the L.A. County Supervisor races, the incumbents held onto their seats. The 2nd District offered a seven-way contest, but the leading candidates were state Sen. Holly Mitchell and termed-out L.A. City Councilman Herb Wesson. Each supervisor represents about 2 million people in L. A. County. The main issues in the county are homelessness, gentrification and the cost of housing. Labor split its support. The L.A. County Fed supported Wesson, along with L.A. Deputy Sheriffs and SEIU Local 721, while Mitchell received support from SEIU-United Healthcare Workers West and the Planned Parenthood Advocacy Project. Mitchell and Wesson will face each other in a runoff.
Three measures were up for vote on Super Tuesday. County Measure FD, intended to raise funds for the L.A. County Fire Department, won a majority but fell short of 2/3 to pass. Measure R scored a landslide victory, allowing the L.A. County Sheriff Civilian Oversight Commission to reduce the jail population and invest in preventative services. The statewide Proposition 13 failed. It would have raised funds for school construction and renovation.
In the critical Los Angeles School Board election, four out of seven seats were in contest. Veteran progressive Jackie Goldberg held onto her seat handily, but the other races are undecided so far. These elections are determinative because any one win would flip the majority toward charter school advocates.