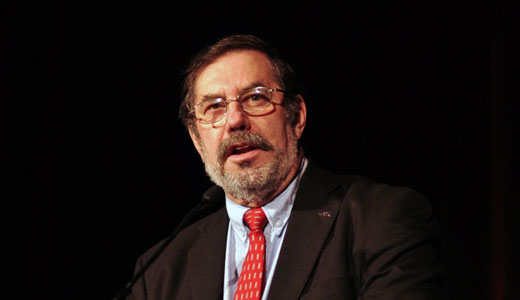 ORLANDO, Fla. – Early in the morning March 14, after the news that former Sen. Rick Santorum had won Alabama and Mississippi GOP primaries, Leo Gerard, president of the Steelworkers, described over breakfast his recurring nightmare.
"I just fall asleep and I dream that Rick Santorum or Mitt Romney have been elected president of the United States," he said. "It scares the s— out of me so bad that I wake up and want to put on my clothes and rush right back into work!"
Leo Gerard, the president of the 700,000-member United Steelworkers, described his nightmare just before laying out the boldest economic recovery program since the New Deal of the 1930s – a plan he said the AFL-CIO adopted and will fight for "until we win it."
The multi-pronged program calls for the investment of trillions of dollars in transportation, manufacturing and education; labor law reform; full employment; indexed minimum wage; reigning in Wall Street and the banks; fair trade that creates demand and raises all boats.
"If Europe insists on strangling itself with austerity that's our big market. They can take us down with them," he said.
"Whether it's Greece or the UK, austerity only got them into a deeper mess."
Gerard admitted that labor's program is an ambitious one, but said, "Simply this is what has to be done."
In the immediate short term he said, "The main objective for all our members is to ensure the reelection of President Obama and to work for Democratic majorities in the House and Senate."
On the Republican primary candidates, Gerard said Santorum is "so far to the right that he makes historically conservative Republicans look like liberals. After all, it was Richard Nixon, not me, who said that you can't have democracy unless you have a strong labor movement."
On Romney, he said, "We can go to our members and ask. Who do you want to vote for? You pay 30 percent or more in taxes. Do you want to vote for the billionaire who pays only 14 percent or would you rather vote for President Obama who is on your side?"
Photo: Stock photo of Leo Gerard. United Way of the Lower Mainland // CC 2.0