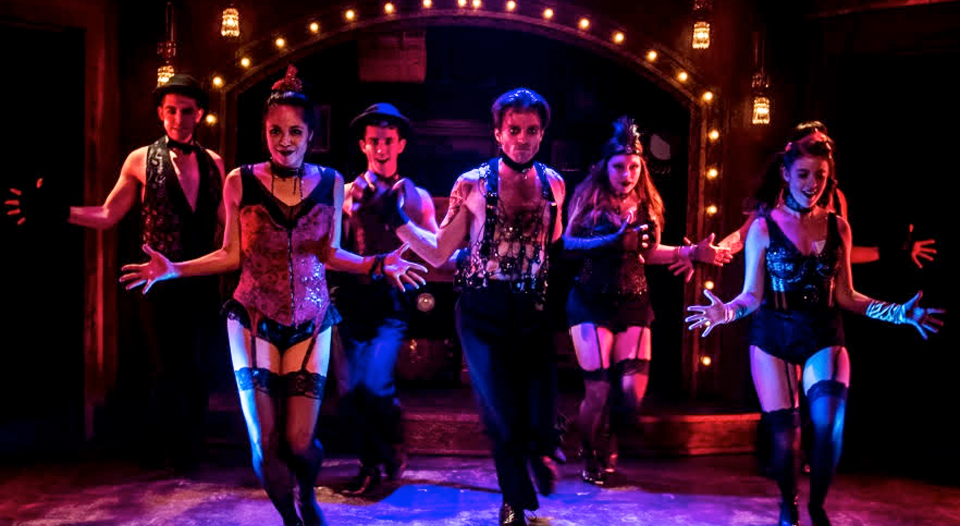 LOS ANGELES—The time may come when John Kander and Fred Ebb's 1966 musical Cabaret will seem an artifact of such a distant unremembered past that to revive it for new audiences would require more contextual explication than it's worth.
But sadly we're nowhere near that point yet, and not likely to get there any time soon.
If the world continues on the path from bad to worse to the gates of Hell, Cabaret may become a subversive reminder of the warning artists tried to give us while it was still possible—much as Kurt Weill and Bertolt Brecht's 1928 Threepenny Opera became once it was verboten as "degenerate art" under the Nazi regime that descended upon Germany in 1933. As most readers already know, it is that period, just before the descent into that Hell, the years 1929-1930, that Cabaret illuminates.
As a reality check of "how soon we forget," let me share with you this little anecdote. In about 1981 or '82, in the early years of Ronald Reagan's presidency, I sang with the New York City Gay Men's Chorus. One day a new piece of music, set in our usual four-part arrangement for male voices, was handed out at rehearsal. Well, you know how we boys love our Broadway musicals, and this was a number from the very popular Cabaret, which won most of the Tony Awards in 1967. The LGBTQ movement was always looking for anthemic songs to lift our spirits in those scary times—a right-wing Republican in the White House, the initial fright of the AIDS epidemic—and our director landed on the uplifting "Tomorrow Belongs to Me."
As we began singing, images from the show, and from the 1972 film, which many of us in the chorus had seen, started filtering back. The "tomorrow" this Kander and Ebb song referred to was the German young people's vision of an orderly, decent, full-employment Judenrein future—the ethnically cleansed fascism Hitler was building amongst the ruins of World War I and the Depression, and even within the walls of the cabaret.
I don't think we even got through that first run-through of the song before certain murmurings rose up in the chorus. "For chrissake, don't you realize what this song is?" we demanded. When it became clear that substantial numbers of us chorines would absolutely refuse to sing this Nazi anthem, it was quickly dropped, never to surface again.
Berlin in the 1920s was, more than anywhere else in the world, the epicenter of the gay movement. Giving it formal legitimacy was the sex research institute founded by Dr. Magnus Hirschfeld. But beyond that there were organizations, magazines, and a highly evolved culture of bars, clubs, cabarets and dance halls that catered to the LGBTQ crowd. Foreigners flocked to Berlin to experience what the frisson of "gay liberation" looked and felt like, among them the British gay writer Christopher Isherwood, to whose story "Goodbye to Berlin" the musical owes its origin.
The cabaret to which this musical refers is the Kit Kat Klub, whose entertainers and clientele reflect the gender-bending norms of the period, and where many of the social anxieties of the time play out in the music, the dance, and backstage. Until now I never took note of the club's initials: The KKK was at its height in America during those years of voter suppression, lynching, sharecropping, imprisonment on state labor farms for such crimes as "loitering" (slavery being permitted under such circumstances by the 13th Amendment). The Jim Crow laws of the American South—informally observed in much of the rest of the country as well, we should not forget—were a model for the racial laws in Germany. Cut away access here, rights there, employment, intermarriage, schools, professions, and there's no telling where it will lead.
Gay people were also targeted by the Nazis. So although Cabaret does not focus exclusively on its LGBTQ characters, it is neither surprising nor coincidental that the exceptionally professional Celebration—a company that aims to "entertain, inspire, and empower with innovative productions that celebrate  the LGBTQ community"—has chosen now to stage this work, whose run, owing to runaway reviews (consider this one), has been extended through August 5th.
Celebration is notorious for occupying a really tiny building just up the street from The Village, one site of the Los Angeles LGBT Center. But they are equally famous for employing it to best advantage, however they design the space. One of their amazing productions from last year, Die, Mommie, Die!, burst out of its confinement when the Center Theatre Group revived it at the larger Kirk Douglas Theatre for another brief look in its Block Party series. I don't know if CTG is disposed to choosing another production by the same company two years in a row, but somewhere, somehow, this Cabaret deserves to have a much larger life.
The director, Michael Matthews, felt that 2018 was a good year to present this show. "Cabaret could have been written yesterday," he writes in the program "…it's still completely relevant. One cannot argue how closely it echoes our world today as we know it."
"There are many places that are highlighted and illuminated throughout the play," Matthews continues, "that serve as a mirror image of who we are now, where we are, and lessons that were never learned. I ask that you lean forward, that you are entertained, that you listen, and start a conversation."
In this Cabaret a few small changes have been made that help to bring the story home, and also reduce the size of the cast and the band. The production picks up certain ideas from later iterations of the show, which those familiar with the Broadway original or with the film (which omitted all but six musical numbers from the score) may not be familiar with. The ending in particular, in a few fleeting quotes from history, brings Cabaret right to the streets of America.
I hadn't really remembered Fräulein Schneider's songs. She is the older, never married German woman who runs the boarding house where the sexually ambiguous American writer Cliff Bradshaw (Christopher Maikish) and the hedonistic, coke-sniffing English singer Sally Bowles (Talisa Friedman) live. In "So What?" Schneider reflects on surviving all manner of war and privation and concludes that resigned acceptance is the best attitude. "You learn how to settle for what you get," she concludes. This role was created on Broadway by none other than Lotte Lenya, widow of Kurt Weill, German artists who both fled for their lives as soon as the Nazis took power. She is played in the Celebration production by an African-American performer, June Carryl, which was clearly not an example of colorblind casting, as her two understudies for the role, Julanne Chidi Hill and Brittney S. Wheeler, are both also African-American.
Fräulein Schneider is courted by one of her tenants, an older gentleman, the specialty grocer Herr Schultz (Matthew Henderson), who was played on Broadway by the just off the Blacklist actor Jack Gilford. He is Jewish—and proudly German—and firmly believes that the Nazis are a passing phenomenon. Cliff and Sally gift them with a crystal bowl in honor of their engagement, a foreshadowing of the November 1938 Kristallnacht (The Night of Broken Glass), when the Nazi fury exploded in a nationwide attack on Jewish businesses and synagogues.
Schneider is ultimately persuaded by social pressure not to marry a Jew, even though this would seem to be a last chance at marital happiness for both of them. In this case, the visible disparity is not between Jew and Christian, but between Black and white, with the "despised" role reversed. Very clever! In her song "What Would You Do?" she admits she's simply afraid, given how fast things are moving now, to risk losing whatever modest social status she has. She is the "good German" perhaps, someone who in her heart knows better, but bends away from her conscience so as not to make trouble for herself.
As foreigners, Cliff and Sally have the option to leave the coming madness and go home, which Cliff does and Sally doesn't, at least not yet (perhaps a reference to the sultry Swedish singer Zara Leander who made her career in Germany and stayed for the duration). But Schneider really doesn't have that option, and what in Germany's past could have led Herr Schultz and other Jews to foresee what eventually happened? Some Germans of conscience, and the means to do so, such as Thomas Mann and Stefan Zweig, emigrated. But most people had their families, their homes, their farm, their job, and made the best of the new situation. And so it goes….
As Aditi Juneja has tweeted in a much shared post, "If you've wondered what you would've done during slavery, the Holocaust, or Civil Rights movement…you're doing it now." Which seems to be the point of the Celebration production here and now.
The Celebration is tiny enough that we all easily feel ourselves patrons of the Kit Kat Klub. The seedy environment—flocked wallpaper scenic design by Stephen Gifford, expressionistic lighting by Matthew Brian Denman, risqué costumes by Michael Mullen, props by Michael O'Hara—sets us in this little cave where "life is beautiful." The fine four-piece band led by keyboardist Anthony Zediker, likely more resembles what such a Klub would have been able to afford in 1929, as opposed to the lush Broadway pit orchestra that makes for a bigger show.
John Colella is the insidiously suave, increasingly menacing Nazi Ernst Ludwig. Katherine Tokarz is the resident boardinghouse prostitute ("no sailors, no rent"). Jasmine Ejan, Sarah Mullis, Mary Ann Welshans, Nicole Stouffer, Tristan McIntyre and Tanner Rampton are the house performers who do magical turns in Janet Roston's choreography on (have I mentioned this?) such a small stage.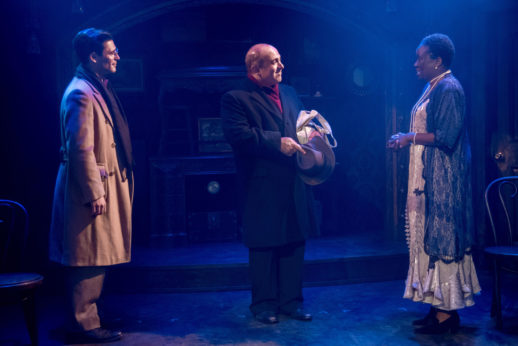 The all-important role of the Emcee, naughty, enigmatic, trisexual (he'll try anything, including a ménage à trois in the song "Two Ladies"), portrayed famously by Joel Grey originally and later by Alan Cumming, is taken by the constantly morphing Alex Nee, whose one elongated finger doubles as a recording needle and other functions at critical moments. His second-act song "I Don't Care Much," performed in a half-male, half-female outfit, is emblematic of his critical indecisiveness. How uncanny that the Slovenian model Melania, now third wife to Donald Trump, boarded the plane for her recent visit to the Texas internment facilities to so hypocritically show support for the immigrant kids ripped from their parents' arms, wearing a jacket lettered "I Don't Really Care. Do U?"
With such iconic numbers as "Willkommen," "Maybe This Time," "Money (Makes the World Go Round)," "(Come to the) Cabaret," and the Emcee's topical song "If You Could See Her" performed with his dancing gorilla girlfriend, Cabaret entertains mightily, with remarkably good singing-actor voices, as its chilling messages creep into your bones.
"Why listen to the prophets of doom?" the drugged-out, apolitical Sally Bowles asks (Liza Minnelli famously in the film version). "What good is sitting alone in your room?"
I beg to differ with her, but "Life is (not just) a cabaret."
Having said which, wow, this show gets more timely with each passing day. Lean forward and listen well!
Cabaret plays at Celebration Theatre at The Lex, 6760 Lexington Ave., Los Angeles 90038. For tickets and further information go to the Celebration website here.
Like free stuff? So do we. Here at People's World, we believe strongly in the mission of keeping the labor and democratic movements informed so they are prepared for the struggle. But we need your help. While our content is free for readers (something we are proud of) it takes money — a lot of it — to produce and cover the stories you see in our pages. Only you, our readers and supporters, can keep us going. Only you can make sure we keep the news that matters free of paywalls and advertisements. If you enjoy reading People's World and the stories we bring you, support our work by becoming a $5 monthly sustainer today.