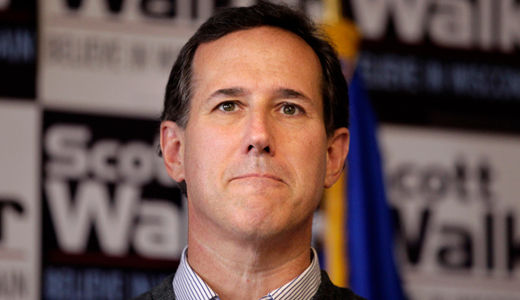 Former Pennsylvania Sen. Rick Santorum ended his campaign today, clearing the way for Mitt Romney to get the GOP's presidential nomination.
Citing talks with his family and the hospitalization of his daughter, Santorum said the suspension of his campaign was effective immediately.
The announcement, coming after GOP kingpins were already rallying around Romney, has the effect of crushing opposition to the former Massachusetts governor from inside the Republican Party. It also comes only two weeks before Santorum faced the prospect of defeat in his home state of Pennsylvania, a loss that would surely have ended his political career if it has not already been ended.
Santorum, along with a host of others, have taken turns as top dog in the Republican primaries. Rep. Michelle Bachman, Texas Gov. Rick Perry, Herman Cain and former House Speaker Newt Gingrich all had their moment in the sun. Observers note that the game of musical chairs for the slot as front-runner was more the result of disgust by registered Republicans with all of their candidates than it was a show of confidence in any one of them.
Romney becomes the inevitable candidate just as President Obama's campaign has begun roasting him in earnest on tax fairness, turning the former governor into the poster child for income tax inequality.
On a conference call with reporters top Obama spokespeople blasted Romney for keeping years of tax returns secret, using offshore bank accounts for investments, and enjoying a lower tax rate than most middle income Americans.
"Romney supports tax policies that reward people like him, and now he's trying to obscure just how much he would benefit, by hiding his own financial records," said Obama campaign manager Jim Messina.
"Our message to Mitt is simple: if you don't have anything to hide, release your taxes just like every other candidate for president does," he said.
Messina said Romney's opposition to the Buffet rule and support for Bush tax cuts for the rich will be a losing message in November.
Photo: Former Pennsylvania Sen. Rick Santorum. Jae C. Hong/AP