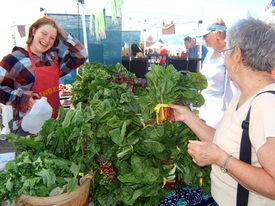 Salmonella outbreak spotlights food safety crisis
SEQUIM, Washington—The U.S. Food and Drug Administration (FDA) is still struggling to track the Salmonella SaintPaul food poisoning outbreak that has sickened more than 869 people in 36 states and the District of Columbia since the first reported case in New Mexico April 10.
With our highly integrated industrial system of food production, no one is immune from food-borne illness not even those who have gone back to the farm—like this writer. We are living in a house on the Wheeler family farm this summer surrounded by acres of organic wheat, barley, and Swiss chard planted by the prizewinning organic farmer, Nash Huber.
Yet we too shop at Safeway and are painfully aware that four times more people have got sick in this latest outbreak of salmonella than were sickened in the last outbreak in 2006. Just to underline that there are no panaceas, the spinach in that outbreak was organically grown.
The New Mexico Health Department reported May 22 that it had identified 20 cases of salmonella food poisoning and confirmed that at least seven of the victims were infected with salmonella SaintPaul a rare strain of the bacteria that typically sickens about 400 people each year in the U.S. The New Mexico authorities believed that tomatoes were the source of the contamination and advised against consuming most uncooked varieties. But now federal investigators have broadened the warning to include other items in the "salad bowl" including jalapeno peppers and cilantro. There are suggestions the contamination may have originated in Mexico.
Others are looking closer to home. Donna Rosenbaum, executive director of S.T.O.P. (Safe Tables Our Priority), based in Northbrook, Ill., told the World the current outbreak "proves that the issue of food safety really needs our attention. We've been in on all the calls with the USDA on this latest outbreak. This has been such a hot issue, now, for so many weeks we're flabbergasted that neither presidential candidate (Democrat Barack Obama or Republican John McCain) has latched on it. Hillary Clinton has met with us in the past. She has been very strong on food safety issues."
S.T.O.P. President Nancy Donley initiated the group 15 years ago out of grief from the loss of her six-year-old son Alex, who died from eating an E.Coli contaminated hamburger. Rosenbaum's daughter's best friend also died from food poisoning.
The group is campaigning for legislation to promote food safety, most notably, the Safe Food Act co-sponsored by Sen. Dick Durbin (D-Ill.) and Rosa DeLauro (D-Conn.) and 22 other members of the House. It would replace the patchwork of 12 federal agencies responsible for food safety with one new Food Safety Administration with enhanced enforcement powers. DeLauro is the founder of the 29-member Safe Food Caucus in the House.
Rosenbaum said S.T.O.P. has been fighting for food safety for 15 years. Most often the culprit is tainted hamburger or poultry, she said. It is unusual to find Salmonella SaintPaul contamination in fresh produce. "It is poultry-borne, usually turkey," she said. "So one of the questions is how it jumped over to fresh produce." Tomatoes, she said, are a generic form of produce mostly sold unpackaged so it is especially hard to trace. "Even in the case of the Salmonella outbreak in 2006, the spinach was sold in bags. That made it easier to trace. We definitely think the trace-ability issue is an important one. There are problems right down the line. It goes beyond the shortage of inspectors. Public health shortfalls, for example. There is a shortage of lab capacity." she said. "There is such a backlog of test samples just sitting their waiting to be analyzed." Speed in this forensic testing is critical to success in tracking food-borne illnesses, she said.
"What we are looking for is a stress on the prevention side, a more systemic approach than just the inspection issue."
S.T.O.P. released a report in 2003, 10th anniversary of the Jack-in-the-Box E.Coli outbreak that killed four children in the Seattle area and sickened hundreds more.
The report cites Centers for Disease Control statistics that 76 million people are sickened by food-borne illness each year, 325,000 are hospitalized and 5,000 die. The report debunks federal government claims that food safety programs extend from "farm to table." It declares, "This is simply not the case. No governmental agency controls for human pathogens at the farm (or the feedlot) level where the pathogens dwell in the animals that enter the food supply."
There are no federal regulations "that set specific requirements for the storage and application of manure, or for nutrient and animal waste management," the report charges adding, "Federal government efforts to control microbial contamination on farms and feedlots are largely non-existent. Yet the more resources spent preventing pathogenic contamination of food at the source, the less will have to be spent minimizing, managing, treating, and responding to food-borne illnesses" after the outbreaks occur.
The report does not single out factory or industrial food production as the problem. But the report does state: "The more steps between food processor and the ultimate consumer, the more opportunities exist to introduce contamination."
The need to simplify the delivery of food from the farm to the dining room table, reducing the numbers of food handlers, processing, and packaging has given rise to the surging demand for local food production. It is based on a widely shared belief that local food is safer, fresher, and more nutritious.
Here on the Olympic Peninsula in Washington State farmers markets and open air markets are springing up to meet the demand. We have visited the Port Angeles and Sequim open air markets where a cornucopia of fresh vegetables, fruit, and even fresh, wild fish caught straight out of the Pacific is for sale. Port Townsend has a thriving Co-Op Food market. Liz Rivera Goldstein, a leader of the anti-war movement, is a check-out clerk at that market. She reports she is ringing up more and more locally grown vegetables. "If you look at what we are offering in our produce section, you see many, many items marked with 'L' for local," she told the World.
The local food demand has increased the need for good farmland near the market. It runs afoul of real estate developers who are rapaciously gobbling up prime farmland. Nowhere is this collision sharper than here in the Sequim-Dungeness Valley, once home to more than 250 dairy farms. I grew up on one of them. Now there are two dairy farms left. Most of the others have been subdivided and sold for real estate.
The valley is pocked with McMansions, as well as more modest homes, enjoying spectacular views of the Olympic Mountains or the Strait of Juan de Fuca. Bob Caldwell who spent 29 years as a soil and water conservation specialist for the U.S. Department of Agriculture is president of "Friends of the Fields" (FOF) in Clallam County, a group he, Nash Huber, and others founded in hopes of saving a few hundred acres of the remaining farm land in the Sequim-Dungeness Valley.
In an interview at "The Buzz," a coffee shop in Sequim, Caldwell told us he arrived here in 1994. Huber had brought a lawsuit against Clallam County charging them with failure to adequately protect agricultural resources under Washington State's Growth Management Act. Huber won the lawsuit, forcing the County to revise their plan.
There were proposals for cluster development and a plan to purchase development rights from the few remaining farmers. The county's only positive step was setting up an "agricultural retention zone" containing about 7,000 acres of farmland. This land could not be subdivided in parcels smaller than 16 acres.
"We watched, nothing happened," Caldwell said. "Developers continued to gobble up the land." So Caldwell, Huber, and others gathered together and formed "Friends of the Fields" in 1999. "We concluded that nothing was going to happen unless we did something." A brochure released by FOF warns, "We're losing our beautiful and productive farmland to development at the rate of over 1,000 acres per year. At this rate, we will lose all our unprotected farmland in the next 15 years."
FOF collected 4,000 signatures to win ballot status for Proposition 1 in 2006 which would have added a tiny fee to real estate sales with the revenues earmarked to help farmers stay on their farms. "The farmers were always supportive but we had whacked a hornets' nest. The real estate interests outspent us four to one." The overwhelming bulk of this money to buy hysterical ads denouncing the ballot measure came from outside the state, he said. "They really mocked us so we lost 43 percent to 57 percent. It wasn't a horrible slam dunk loss."
Now FOF is pushing for creation of a Conservation Futures Fund that will generate $300,000 annually to preserve farmland. The funds could be used to apply for federal or state matching funds.
FOF has also acted directly struggling to raise enough money to buy farmland outright. It has resulted in two farms saved, tiny victories that only dramatize the crisis of lost farmland.
"Our farmland across the nation is disappearing at an alarming rate, 160 acres every minute," Caldwell said. "We're beginning to outsource so much of our food production. Just a few years ago, we were a major exporter of agricultural produce. Now we are a net importer. Traditionally, high value agricultural production was right around our cities, really good, arable farmland near the market. Now it has been developed."
The Federal Farm and Ranchlands Protection Program is very popular among communities, non-profit organizations and others seeking to save farmland, he said. It provides federal matching funds to help farmland preservationists pay for conserving farmlands. "It is not popular among Republicans and has not been funded to the degree necessary to meet the need," he said.
Like so many critical issues facing humanity, we are fast approaching a "point of no return" in our loss of farmland. Safe food now! Save our farmland! These too are issues that loom over the 2008 elections.