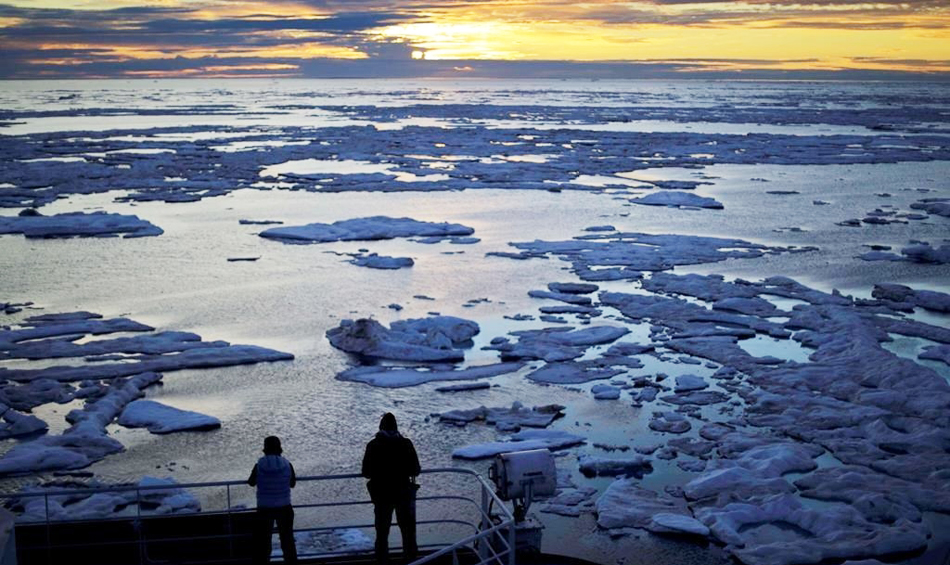 Over the past few days, many climate scientists took to social media to express dismay over the Arctic's unseasonably warm temperatures and its record-low sea ice. At the height of winter, the region is clocking temperatures normally seen in May.
"The northernmost permanent weather station in the world, just 440 miles from the North Pole, has warmed to 43°F today—in the middle of months-long darkness during what is normally the coldest time of the year," meteorologist Eric Holthaus tweeted Saturday.
"This is simply shocking. I don't have the words," he added.
"Just how hot is the Arctic now?" Peter Gleick, the president-emeritus of the Pacific Institute and a member of the U.S. National Academy of Science tweeted, "Hotter than ever measured in the winter. Human-caused climate change is beginning to radically transform our planet."
Climate scientist Zack Labe, a researcher at the University of California at Irvine, shared several striking graphs of the Arctic's record-breaking heat.
Robert Rohde, a lead scientist at Berkeley Earth, commented that parts of the Arctic are seeing temperatures more than 60°F above normal for February. In translation? "The North Pole is warmer than much of Europe right now."
"This is associated with a warm air intrusion from the Atlantic and displacement of cold air onto Asia following large scale disturbances to the polar jet stream," he explained.
"Temperatures are still breaking records at North Greenland. +6°C (43°F) for a daily high is not just a record for February, it beats the highest temperature observed at this site in March or April as well. This is roughly 35°C (63°F) above normal for this time of year," he tweeted Sunday.
In real-world terms, the warmth has caused crucial sea ice to melt. This frightening footage, first flagged by Mashable, shows how the Bering Sea's disappearing ice is exposing Alaskan coastal communities to terrifying storm surges. Normally, the sea is solidly frozen.
Lars Kaleschke, a physicist and professor for sea ice remote sensing at the University of Hamburg, noted"there is open water north of Greenland where the thickest sea ice of the Arctic used to be."
"This has me more worried than the warm temps in the Arctic right now. That sea ice north of Greenland among the last vestiges of old, thick sea ice existing in the Arctic ocean," Mike MacFerrin, a researcher of ice sheet meltwater feedbacks at the University of Colorado Boulder, tweeted in response to Kaleschke's startling point. "Break it apart, it can circulate straight out into the Atlantic come summer. We'll see what comes."
This article was reposted from EcoWatch.