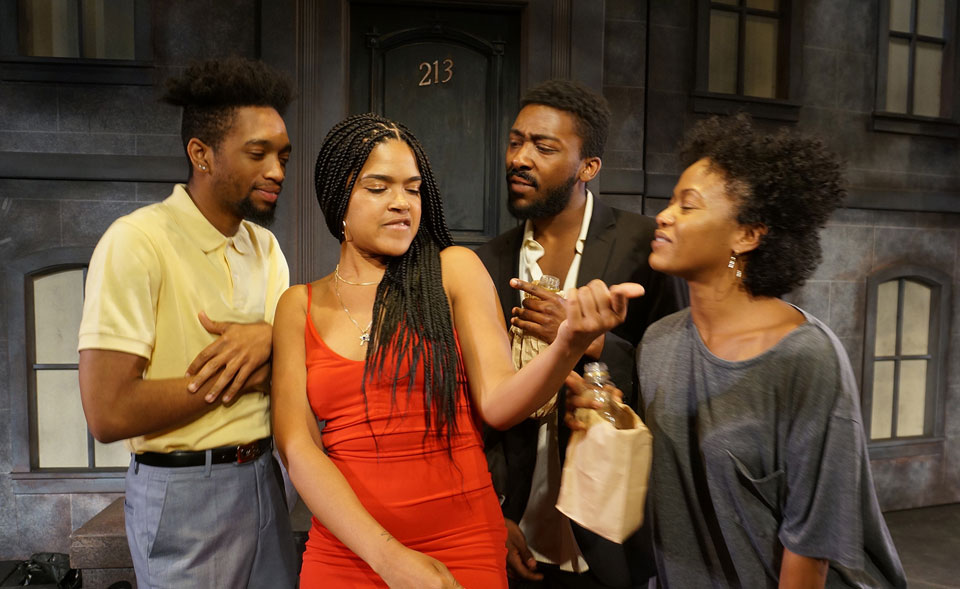 LOS ANGELES—After a successful summer run, this is the last week for theatergoers to experience one of this year's most powerful plays, Scraps, which opened in July. Created by young playwright Geraldine Inoa, who also writes AMC's zombie TV series The Walking Dead, Scraps is about an up-and-coming athlete shot down by NYPD and focuses on the aftermath of the killing of this unarmed Black youth. The heavy drama, set in Brooklyn's Bedford Stuyvesant, explores the Post-Traumatic Stress Disorder experienced by the deceased's loved ones. Additional police brutality triggers a riot and more violence, including retribution.
Scraps' second act moves from the realistic Bed-Stuy setting to a surrealistic realm, expressing the psychological state of PTSD. Inoa has said Scraps was motivated by Michael Brown's shooting, and that "a hit" has been placed on African Americans. One of the factors that makes Scraps, directed by Obie-award winner Stevie Walker-Webb, must-see theater is the compelling performance by Denise Yolén as Aisha Douglas, the mother of the dead athlete's son Sebastian (Damon Rutledge), sister of the troubled Adrianna Douglas (Ashlee Olivia), friend of Columbia University student Calvin Young (Ahkei Togun) and aspiring poet/rapper Jean-Baptiste Delacroix (Tyrin Niles).
Scraps is arguably in the tradition of what the great German playwright Bertolt Brecht called a "Lehrstück," a "learning play" intended to educate viewers so they can take action to right wrongs.
"One violation of a human right is a violation to all human rights."
Denise Yolén is a writer and actress originally from New York City. In addition to her star turn as Aisha Douglas in Scraps, Yolén also co-starred in the 2019 Paul Robeson Theatre Festival's August 23 staged reading at the L.A. Theatre Center of The Queen of Los Angeles about the oldest person in the world, portraying the young faith healer Gertrude Baines, an actual historical figure. Yolén will be a panelist on the upcoming Left Coast Forum's "Enter Stage Left: Theater, Film and TV for a Better World" panel in mid-October.
In this Q&A, Yolén—who embodies what Lorraine Hansberry called being "young, gifted and Black"—discusses Scraps, the role of theater, the role of the artist, and more.
PW: What is Scraps about?
Denise Yolén: Scraps is an in-depth look at a family dealing with the loss of a close loved one…. The family is afflicted with trauma losing a loved one through police violence…. Forest Winthrop, who was slain at the age of 19 years old, was a promising athlete, football star extraordinaire and had plans and dreams to play in the NFL one day. He had a football scholarship to Florida State University and amongst our friends he was the one who always kept everyone laughing, in good spirits, stayed out of trouble, had his head on his shoulders and a bright future ahead of him.
Tell us about your character.
I play Aisha, the mother of a little boy named Sebastian, and the girlfriend of the young man, Forest Winthrop.
Is Scraps an example of activist theater?
Yeah, absolutely! I see it in a sense as a…form of protest through education. What these different works [about police and white nationalist violence against Blacks] are doing is they are teaching audiences the hows and the whys. How something like this could happen and teaching us the inner mechanics of it. A lot of what I've been seeing in these works…is, oh, this is what is implemented in the system and it's enlightening me to things that I may not have even known, even as a Black woman, as to how these things are happening. They're also teaching audiences how they affect the family, how it causes a ripple effect and why you see it over and over and over again. It's getting deeper into what's really wrong with the system, and now it's up to you, the audience, to decide what are we going to do about it?
Is this the role of theater?
Oh, 100%! I think that is the perfect theater…. What theater does, it puts it right in front of your face, you are in the room with these people, breathing the same air, receiving the exact same energy. It has a visceral, profound effect that cannot be duplicated, replicated, in a film or TV show. It's a completely different experience and that's why theater to this day is very necessary—the immediacy of a live performance. Also the energy….
Through my work I have always looked for those opportunities [to comment on social injustice]. Performing in a production like Scraps is my form of getting the word out and showing these lies. It's been my purpose as an actor to not only entertain, but also to educate and enlighten. I'm a writer as well, my subject matter generally will have some sort of message.
Scraps is one of the 30-plus stage and screen productions about police deadly use of force and white vigilante killings of Blacks since Trayvon Martin's shooting in 2012. Which one of these works impressed you most?
Ava DuVernay's When They See Us was one of the most profound things I've ever seen in my entire life. I don't think I've ever been affected by something so much. To the point where—because I was in production for Scraps, I actually literally had to stop watching—I had only gotten through the first part [of the four-part Netflix limited series about the Central Park Five]. I could feel it almost on a physical, cellular level, like literally nauseous at what had happened. It goes back to that point of education, of opening minds, it forces us to reflect on bias…. We see how one person's bias fueled the fire to the next person's bias fueled the fire to a whole police investigation—it looked like a California wildfire. And none of it was true, none of it was fact…. We have to know this is current, this is real, something that we have to look at as it is happening.
Can these types of productions play a role in the public discourse?
Absolutely! [Yolén has been impressed by reactions to Scraps from theatergoers, such as the daughter of a Holocaust survivor, calling this] feedback to how the play affected them that's 100% progressive…. No human being on Earth is exempt from trauma. Trauma is part of the human experience. This play takes a look at trauma and how that is passed on through generations. Scraps is a human play. One violation of a human right is a violation to all human rights.
This is L.A. theatergoers' last chance to see one of the year's best dramas. Scraps is being performed Sat., Sept. 14 at 8:00 p.m. and Sun., Sept. 15 at 3:00 p.m. at The Matrix Theatre, 7657 Melrose Avenue, Los Angeles 90048. For info: (323) 960-7711. For tickets: www.matrixtheatre.com.
See here for more information about Denise Yolén.
For details about the Left Coast Forum's "Enter Stage Left: Theater, Film and TV for a Better World" panel, which Denise Yolén is part of, and as of this writing is scheduled for 12:40 p.m.-1:50 p.m. on Sun., Oct. 13, see here. For Left Coast Forum info see here. Ed Rampell is the moderator of the Forum's "Enter Stage Left" panel.