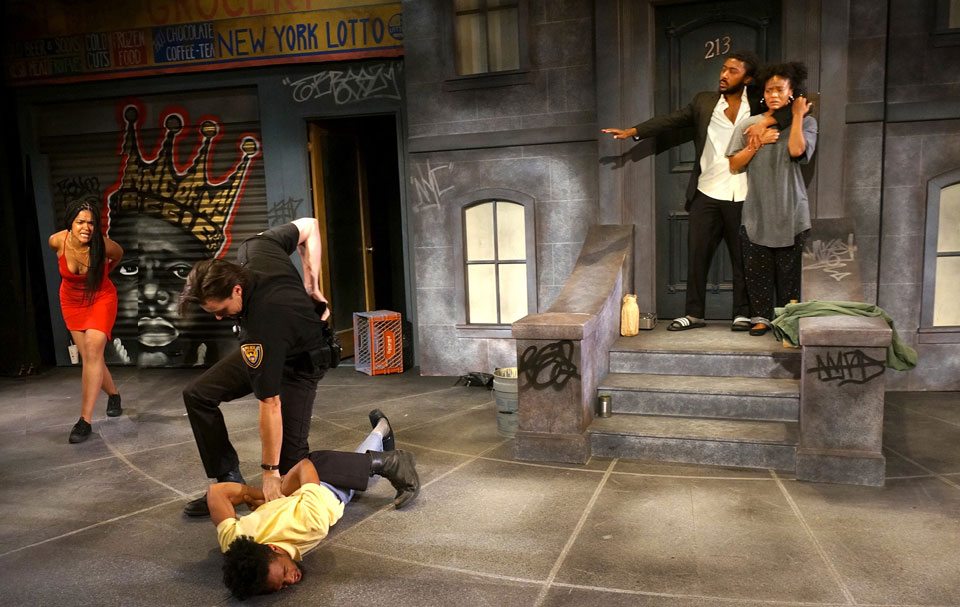 LOS ANGELES— In 2009, just as the Barack Obama presidency began and following more than three decades of producing multiple award-winning work for the stage, Matrix Theatre Company founder/artistic director Joseph Stern resolved to redirect the company's focus to the exploration of race issues in contemporary society. Recently at the Matrix People's World reviewed August Wilson's Two Trains Running.
The latest installation at the Matrix is Scraps, written by Geraldine Inoa and directed by 2019 Obie Award winner Stevie Walker-Webb. We saw it opening night, July 6, in its West Coast premiere.
It's a truism (meaning it's like super-true) that white people can never fully understand African-American pain. Isn't this what theatre—and that would include comedy too—is ultimately all about? Trying to convey the particular dilemmas of the characters in the play and hoping that between the acting and the directing, aided by all the stagecraft the production can muster, the artists can just maybe begin to help an audience appreciate what it's like walking in another person's shoes.
Such is the case with this valiantly staged play about the aftermath of a white cop's shooting of a Black male in the depressed Brooklyn community of Bedford-Stuyvesant, known as Bed-Stuy. Yes, we see these headlines over and over from every part of the country, but what we never see is how the surviving loved ones struggle to cope once the cops are cleared of any charges, as is almost always the case.
Scraps is a cry of rage and despair that references the entire African-American presence in the Americas since the first enslaved human beings were brought to Jamestown 400 years ago in 1619. The problem is that the trauma of servitude and murder, and all the other forms of effacement of dignity that African-American people have had to suffer for four centuries, never achieves what the pop psychologists call "closure." We cannot even speak of PTSD—Post Traumatic Stress Disorder— because there's never a post trauma in this saga: There's always another trauma lurking right around the corner when some armed cop strutting the streets finds someone's radio a little too loud, some dude's 'tude just a little less than acceptably submissive, some young Black woman's tail light just a little too broken.
Trace the psychic history of oppression, as this play does, and not only was your daddy killed, but your daddy's daddy too, and your daddy's daddy's daddy. Fear, rage, depression—it's practically genetic. Or, as poet of the streets Jean Baptiste Delacroix keeps rap-peating, "The past is prologue."
The playwright brings it out even in the history of soul food—the hot but not always so haute cuisine that originated with the scraps the white slaveowners didn't care to eat—the innards, the feet, the undesirable parts they were going to throw out. Black people been consuming the dregs of the white wealthy caste for centuries—inferior food markets, segregated schools with out-of-date textbooks, slums, substandard housing and homelessness, jobs most whites wouldn't work at for that kind of pay, arrest, prison and death sentences for nothin' (see The Central Park Five for instance), lynchings (that was old-style killings by cops, prison guards and vigilantes), cross burnings and church burnings, inadequate healthcare, cannon fodder. Disposable, dispensable food for disposable, dispensable people.
Not that there's never been resistance. Oh, there's been plenty, starting at the wharves in West Africa where the slavers packed Africans into the holds of ships bound for plantations across the Atlantic. Revolutionary suicides, escapes, establishment of free settlements in bayous and swamps, revolts, even armed insurrection and "back to Africa" movements. But always against overwhelming odds that would cut off African-American opportunity at the knees, assassinate their leaders, indefinitely defer their dreams.
We hardly live in a post-racial America. The reality, that many people of different backgrounds have a difficult time admitting, is that only the broadest possible unity of the American people—Black, white and everyone—can defeat the fascistic ultra-right, restore some normalcy to democracy, and potentially advance to a green socialism that offers effective reparations for our bloody, traumatic past.
The playwright's responsibility is not necessarily to lay out a whole prescription for us, but to uncover those festering, never-healing wounds in the African-American community from lash and rape, from prison, poor healthcare and lead poisoning, from overwork and gunshot. We've heard all this before: From Frederick Douglass and Harriet Tubman, from W.E.B. DuBois and the NAACP, from the Watts Report and Dr. Martin Luther King. It just needs a powerful updating every few years so a new generation doesn't get complacent and forgetful.
"At first glance," says producer Joseph Stern, "the story sounds very familiar," young people hanging out on the front stoop of a derelict apartment building, smoking weed and rapping out the ills of society. Perhaps it's not coincidence that Scraps just adds a couple of letters to raps. One of the highlights of the play is the choral rap speech of the four central characters as they attempt to process the latest fatal shooting right in front of their building, of black 19-year-old and promising college football player Forest Winthrop by a white cop. Geraldine Inoa employs a provocative mash-up of angry yet also lyrical poetry, hyper-realism and expressionism that recalls the existential agony of Eugene O'Neill's Hairy Ape, or the urban frustration chronicled in Amiri Baraka's plays and poems.
"Trauma doesn't end after the event, but instead reverberates forever through the lives of those who remain," Inoa explains. "If we continue to only engage in surface-level conversations about race that prevent us from feeling uncomfortable, we are only asking for things to stay the same. This is a provocative play that may cause discomfort, but I hope it enables audiences to make a step forward, even if that means just making room to listen to my characters for 90 minutes."
Inoa's cast includes aspiring rapper Jean Baptiste Delacroix (Tyrin Niles); Forest's high school friend Calvin Young, whose status as a Columbia University freshman may not be enough to save him (2016 Poetry Out Loud national champion Ahkei Togun); Aisha Douglas, the beautiful mother of Forest's son (Denise Yolén); Aisha's tragic younger sister Adriana (Ashlee Olivia), all of whom we meet shortly after Forest Winthrop's killing in 2014. The characters speak of Aisha and Forest's young son Sebastian, who mostly stays indoors watching commercials and game shows on TV and reciting them back: Clearly the dominant "reality" culture—more surreal than real—is taking hold of this brain.
In Act 2 (although there is no intermission in this 90-minute play) we are in the year 2017 and already in the Trump era. We now meet the eight-year-old Sebastian Winthrop (Damon Rutledge, recently seen in Robey Theatre Company's Birdland Blue), who suffers from crippling, likely psychosomatic stomach pains. He feels intensely the lack of a father, and doesn't know what to make of his schoolmates calling him a queer. The playwright herself identifies as queer, "and I don't think I've seen black queer childhood presented on stage," she told tdf magazine last year in connection with the New York production.
Rounding out the cast is Stan Mayer playing a brutal white police officer. Ordinarily, in my own thinking and writing, I avoid referring to police as "pigs" because pigs simply do not behave with such bloodthirsty, barbarous, uh, inhumane qualities which need to be reserved for our own all too human species. But in this case I could be persuaded to make an exception, for reasons that become apparent in the second part of the play.
Scraps premiered in a sold-out run at New York City's Flea Theater in 2018. The New York Times review called Inoa "a playwright to watch." Time Out New York called her "a passionate new voice screaming to be heard." The play was a finalist for the L. Arnold Weissberger New Play Award, a semifinalist for the P73 Playwriting Fellowship and a semifinalist for the O'Neill National Playwrights Conference.
Inoa's language is authentic and often raw, both lofty and nightmarish. Among her concerns is the value of work and education. Aisha is a much put-upon worker with a horrible lady boss, but she keeps her nose to the grindstone with a young son to support. Calvin is a serious student at Columbia trying to lift his prospects in life. These characters stand in contrast to Jean Baptiste and Adriana, who are beaten down by the feeling of abandonment society imposes on them. And by the way, as if life weren't sad and crazy enough, now they're seeing signs that, like Williamsburg and other nearby working-class neighborhoods of Brooklyn, Bed-Stuy (who could have imagined it?) is now on the shortlist for gentrification.
"I hate white people," Adriana says at one point, then softens it slightly. It takes an enormous sense of self-possession to overcome the disadvantages of being born Black in America. It would take an almost unimaginable leap of faith for people of color in this country to trust whites long enough to enter that broad democratic united front we need so desperately. Whites have a lot of self-examination to do before they (we, I should say) can prove our faithfulness to do the right thing.
"[I]f you do something correctly in a play, if a production is successful, the writing is sharp," Inoa told interviewer Molly Savard last year, "you can have people hear things for the first time."
Inoa expanded on that theme in her tdf interview. "It's not just the white police officer—we're all complicit. Not only in Forest's death but in Sebastian's continued suffering."
Stevie Walker-Webb does deeply committed work directing this increasingly hallucinatory confection. If, as the playwright suggests, the play is meant to disturb and disrupt the way theatergoers see the world, the director makes sure that point is driven home. He has effectively staged a couple of stunning scenes, one a hanging which could be described as a self-administered lynching, the other a transformation of the graffitied street scene into a game-show phantasmagoria taking place inside young Sebastian's TV-addled and tragedy-impacted mind. To that end the director is ably aided by scenic designer John Iacovelli, lighting design by Brian Gale and Zo Haynes, and sound design by Jeff Gardner. Wendell C. Carmichael is responsible for the costume design.
Performances of Scraps take place through Sept. 15, Sat. at 8 pm, Sun. at 3 pm, and Mon. at 8 pm. The Matrix Theatre is located at 7657 Melrose Ave., Los Angeles 90046. For tickets and other information call (323) 960-7711 or go to: www.matrixtheatre.com. Mon. nights are Pay-What-You-Want. This is unforgettable theater.