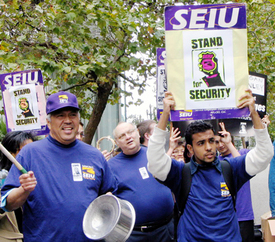 SAN FRANCISCO — Security officers who protect downtown high-rise office buildings are telling this city's corporate real estate giants they need real security, too, in the form of living wages, family health coverage, paid sick days and pensions. And if need be, they are prepared to strike to get it.
Hundreds of security officers and their supporters from other unions and the faith community held a spirited rush-hour march through the financial district Sept. 6 to kick off a weeklong Stand for Security campaign. The campaign aims to win a new master contract providing the largely African American and immigrant workforce with wages, benefits and job protections comparable to those already won by janitors, parking attendants and other building workers.
Along the way, a delegation delivered a letter to the San Francisco headquarters of real estate giant Morgan Stanley, calling on the company to stop the double standards.
Over 4,000 security officers in the Bay Area, members of SEIU Local 24/7, have been working without a contract for over two months. Bay Area security officers typically are paid about $23,500 a year, less than half the Economic Policy Institute's self-sufficiency standard for a family of four.
As marchers gathered, the words of S.F. NAACP President Rev. Amos Brown rang out over Market Street: San Francisco's corporate real estate giants, including Morgan Stanley, Hines, and Shorenstein, "are some of the richest corporations in the city and the country, if not the world. These landlords have built into their business model a practice of pushing the health care costs for tens of thousands of security officers and their families onto the taxpayers of California."
In a statement read by Faith Coalition President Rev. Ted Frazier, Brown emphasized that only security officers have been left out of living wages and benefits now provided other building workers.
"You're not living with the dignity that every San Franciscan deserves," S.F. Supervisor Chris Daly told the crowd. "As the people who are protecting billions upon billions of dollars in property, you deserve better."
Noting that the San Francisco Labor Council has granted strike sanction to the security workers, labor council head Tim Paulson pledged solidarity of the city's labor movement.
In an interview before the march, Keith Ward, a security worker, said that at the same time that new office towers are rising in the city, increasing the need for 24-hour security services, the companies that contract with real estate moguls to provide those services are continuing to pay such low wages that security officers have to work two and three jobs to keep up.
"Thirty or 40 years ago, building owners hired a night watchman," Ward said. "Now being a security officer has become a profession. We need computer skills and other special training to do our jobs."
An additional problem has been the refusal of the big nationwide security contractors like Guardsmark, Allied Barton and Securitas to participate in the talks alongside local security firms, said Local 24/7 Communications Director Gina Bowers. Bowers said contract talks under way in other cities, including Seattle and Los Angeles, largely involve the same building owners.
Other events slated for the week include a press conference with representatives of San Francisco's fire, police and emergency medical services, and a meeting with Mayor Gavin Newsom.
mbechtel @pww.org