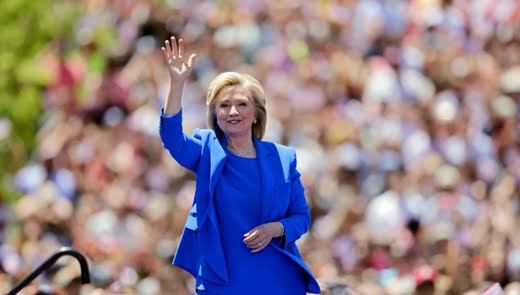 WASHINGTON (PAI) – The Service Employees board voted on Nov. 17 to endorse former Secretary of State Hillary Clinton for the Democratic presidential nomination. Its decision drew some rank and file flak.
"Hillary Clinton has proven she will fight, deliver and win for working families," SEIU President Mary Kay Henry said in a statement announcing the endorsement. "SEIU members and working families across America are part of a growing movement to build a better future for their families, and Hillary Clinton will support and stand with them. This movement for economic, racial, immigrant and social justice is poised to turn out to vote in November with their families and communities and keep pushing elected officials to deliver once in office."
Henry said the board voted for Clinton after a 1,200-member conference in March, national tele-town halls with 80,000-178,000 participating members, three national member polls and "more than 200 local executive board discussions." She did not disclose the vote.
The SEIU's endorsement is important because of its size – at least two million members – and its activism. It was a key union backing then-Sen. Barack Obama (D) over Clinton in 2008 and its leaders have had frequent entrée to the White House as a result. SEIU is one of four unions in Change To Win.
"Clinton will fight to raise wages and has stood up for the rights of workers to join together in a union," the SEIU board said.
"She has spoken out in support of the Fight for $15 movement on the movement's April 15 national day of action, during the New York wage board fight that resulted in $15 for all fast food workers in the state, for the $15 victories in Los Angeles city and county and again just last week, on Nov. 10, during the biggest day of action yet," it added.
Clinton's also backed child care workers, home care workers, airport workers and other low-wage workers in statements and meetings, the union pointed out, citing reports from its local members.
"Clinton is also a leader on the core issues SEIU members care about in this election, including fighting for commonsense immigration reform that includes a path to citizenship, standing up for voting rights and criminal justice reform that prioritizes ending mass incarceration and supporting and strengthening the Affordable Care Act (ACA).
"Clinton's commitment to quality, affordable healthcare goes back decades to her courageous efforts in 1994 to ensure coverage for all. SEIU members know she will fight hard to strengthen the ACA so we never go backward," the union said.
"I truly believe Hillary Clinton shares our goal of fighting for working people who are trying to provide a good life for our families," said LaDonna Meinecke of Minneapolis, of SEIU Healthcare Minnesota, a local union activist whose comments SEIU's blog headlined.
"I had the chance to meet Hillary earlier this year at a small community event and hear her plan for moving our country forward, and it was clear that she stands with us on the issues that matter most to families in Minnesota…I know she will fight tirelessly for working families, and I look forward to doing my part to make sure Hillary is our next President so we can continue to move our country forward."
"I'm very excited about our endorsement of Hillary Clinton for president," said Ann Byrne, a member of SEIU Local 199 and nurse at the University of Iowa Hospital and Clinics. "I'm going to caucus for her, door-knock for her and phone bank for her. As a nurse for 26 years, I know that Hillary Clinton will defend and strengthen the Affordable Care Act so our patients get the care they need."
"Clinton has proven she will fight, deliver and win for working families," said Henry. "SEIU members and working families across America are part of a growing movement to build a better future for their families, and Hillary Clinton will support and stand with them. This movement for economic, racial, immigrant and social justice is poised to turn out to vote in November with their families and communities and keep pushing elected officials to deliver once in office."
But some rank-and-file members disagreed with Henry. And SEIU Local 560, which represents 500 custodial, maintenance, and dining service workers mostly at Dartmouth, backs Sanders. Local President Earl Sweet told his campaign the senator "has always stood up for workers and the middle class, here in New Hampshire and across the country, which is why we're proud to give him our enthusiastic endorsement."
Photo: Democratic presidential candidate, former Secretary of State Hillary Rodham Clinton waves to supporters June 13, on Roosevelt Island in New York. Frank Franklin II | AP