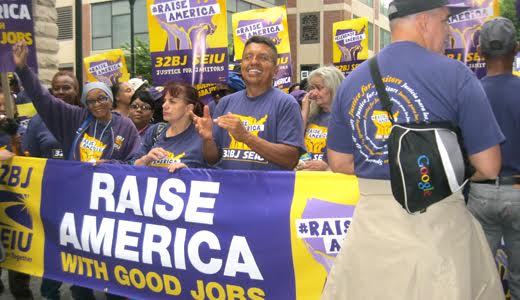 PHILADELPHIA — On September 30, they came from cities up and down the East Coast to show their unity and support for each other in ongoing contract struggles. Over two thousand members of SEIU Local 32BJ, which represents janitors, building maintenance workers, engineers, and maintenance mechanics, took over center city streets as their spirited chants echoed off many of the buildings where they work.
As the marchers moved along Market Street, construction workers waved and raised fists in support. At the end of the march, after the crowd had assembled in Love Park, SEIU leaders told the crowd that other workers understand that the "Justice for Janitors" campaign will benefit all workers. Local 32BJ President Hector Figueroa said, "We came here with a message of love, but it is not an act of love when 64 million workers across the U.S. earn less than a living wage and when the incomes of the one percent rise many times over. When we fight for a better contract, we fight for a better country."
Earlier in the day he had told the crowd assembled outside a building where the management had laid off union members and hired lower wage workers, "We say to our sisters and brothers who are now working in this building, 'these need to be union jobs,'" The crowd joined him in chanting "Join us! Join us! Join us!"
The rally got a huge boost from the presence of several local elected officials. Former City Councilman and Democratic Mayoral candidate James Kenney told the rally that he intended to support the right of workers to bargain collectively, saying that everything that he and his family had while he grew up came as a result of "our ability to bargain collectively for fair wages…. This government will have your back!"
City Councilman Curtis Jones argued that a healthy economy requires good living wages, saying "There will be fair wages in Philadelphia, and the employers had better get used to it. You can't have a twenty-first century economy and pay poverty wages. You can't have your cake and eat it too!" Other City Council members who were introduced included Maria Quinones-Sanchez, William Greenlee, Mark Squilla, Wilson Goode Jr., Kenyatta Johnson and Dennis O'brien.
Bishop Dwayne Royster of the Living Water Church, a leader of the POWER coalition told the rally that SEIU 32BJ "had taken service industry jobs and turned them into good paying jobs so that parents can send their children to college and not to prison. This is not just a fight for a contract; it's a fight for our city, our state and our country."
The union represents 75,000 east coast janitors from Virginia, Maryland, DC, Delaware, Pennsylvania, New York, Connecticut and Massachusetts. The SEIU distributed a fact sheet noting that the real estate market in Philadelphia is thriving with an occupancy rate of over 86 percent with top tier buildings maintaining a 95.2 percent occupancy rate.
The current contract between 32BJ and Philadelphia contractors expires on October 15.
Several speakers mentioned that SEIU members in Washington, DC had recently won a new contract.
Photo: Ben Sears/PW