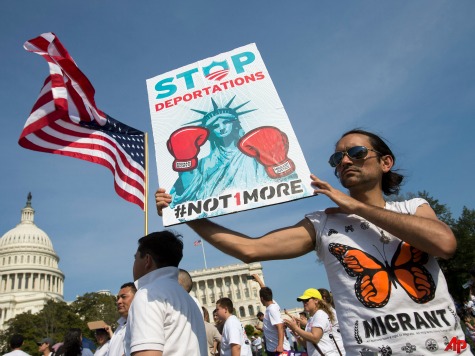 WASHINGTON – Service Employees president Mary Kay Henry joined 15 other faith, community and similar leaders in urging President Obama to let an estimated five to six million undocumented adults stay in the U.S. And the letter urged Congress to approve comprehensive immigration reform, too.
Obama plans an executive order to let the adults stay, building on his prior order to let the Dreamers – two million undocumented youth who are now in college or the military – stay in the country. But he's hitting huge opposition from congressional Republicans. They warn that, having won a majority in both houses of Congress, that such an order would poison relations on every issue for the next two years. Obama may issue the order on Nov. 20.
Obama has promised pro-worker, pro-immigrant and Latino groups that he would decide on the status of the undocumented before the end of this year, because Congress won't act. GOP House leaders have killed a bipartisan Senate-passed comprehensive immigration reform bill.
The AFL-CIO also demands that Obama act. It launched an online petition to push him to do so. Immigration reform, by bringing the undocumented workers out of the shadows and under U.S. labor law, would lessen their exploitation, the fed says.
Reform would also lessen the ability of venal, vicious employers of using the threat of hiring the undocumented to replace native workers to force native workers into lower living standards – and to abandon organizing drives.
"This is not about politics, it's about people. This is about families who have long made America their home," Henry said as the group published its letter. "We encourage President Obama to act now on immigration relief for millions because it's the right thing to do. It's time for Congress to follow suit and stop playing games with the lives of millions of families mothers and fathers, children, hard-working people and students."
The letter also chides congressional leaders, including House Speaker John Boehner, R-Ohio, for letting politics stand in the way of comprehensive immigration reform. The reform bill includes a 13-year torturous path to eventual legalization for the undocumented people.
"It is time to end these political games around immigration reform. The plight of immigrant families is a moral crisis that you all must address. It's time for moral imperatives and common sense to prevail over partisanship and ideology," the letter says.
Months of meetings with congressional and administration officials and a fast on the national Mall produced no action, the writers said. "The vast majority of Americans – Republicans, Democrats, and Independents – want our broken system fixed. Thus far, Congress has refused to act, ignoring the will of the people and needless devastation wrought on families and communities. A vote to fix the immigration system would pass in a bi-partisan way if brought to the floor of the House and given a fair chance."
Photo: AP