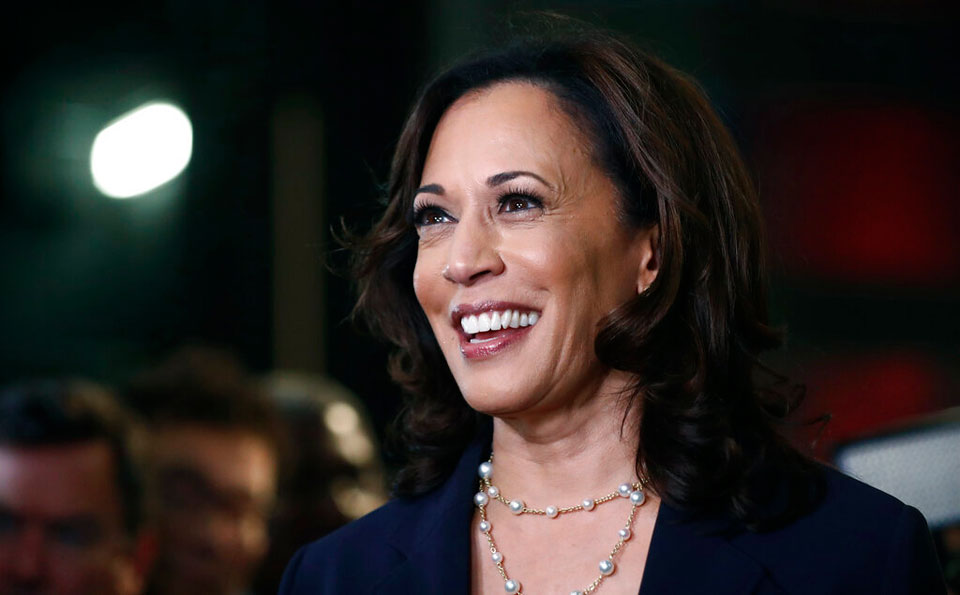 WASHINGTON—In a move that is widely expected to boost voter turnout and push Donald Trump out of office in less than 83 days, presumed Democratic presidential nominee Joe Biden selected Kamala Harris yesterday as his vice presidential running mate. The selection is being widely lauded not just by Black women but by broad swaths of labor and all its allied movements.
Harris, who's been a senator for the last three years, has a 100% pro-worker voting record, according to the nation's largest labor federation.
"Kamala Harris has spent her career tackling some of the most critical issues facing working families," AFL-CIO President Richard Trumka said in a statement just minutes after the announcement by Biden.
"As California's Attorney General, she held big banks accountable in the wake of the housing crisis, prosecuted employers for stealing our wages, and advanced criminal justice reform." When the guilty parties offered $3 billion to make up for their crimes against workers, Harris rejected that offer, took them to court, and forced them to pay out $18 billion.
"As a senator, she has achieved a perfect AFL-CIO lifetime score, working to create a fairer process for forming a union and protecting our health care and retirement security," Trumka declared. "We look forward to electing her America's next vice president."
"As a former Californian, I know @SenKamalaHarris," tweeted AFL-CIO Executive Vice President Tefere Gebre, a former union organizer and political director whose work led the drive to turn big and once deeply red Orange County, Calif., purple trending towards blue. Gebre is the highest level Black labor leader in the country. "One thing I know about her," he said, "is she's principled. Even under heavy fire, she doesn't flinch from her beliefs and principles."
Biden particularly cited her toughness, but also their closeness, something important to the ex-vice president. The two grew close during her state post, when she became friends with Biden's late son, Beau, who was then Delaware's Attorney General.
"Joe Biden can unify the American people because he's spent his life fighting for us. And as president, he'll build an America that lives up to our ideals. I'm honored to join him as our party's nominee for Vice President, and do what it takes to make him our Commander-in-Chief," Harris replied in a tweet.
In his own tweets, Biden called her "a fearless fighter for the little guy, and one of the country's finest public servants."
"Back when Kamala was Attorney General, she worked closely with Beau. I watched as they took on the big banks, lifted up working people, and protected women and kids from abuse. I was proud then, and I'm proud now to have her as my partner in this campaign," his second tweet said.
"You make a lot of important decisions as president. But the first one is who you select to be your Vice President," Biden e-mailed supporters. "I've decided Kamala Harris is the best person to help me take this fight to Donald Trump and Mike Pence and then to lead this nation starting in January 2021."
"These aren't normal times," Biden added. "I need someone working alongside me who is smart, tough, and ready to lead. Kamala is that person."
If elected, Harris would be the first woman, the second African American, and the first South Asian in one of the nation's top two political offices.
The first Black president, Barack Obama, won the presidency in 2008 and 2012. Biden was his VP for both terms.
Harris made a national name for herself across the country, by aggressive Judiciary Committee questioning of GOP President Donald Trump's first AG nominee, former Sen. Jeff Sessions, R-Ala., and of Trump's second U.S. Supreme Court pick, Brett Kavanaugh, who was credibly accused of sexual assault by a former high school acquaintance, now Dr. Christine Blasey Ford, a Stanford University professor.
Harris and all other Democrats and independents voted against Kavanaugh, but the ruling Republicans put him on the court. She played a leading role in the Senate impeachment trial of Donald Trump. Since returning to the Senate full-time from the 2020 presidential campaign in which she was herself a candidate for the Democratic nomination, Harris has challenged Trump's dismal performance on the coronavirus pandemic and has taken leadership stands on criminal justice reform, a major issue in the Black community and a front-in-center demand by demonstrations that have swept the nation since the police killing of George Floyd.
Herself the daughter of an Indian immigrant mother and a Jamaican father, she defended California's status as a "sanctuary state" and advocated comprehensive immigration reform, with a path to citizenship for undocumented people, among other causes, Ballotpedia reports.
National union leaders issued statements of praise for Harris, as did the California Labor Federation. So did the Coalition of Labor Union Women, which is already preparing for right-wing Republican attacks on her, President Elise Bryant said. So are other women's groups.
Reuters reported that a women's group, We Have Her Back, which includes leaders of Planned Parenthood and the National Women's Law Center, wrote major media demanding fair, not sexist, coverage.
"Women have been subject to stereotypes and tropes about qualifications, leadership, looks, relationships, and experience. Those stereotypes are often amplified and weaponized for Black and Brown women," the letter said. It also urged mainstream media to avoid often-used pigeonholing of women around issues of "likability" and "electability."
"This is a tremendous pick," California Labor Federation spokesman Steve Smith said in a phone interview. "We've worked closely with her on a number of labor issues, and we're also thrilled that" the selection of Harris "reflects the diversity of California."
"Obviously, she's a very qualified individual," Stu Helfer, an international rep for Teamsters Local 853 in Oakland, Calif., said by phone. "It's a good thing to see a woman there" on the ticket. His international union has yet to announce a formal endorsement.
"I think she's outstanding, and we're very happy about the choice," said Derek Smith, a 26-year veteran of the labor movement and political director for United Food and Commercial Workers Local 324 in Orange County, Calif. "Having a California voice is important, and she's tough."
"Kamala Harris has been a strong advocate for schools in the U.S. Senate, fighting for higher teacher pay, increased school funding, and ensuring all children have access to nurses and social workers at school. She even earned an 'A' grade from NEA during her time in the Senate. As vice president, she'll be an excellent partner for educators," wrote Lily Eskelsen-Garcia, the sixth-grade teacher from Salt Lake City who heads the nation's largest union, the National Education Association.
"From the day I met her, I knew she was a political force to be reckoned with," Teachers (AFT) President Randi Weingarten, a New York City civics teacher, wrote in her statement.
"She is deeply devoted to making life better by improving our public schools, strengthening our voting rights, and protecting the rights of working people to organize. Harris will fight tooth and nail, along with Biden, to put an end to the disastrous Trump experiment that has driven America to the brink. When you see her in action, you know."
"Kamala Harris knows too many working people of all races were struggling to succeed even before the pandemic," Service Employees President Mary Kay Henry wrote.
"As the first woman of color on a major party ticket, she feels this in her bones and throughout her career has always stood up to make America a place where everyone can succeed. She advocates for working people, like when she marched with Fight for $15 and a Union leaders to demand a $15 minimum wage and a union and fought back against the Trump administration when they tried to silence women of color and immigrant women who wanted to join together in a union." After more details, Henry predicted Biden and Harris "together will help make us a more just society."
Biden's pick of Harris is also important for another reason: Age. If elected, he would be 78 when inaugurated next year. Even Biden calls himself a "transitional" selection to the next generation of Democrats.
Harris is 55. Having already tried for the nomination this year—and shown her independence and toughness by criticizing Biden on busing in the first Democratic debate—she'd be in the top tier of future party presidential hopefuls.
Like free stuff? So do we. Here at People's World, we believe strongly in the mission of keeping the labor and democratic movements informed so they are prepared for the struggle. But we need your help. While our content is free for readers (something we are proud of) it takes money — a lot of it — to produce and cover the stories you see in our pages. Only you, our readers and supporters, can keep us going. Only you can make sure we keep the news that matters free of paywalls and advertisements. If you enjoy reading People's World and the stories we bring you, support our work by becoming a $5 monthly sustainer today.