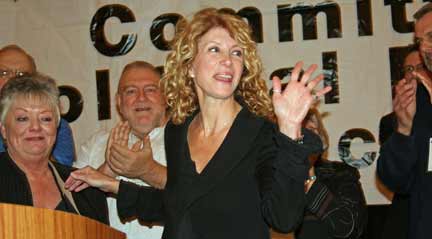 AUSTIN, Texas – State Senator Wendy Davis of Fort Worth filed her official candidacy for the Democratic nomination for Texas governor on November 9. In an effort to showcase her focus on job creation in the technology sector, Senator Davis registered at the uShip headquarters in Austin. Her primary Republican challenger, Texas State Attorney General Greg Abbott, also made official his own candidacy. Each seeks to succeed the well coiffed Rick Perry, who has chosen to forego re-election after serving the conservative agenda from the governor's mansion for the past 12 years.
As she filed her paperwork, Davis stated: "I'm running for governor because I believe all Texans should have a voice in their future and a place in Texas' future." The state senator, who made nationwide headlines after her courageous filibuster of a discriminatory anti-abortion law, also promises a focus on job creation, education, and governmental transparency.
Abbott, who seems bluntly convinced that Texans will continue to rubber stamp his party's ideological extremism, posted on Twitter that, "The state of Texas is going to stay as red as the shirt I'm wearing today. We can tell Democrats to 'Come and Take It.' I am prepared to roll to victory." Abbott seeks to inherit and further Perry's bigoted agenda, which considers anti-constitutional legislation like the 2011 Voter ID law and the aforementioned anti-abortion law as rollicking successes.
Despite having a substantial monetary advantage and the support of an entrenched Republican establishment, Abbott only leads Davis by six percentage points, according to a recent poll from the University of Texas. Davis seeks to become the first Democratic governor of Texas since the wildly popular Ann Richards. Assuming that each receives their party's nomination, the 2014 gubernatorial race between Davis and Abbott promises to serve as a widespread referendum on Texas' economic and social identity.
Photo: Wendy Davis. Jim Lane/PW