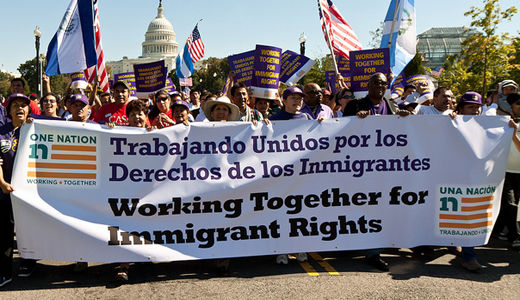 On Tuesday, the Senate Committee on the Judiciary voted 13 to 5 to send the Border Security, Economic Opportunity and Immigration Modernization act of 2013, S 744, to the full Senate for debate and a vote, a process that will probably begin in early June.
The vote came after the committee performed its "markup" function of dealing with most of the 300 amendments to the mammoth bill. Voting "no" were Republican Senators Sessions (Alabama), Grassley (Iowa), Cruz (Texas), Cornyn (Texas), and Lee (Utah).
The bill was supported by a bipartisan group of eight senators (the "Gang of Eight"), which included Democrats Bennett (Colorado), Durbin(Illinois), Schumer (New York) and Menendez (New Jersey) as well as Republicans McCain (Arizona), Flake (Arizona), Graham (South Carolina) and Rubio (Florida). Durbin, Schumer, Graham, and Flake are also Judiciary Committee members.
The markup process consisted of efforts by the Republican right to achieve two main objectives: To make the bill much harder on undocumented immigrants, and to make it easier for U.S. corporations to bring in more foreign workers in both high skills and lower skills categories.
In the first category was an amendment offered by Senator Ted Cruz, R-Texas, to make it impossible for anybody who has ever knowingly been in the United States without papers to become a U.S. citizen. Other anti-undocumented amendments would have excluded from legalization anyone whose income was less than four times the poverty rate, forbidden immigrants in the process of legalizing themselves from even briefly visiting their relatives in their countries of origin, denied all means tested public benefits to such immigrants even after they become citizens, and not allowed the process of legalization to begin until the government could attest that it had the border "sealed" to the point that 90 percent of unauthorized entries were stopped.
Most of these were defeated handily. The one on "sealing the border" and another that requires the government to set up a system of biometric data collection to make sure that people who come here on temporary visas leave when they are supposed to, were decoupled from the legalization process. If the bill becomes law, all this will not delay the process of legalizing the estimated 11.5 million undocumented immigrants.
But the committee largely acceded to Republican demands to make it easier for corporations to bring in new guest workers, and to retailor visa procedures to suit the interests of business. For example, the original minimum of 65,000 new H-1B visas for highly skilled workers was raised to 110,000 to please high tech industries. This is strongly opposed by organized labor, which strongly supports, on the other hand, the legalization of the undocumented. This concession was supposedly made to get the support of influential Senator Orrin Hatch, R-Utah, for passage of the bill. Even though S 744 passed the Judiciary Committee stage quite easily, a bigger fight is expected in the full Senate. The Democrats have a majority there of 53 to 45 Republicans, plus two independents who will probably vote in favor. However, this is not enough to ensure cloture and a vote, which is the reason given for the further concessions to the Republicans on what is already a problematic bill.
A major progressive amendment to the bill, presented by Judiciary Committee Chair Patrick Leahy, D-Vermont, would have allowed U.S. citizen spouses of same-sex couples to petition for green cards (permanent legal resident visas) for their spouses. This was seen by the White House, the other members of the "Gang of Eight" and Leahy's fellow Democrats on the committee as endangering the passage of the bill because of the level of Republican animosity it would generate, and Leahy reluctantly withdrew his amendment.
The bill as passed by the Judiciary Committee, is already very problematic, although the AFL-CIO leadership and most immigrants' rights organizations see it as better than nothing, and as a start.
To legalize themselves, undocumented immigrants will have to jump through many hoops. They must first register as "Registered Provisional Immigrants" (RPIs), from which they are barred if they were not already in continuous presence in the country since December 31 2011 at the latest. They must pay a $500 fine, then manage to live and work here for 6 years without being unemployed for more than 60 days and with an average income of at least 125 percent of the poverty line. They also must not have felony convictions or more than two misdemeanor convictions (defined differently depending on the state). After the initial 6 years, they can apply to stay for another 4, paying another fine. After 10 years as RPI's, they can apply for green cards, and after that, they can apply for U.S. citizenship in another 3 years (2 years less than the regular wait). There are more generous conditions for "dreamers" (undocumented youth who were brought here without papers before they were 16 years old will have only a 5 year wait as RPIs), and farm workers.
But the main problem is that during this entire 10 year initial waiting period, "Registered Provisional Immigrants" will be at the mercy of their employers as well as of economic conditions. This time period needs to be much shorter, and the income and employment requirements eliminated. Otherwise this is just a gift to the most unscrupulous employers.
What is a "felony" and a "misdemeanor" for immigration purposes needs to be clearly defined. We cannot assume that in every state of the union a regime of perfect justice prevails, and that there are no bigoted or corrupt police officers, prosecutors or immigration agents. There are plenty of cases of U.S. citizens being "accidentally" rounded up and deported because they look "Hispanic" or have Spanish names, let alone non-citizens who should be protected by the legislation.
The extension of E-Verify to eventually include all employers, and thus all employees, is also a problem. So is the elimination of the "diversity lottery" of visas, which will make coming to the United States much harder for most would be-immigrants from Africa.
And there will be strong pressure in the House of Representatives to move the legislation further to the right, because of the 233 to 201 Republican majority. That fight now starts.
But immigrants' rights and labor activists say they will fight to make further changes, and point out that whatever happens in Congress this year is not the end but the beginning of the struggle for justice for immigrants. Even if some are unjustly excluded from legalization (and then are faced with greater repression), the prospect of millions acquiring the right and ability to defend themselves legally, in workplace and community, makes the effort worthwhile.
As the legislative struggle continues, so does the struggle to get the government to stop the current high level of deportation of immigrants who, under the new law, would be eligible to apply for legalization.
Photo: Activists in Washington, D.C. march for immigrant rights. ep_jhu/Flickr