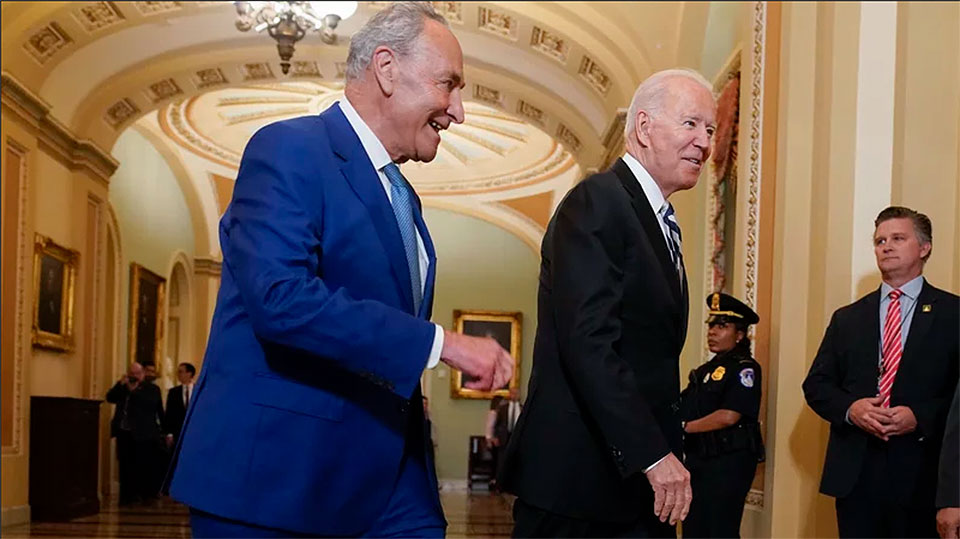 WASHINGTON—By a 50-49 party-line vote, senators approved a skeleton budget blueprint, called a "reconciliation" bill, that, when lawmakers flesh out the details after returning from their recess in early September, could produce massive pro-worker changes—if everybody is on the same page.
But when Congress trickles back into town after Rosh Hashanah, the Democrats may not be united, unless constituents pressure them to support key priorities, such as permanent paid family and medical leave, expanding and improving child care, and raising taxes on the rich and corporations. Democrats campaigned for all of these programs and in doing so ended Republican control of the Senate, the House, and the White House.
The passage of the 3.5 trillion dollar budget blueprint today, if Democratic lawmakers get on the same page, will allow for creation of the most massive pro-worker changes in US history since the New Deal of the Franklin Delano Roosevelt era.
Just one of the many changes for workers in the budget resolution is a section which imposes high fines on labor law-breakers. The language in that section is taken directly from the Protect The Right To Organize (PRO) Act. It is the only section from that act in the budget blueprint because the rest of the act does not qualify for inclusion since it covers non-budgetary aspects of worker's rights.
Republicans have been claiming that a bill this expensive will fuel inflation. If the bill is paid for, of course, it will not be, as they claim, inflationary. The reconciliation bill's aim is to "create good-paying jobs while tackling climate change and will be paid for by raising taxes on corporations and the wealthy, making them pay their fair share," Senate Majority Leader Charles Schumer, D-N.Y., said in his rejection of those claims. Making the rich pay their fair share is one of the many reasons the AFL-CIO, the nation's largest labor federation, has already declared its strong support for the budget blueprint, a plan that encompasses critical and key aspects of the Biden agenda.
"To build back better, we must be bold. And that means unparalleled investment in America's working families," acting AFL-CIO President Liz Shuler said. "The $3.5 trillion budget resolution is what we need to continue on the path toward making our country whole again."
That project ranges "from investing in working families, education, paid leave, child care, clean energy jobs, and game-changing infrastructure projects to the creation of a long overdue path to citizenship" for undocumented people, she said.
It will also lead to "expansion of health care access and labor law enforcement with real penalties," Shuler added.
"This budget resolution is a vital part of President Biden's Build Back Better agenda that has already been such a lifeline for our economy. We fully support this bill and look forward to its passage."
"For a very long time, Congress has catered to the needs of those who have the money and the power and turned our backs on the working class. That changes today," declared Senate Budget Committee Chairman Bernie Sanders, Ind.-Vt.
His Twitter feed posted a hilarious, but to the point, video, alternating Sanders' speech with reruns of Senate GOP leader Mitch McConnell, R-Ky., saying "That's not our philosophy."
Schumer and Sanders shepherded the blueprint through the all-night session and a "Vote-A-Rama" of right-wing Republicans' amendments on divisive and sometimes race-tinged social issues.
Sanders had also accepted the legislation would include comprehensive immigration reform, including a path to citizenship. That may be a flashpoint in the narrowly Democratic House, when it comes back to town—taking a break from its recess—on August 23 to tackle the reconciliation blueprint.
"We will bring undocumented people out of the shadows and provide them with a pathway to citizenship, including those who courageously kept our economy running in the middle of a deadly pandemic," said Sanders
 "We will fight to make it easier, not harder, for workers to join unions in America.
"And at a time of massive income and wealth inequality, this is a budget that will end the days of billionaires and large, profitable corporations not paying a nickel in federal income taxes. Yes. We will finally ask the very wealthy and largest corporations to pay their fair share of taxes."
While the bare-bones reconciliation bill lawmakers passed in the wee hours was filled with numbers, an indication of what's really in it came in the hundreds of GOP amendments the majority batted down on party-line votes. Whatever Democratic priorities they suspected were behind it, they tried to kill in advance. Alternatively, they tried to insert their own "poison pill" social issues. Two succeeded.
The GOP's social issues included restoring the ban on Medicaid funding for abortions, and increasing Immigration and Customs Enforcement and other anti-migrant, anti-Hispanic moves at the U.S. Mexico border, such as keeping asylum-seekers in Mexico.
Sen. James Langford, R-Okla., claimed his amendment, passed 50-49, restored the abortion ban. Sen. Tom Cotton, R-Ark., sought to ban funds from K-12 schools that he claimed, without proof, teach critical race theory. They were the two GOP social issue amendments which passed, 50-49, with Sen. Joe Manchin, D-W. Va., joining all 49 voting Republicans on each. The other Dems voted "no."
The Republicans also sought to use the budget blueprint to ban funds to schools that mandated vaccinations and mask-wearing as protection against the coronavirus pandemic. And Sen. Roger Marshall, R-Kansas, wanted to ban any funds for "federalizing elections," as he put it—a direct shot at S1, the For The People comprehensive elections and voting reform bill.
S1 also would outlaw most, if not all, of the GOP's state-level voter-repression moves, targeted at people of color, women, workers, and other progressive blocs within the electorate. Some 15 right-wing run states, led by Arizona, Georgia, and Florida, have imposed the repression and an even more stringent ban is pending in Texas.
While the GOP didn't target the PRO Act by name, several of their poison pill amendments aimed at worker rights did. First-year Trumpite Sen. Roger Marshall, R-Kansas, led the charge. All lost.
Marshall tried to ban any changes in state right-to-work laws and in letting "free riders" nationwide opt out of paying fair share fees for union services they use, such as bargaining and grievances.
He also wanted to use the budget blueprint to define who's an "independent contractor." Democratic President Joe Biden's Labor Department wants to narrow the definition of "independent contractor" to cover fewer workers.
Vicious and venal firms, including Los Angeles port trucking companies, misclassify their workers as "independent contractors," denying them labor law protection, unemployment benefits, workers' comp, and—unless the workers pay the whole tax freight—Medicare and Social Security benefits.
Marshall tried to ban the National Labor Relations Board from ordering that joint employers—think both McDonald's headquarters and local franchise-holders—are jointly responsible for breaking or obeying labor law, and for bargaining.
Marshall also tried to use the budget blueprint to ensure federal pandemic unemployment assistance $300 checks, which either top off state jobless benefits or, more importantly, go to workers the jobless benefits system doesn't cover, stop just after Labor Day and can't be restarted again. That lost, too.
And just to make sure, he even wanted to ensure federal funds go to schools in states that ban anti-coronavirus masks and anti-virus vaccinations and mandate they go to schools that "promote in-person learning," virus or no virus. The offending "red" states, where infections and deaths are rapidly rising, include Texas, Florida, and Missouri.
Sen. Tim Scott, R-S.C., the only Republican Black senator, claimed to help Black students with an amendment directing federal funds to parents of color whose kids "suffered from school closures pushed by teacher labor organizations that ignored the science and ensuring that all schools should be open for in-person learning 5 days a week for the 2021-2022 school year." He lost 49-50.
The science, of course, has changed, as the coronavirus's delta variant now sweeping parts of the U.S., affects proportionately more kids.
Sen. Cindy Hyde-Smith, R-Miss., tried to use the budget blueprint to tie the hands of the Federal Trade Commission's pursuit of corporate skullduggery. And though she didn't mention Black Lives Matter by name, Hyde-Smith tried to ban federal funds for any "local government whose district attorney directs its prosecutors to not prosecute certain violent offenses that impact the health, safety, and/or economy of the community, including individuals who engage in acts of violence that result in damage or injury."
That caters to another GOP lie, that the BLM nationwide protests last summer were violent and produced extensive property damage. The damage came from white nationalists who either trailed the protests or infiltrated them, studies show. Both of her amendments lost.