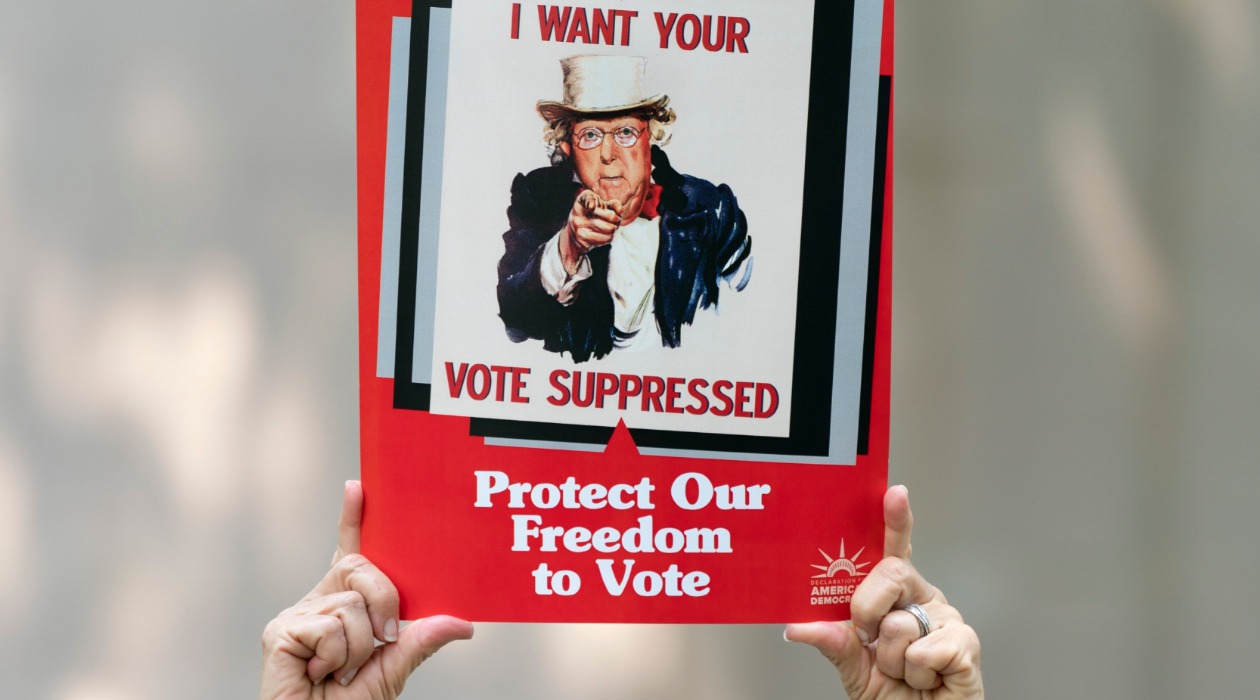 WASHINGTON—Catering to their white nationalist Donald Trump constituents and the corporate contributors who fund GOP campaigns, the Senate's 50 Republicans sent the two big voting rights bills down the drain again.
What Republicans failed to do in the Senate yesterday, however, was stop a coast-to-coast coalition of groups ranging from the Poor Peoples Campaign and voter rights groups in every state to the Democratic Party including its members in Congress and the U.S. Senate from vowing to not just continue the fight but to step it up in the period ahead. Coalitions of lawmakers and people's organizations won civil and voting rights fights in the past but almost never the first time around. After yesterday's vote evidence is already piling up that hand in hand, the people's organizations and Democrats are not giving up on their historic battle against the fascistic forces that have taken over the Republican Party.
The Department of Justice too is continuing the fight by taking to court right-wing Republican legislative bodies in states that have signed on to repressive measures.
The January 19 vote was 49-51 against ending debate on the Freedom To Vote Act and the John Lewis Voting Rights Advancement Act. It had been 50-50. All 48 Democrats, including renegade Sens. Joe Manchin, D-W. Va., and Kyrsten Sinema,  D-Ariz., voted to end debate. And all 50 Republicans voted against. But backers needed 60 votes and failed.
Majority Leader Charles Schumer, D-N.Y., then had to change his vote to "no" so he could bring the issue up again in the future, as several Democrats forecast will occur.
That 9 p.m. vote was followed by two more hours of debate on changing the Senate's 60-vote filibuster rule, eliminating it only for voting rights legislation and requiring an actual talking filibuster. The Democrats failed, 48-52, with Sinema and Manchin joining all Republicans in preserving the racist rule.
A defiant and determined Democratic Majority Leader Charles Schumer declared after the vote: "This vote will not deter Senate Democrats from continuing our fight against voter suppression, partisan gerrymandering, and dark money. We will not quit."
Neither are the people's organizations from coast-to-coast quitting with plans to turn out unprecedented numbers of voters in the 2022 Midterm elections being mapped in all the states and groups like the Poor Peoples Campaign planning to step up national and state mobilizations.
Starting with primary elections in Texas in March progressive forces are mobilizing to take the fight into every election battle they can during the 2022 Midterms.
Rep. Joyce Beatty, chair of the Congressional Black Caucus, said that Republicans should expect incredible numbers of voters to turn out everywhere to overcome voter suppression measures. "It won't just be Black people," she said, "but all kinds of voters who will march in unprecedented numbers to the polls to reject attempts to take away their rights. This is how the people have always reacted to voter repression attempts and it won't be any different this time," she declared. If history is any witness millions in America remember seeing the long lines of African Americans, young people, and many others waiting hours to vote in districts that Republicans had determined would not be good for them.
Progressive groups, proving their long-term commitment to voting rights, lobbied, by voice, e-mail and phone right through the end of the debate and Senate votes. "We need democracy in the Senate to save democracy in America. It shouldn't be this hard to make laws to help people—especially now, when so many Americans are struggling," AFL-CIO President Liz Shuler said, in an e-mail asking union members to contact their senators.
The leader of the nation's largest labor federation showed the determination of the country's unions to stay in the fight for the long haul, indicating that labor will take the fight into the electoral arena this year. "We'll remember the senators who stood with us to defend our freedom to vote," she warned. "This is a defining moment for our democracy. And we will continue to fight for voting rights for all eligible voters in this country—regardless of the outcome."
Labor activists know all too well the importance, even after a defeat, of remaining in the electoral arena. Even the slim 50-50 majority in the Senate and the tiny majority in the House, did they not exist, could mean passage of national right to work for less laws and national anti-women's reproductive rights laws being passed, activists note. Democratic majorities in those bodies need to be expanded to protect against these types of right-wing initiatives, leaders and activists in many of the movements realize.
Schumer opened two days of debate on January 18 by warning colleagues both their constituents and history were watching.
"Senate Democrats are under no illusion that we face difficult odds, especially when virtually every Senate Republican—every Senate Republican—is staunchly against legislation protecting the right to vote," he admitted. But when the Senate "confronts a question this important—one so vital to our country, so vital to our ideals, so vital to the future of our democracy—you don't slide it off the table and say, 'Never mind.'
"Win, lose, or draw," senators were elected to debate and vote democracy's future by backing voting rights, or not, he declared. "The public is entitled to know where each senator stands on an issue as sacrosanct." Other voting rights defenders were just as stark.
"We are here today against the backdrop of history, at a time when our democracy is facing a new tide of threats," said an unusually emotional Sen. Amy Klobuchar, DFL-Minn., whose committee crafted the voting rights bills.
"It is our responsibility to turn back that tide. I look at Montana. For 15 years, same-day registration was set in place in Montana, and 8,000 people used it" on Election Day 2020. "And it has been taken away from them" by the GOP-dominated legislature. "And in Georgia, 70,000 registered for that runoff," where Warnock and Sen. Jon Ossoff (D) won, producing the 50-50 tie. "That has been stripped away; it cannot happen again."
In retaliation, Warnock said, Republicans are "now deciding to punish their citizens who just have the audacity to show up" to vote. Said Sen. Mazie Hirono, D-Hawaii: "There is nothing radical about protecting a person's freedom to vote. What is radical is sending us back to the days" after the end of Reconstruction in 1877.
And Sen. Martin Heinrich, D-N.M., noted the subsequent Jim Crow laws oppressed and disenfranchised not just Blacks in the South but Hispanic-named voters in the Southwest and California. Ancestors of those voters, he could have added, resided in New Mexico and nearby long before any Anglos appeared.
"Our job should be to increase voter turnout," not repress it, declared Sen. Bernie Sanders, Ind-Vt. "I want this country to have the highest voter participation on Earth."
Sen. Roy Blunt, R-Mo., was one of the few Republicans debating the text of the legislation. He said it contains too much that has little to do with voting rights, such as campaign finance reform, public financing of elections, outlawing gerrymandering, and making Election Day a holiday.
Several senators, including Schumer and Warnock, who preaches from Dr. Martin Luther King's pulpit at Ebenezer Baptist, linked the repressive legislation to the "Big Lie" of voter fraud perpetrated by former GOP Oval Office occupant Donald Trump. Warnock also said Republicans who opposed the legislation defiled the memory of Dr. King, lauded just days before.
"This past Saturday, Donald Trump once again repeated the same conspiracy theories about the 2020 election that have paved the way for voter suppression at the state level. So, unfortunately, the dangers that face our democracy are alive and well, and the laws that suppress the vote at the state level are being enacted on a partisan basis," said Schumer. "Fight it we must."
"Why are state leaders acting like those voters don't exist?" asked Warnock, speaking of GOP hate of voters of color. "Those are the facts of those laws being passed across the nation. Are we Jan. 5th," when Georgia elected him as its first Black senator and fellow Democrat Jon Ossoff as its first Jewish one "or Jan. 6th?" the day the Trumpites invaded the Capitol, in what other senators called a coup attempt.
"Are we going to give in to a violent attack whose aims are now being pursued by state legislatures?"
"Are we going to give up to the voices that suppress us and deny us our voices? I choose E Pluribus Unum," (Out of many, one) the motto on the U.S. seal.
Unions and progressive groups kept up a last-minute blitz to convince senators to change their minds. It failed.
"To make this a Black issue is dangerous. It's not just a Black issue," warned the Rev. William Barber II, founder and co-chair of the Poor People's Campaign. "Fifty-five million people will lose their access to the polls they used in 2020 if we allow what's going on to continue. It's a democracy issue. Dr. King never framed this issue as just a Black issue. He always framed it as an economic issue and a race issue, and we should be doing the same."
"As Congress debates voting rights and investing in the people, it's important to understand the dark forces that underlie the increasingly reactionary and authoritarian politics on the rise in this country," added campaign co-chair the Rev. Liz Theoharis.
Besides the AFL-CIO President Shuler's call to action, Communications Workers President Chris Shelton added: "The Senate majority must pass the Freedom To Vote Act and John Lewis Voting Rights Advancement Act to create national standards that protect our rights, ensure that trusted local election officials count every vote, and prevent partisan politicians from sabotaging the results of our elections."
Shelton vowed that his union is more determined than ever to work to expand Democratic majorities in both the Congress and the Senate.
CWA staged last-minute phone banking, which began at 6 p.m. Eastern time, for members to call senators. The unionists also demanded the death of the filibuster, but Manchin said early on in the debate, at 2:39 p.m., he'd sink that proposal, too. Sinema had said so before. Both voted to keep filibusters intact.
"We don't have to change the rules to make our case to the American people about voting rights. This is important. Let's work it out," the West Virginian declared. The GOP, of course, refuses to "work it out."
"What is today's powerful obstruction could be tomorrow's powerful shield. I get that," Sen. Angus King, Ind-Maine, admitted about the filibuster. If it's used "as a spur to bipartisanship," that's fine, but "if it's just to prevent debate, that's stone-cold obstruction."
"We will let the people know if we respond to the people who sent us here or succumb to the anti-democratic voices," Warnock warned. "Voting rights are preservative of all other rights. If we can change the rules to raise the debt ceiling, we can change the rules to raise and repair our democracy."
"If we had the rules we have today, we wouldn't have a Voting Rights Act and a Civil Rights Act," concluded King.
The unavoidable conclusion being drawn by the forces in the broad coalition fighting to save democracy in the country is that an all-out fight must be waged this year to increase Democratic majorities in both the House and the Senate. Ironically, for right-wing Republicans, their obstruction of voting rights may end up giving stronger impetus to those who want to see that happen.