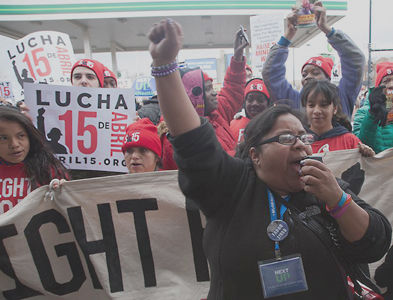 WASHINGTON – The Senate's "vote-a-rama" during its budget debate on Mar. 26-27 – dozens of amendments on everything from paid leave to project labor agreements to the Postal Service – produced few wins for workers, a review of the tallies shows.
And the wins workers got, on amendments denouncing USPS cuts and advocating paid family and medical leave, may only be symbolic. They, along with all the losses, were attached to the GOP-run Senate's version of the budget resolution for the year starting Oct. 1, and are not binding on lawmakers.
That means that even if the ideas survive negotiations with the right wing run GOP-led House, they still won't have the force of law.
The AFL-CIO opposed the GOP-crafted budgets in both houses of Congress, in addition to criticizing individual amendments, Legislative Director Bill Samuel wrote lawmakers.
"Rather than investing in the middle class, the Senate budget would cut over $5 trillion in programs that help ordinary working families, including education, workforce training, public health, research, infrastructure and other critical investments," his letter said.
"According to the Center on Budget and Policy Priorities, 69 percent of budget cuts would come from programs that serve people with low incomes, including health assistance, food programs and student loans. Overall, the Republican budget would cut non-defense discretionary programs almost 40 percent below the lowest level seen in the last 50 years."
It also would privatize Medicare, freeze Pell grants, cut federal workers' pay by six percent, roll children's health grants and Medicaid into block grants states could distribute however they want. And the GOP budget lacks tax hikes to pay for infrastructure, education and other needs, he said.
"Budgets are about choices and the budget makes it clear the Republican agenda remains fixated on widening the income gap between the very rich and everyone else," Samuel concluded.
Senators worked through more than 200 amendments as they toiled over the budget measure during the last full week of March. There were so many ideas offered that lawmakers labeled the incessant stream of roll calls the "vote-a-rama."
Unions, workers and allies took positions on many of the ideas. Among the results:
A Democratic amendment endorsing paid family and medical leave won. Sen. Patty Murray, D-Wash., led the campaign and won 61-39. Advocates of paid leave hailed it and looked forward to the next step: Actually enacting it into law (separate story).
An amendment denouncing President Obama's prior executive order to agencies saying they should consider project labor agreements when evaluating bids for federally funded construction contracts. The denunciation, by Sen. Jeff Flake, R-Ariz., was one of the few instances where several Republicans defected from the anti-worker party line. Flake won 51-49, as three GOP'ers joined all the Democrats in voting against him.
An amendment by Sens. Bernie Sanders, Ind.-Vt., and Susan Collins, R-Maine, supporting the Postal Service and blasting management plans to downsize the system and its workers. That won a voice vote.
"This would prevent the Postal Service from shutting down 82 processing plants in 37 States. It would restore delivery standards which have been slowed down and protect rural postal services," Sanders said. Sanders has led the legislative charge against what postal unions call management's "privatization" schemes – and for expanding USPS services.
"The Postal Service is vital to the well-being of our nation and economy. This is especially true in our rural areas. This is an issue that has had bi-partisan support for the last number of years," he said.
A Sanders amendment to raise the minimum wage, which lost 52-48.
"The simple truth is that in America, people working full time should not be living in poverty," said Sanders. "Since 1968, the real value of the federal minimum wage has fallen by close to 30 percent…In state after state where the minimum wage has gone up, more jobs have been created. Let us stand today with the tens of millions of workers who are struggling to put food on the table, to take care of their families. Let us raise the minimum wage.
Senate Budget Committee Chairman Mike Enzi, R-Wyom., in a refrain he often repeated during the marathon, responded by asking senators to vote "no," and adding "This is not the proper place for this. It can be handled as regular legislation at any time."
Sen. Debbie Stabenow, D-Mich., tried to use the budget blueprint, which also includes instructions for tax-writing committees, to yank the billions of dollars in tax benefits firms get for moving jobs overseas. Later, Senate Democratic Whip Dick Durbin, D-Ill., re-offered the amendment with a twist: He'd redirect the benefits to firms that create U.S. jobs and treat workers fairly. Both moves lost, 54-46.
Sen. Al Franken, D-Fla.-Minn., tried to restore the $89 billion the Senate Budget Committee cut from Pell Grants for the neediest college students. He lost, 54-46.
Other amendments the AFL-CIO opposed included calls to repeal the Davis-Bacon Act – which mandates payment of locally prevailing wages on federally funded construction projects – let employers offer comp time instead of overtime, and denouncing National Labor Relations Board rules to streamline union recognition election procedures.
Photo: The budget session may be over for now, but young workers in particular continue the fight in a big way on important issues. Young Workers Summit feels the jolt of young labor activism. Next Up: Young Workers Forum's, March 22, Facebook.