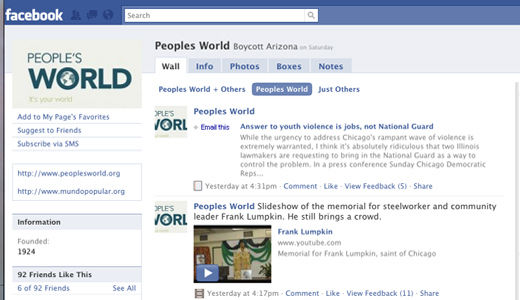 Four Democratic senators during a press conference Tuesday expressed concern that the popular social networking site Facebook is not being careful when it comes to protecting the privacy of its users.
New York's Charles Schumer, Colorado's Michael Bennet, Alaska's Mark Begich and Minnesota's Al Franken sent a letter to Facebook CEO Mark Zuckerberg urging the company to revisit its recent controversial privacy policy and better safeguard user's personal information.
"While Facebook provides a valuable service to users by keeping them connected with friends and family and reconnecting them with long-lost friends and colleagues, the expansion of Facebook – both in number of users and applications – raises new concerns for users who want to maintain control over their information," the senators wrote.
Last week Facebook announced it would allow the site to share user information with third-party Web sites.
The senators say they would like Facebook to make their new "Instant Personalization" service "Opt-In" rather than "Opt-Out" by default.
The issue regards Facebook's decision to automatically share users data with select partners the moment you visit the site.
On Monday Schumer sent a letter to the Federal Trade Commission asking the agency to craft guidelines for how social networking websites can use and share personal information about their users.
The recent changes to Facebook's privacy policies "have limited the ability of users to control the information they share and keep private," wrote Schumer.
"These changes can adversely affect users and, currently, there is little guidance on what social networking sites can and cannot do and how disclosure is provided," said Schumer.
"Hundreds of millions of people use social networking sites like Facebook, MySpace, and Twitter every day," Schumer said in a recent statement regarding regulating privacy concerns in the digital world.
"As these sites become more and more popular, however, it's vitally important that safeguards are in place that provide users with control over their personal information to ensure they don't receive unwanted solicitations. At the same time, social networking sites need to provide easy-to-understand disclosures to users on how information they submit is being shared."
Facebook spokesman Andrew Noyes said the company was surprised by the Schumer's comments and said he looks forward to sitting down with the senator to clarify the concerns.
Noyes said the recent changes announced by Facebook last week were designed to enhance personalization and promote social activity across the Web.
In an email to the Associated Press Noyes said, "None of these changes removed or reduced people's control over their information, and several offered even greater controls."
Facebook founder Zuckerberg has said the latest features were implemented to make it easier for other websites to share connections and to personalize their content for its millions of users.
However critics say such policies could do harm and hamper users ability to keep information they share private.
In the letter sent to Zuckerberg the senators concluded, "We hope that Facebook will stand by its goal of creating open and transparent communities by working to ensure that its policies protect the sensitive personal biographical data of its users and provide them with full control over their personal information."
In 2007 Facebook introduced a tool called Beacon, which automatically broadcast users' activities on other websites on Facebook. After protests from its users, Facebook first agreed to let people opt out of the feature, then removed it entirely.