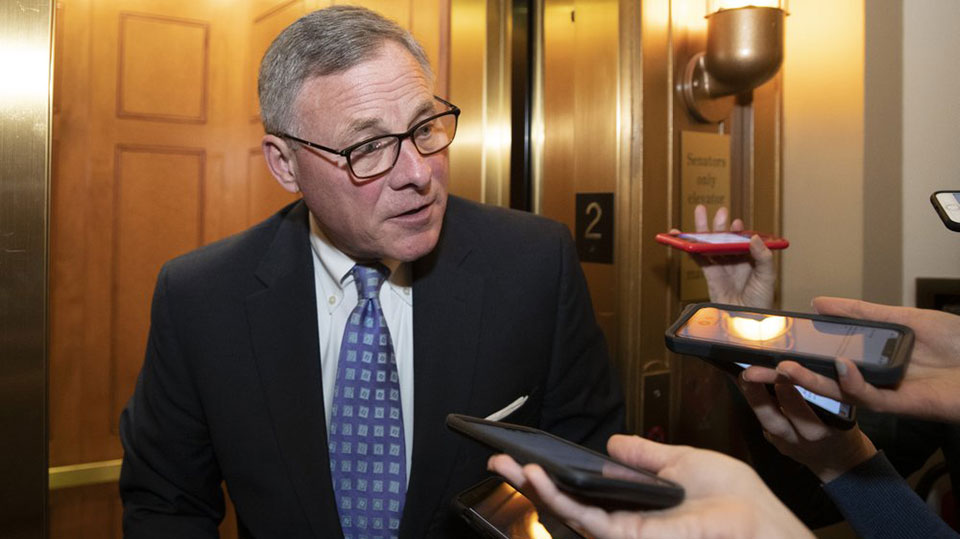 The American people's confidence in the ability of their national leaders to steer the country through the coronavirus pandemic was shattered further today when it was revealed that several top U.S. senators on the intelligence committee used advance knowledge of the coming coronavirus disaster to dump stock they owned and rake in huge profits before the disease struck.
Sen. Richard Burr, GOP chairman of the Senate Intelligence Committee, acted on what he learned at a classified briefing to sell stock valued at up to $1.6 million dollars—much of it in the soon-to-be-decimated hotel industry. What's worse, on the day he did that, President Trump was on national television saying the virus was not a threat to Americans in general and would soon "disappear."
Sen. Burr compounded his illegal "insider trading" by alerting several of his top campaign donors to what he knew from his classified briefing so they too could cash in by dumping stock they owned, according to a secret recording revealed by NPR.
Republican Sen. James Inhofe of Oklahoma, Republican Sen. Kelly Loeffler of Georgia, and Democratic Sen. Dianne Feinstein of California also cashed in.
Meanwhile, Burr, Inhofe, Loeffler, and most of the other Republicans in the Senate, which is working on an economic relief package for the nation, are crafting a bill that provides people on the bottom of the income scale with far less money than it provides for people at the top.
"The Senate GOP package is an utter disgrace," declared AFL-CIO President Richard Trumka this morning. It gives free money to corporations, ignores the health crisis, and does nothing to keep people working or help those most in need. It sets Main Street up to bail out Wall Street."
Former Vice President Joe Biden, who is seeking the Democratic nomination to challenge Trump in November, called today for a one-year moratorium on all corporate stock buybacks. Corporate money, he said, should be used to protect workers, not to line the pockets of corporate CEOs and shareholders.
The insider trading revelations and the GOP's crafting of a bill that favors big business came only hours after Trump, at a press conference yesterday, continued to cook the books on important matters related to the crisis. He said millions of protective masks were now available for hospitals, but today most of the nation's hospitals report that they are not getting the materials.
States struggling to fill gap left by feds
As all of those problems continued, the numbers of those officially infected in the U.S. rose to well over 14,000 with cases in New York state amounting to almost half the total national number.
California has issued a state-wide shelter-in-place declaration affecting 40 million residents of that state. Gov. Gavin Newsom condemned what he called racist attacks against people of Asian descent in his state, comparing the singling out of Asian Americans to what happened with the Chinese Exclusion Act more than a century ago. Yet Trump continues to use the racist term "Chinese Virus" to refer to COVID-19.
One county in one state has taken decisive action to increase the number of hospital beds. King County in the state of Washington has begun converting a soccer field into a hospital with 200 beds. New York state is looking into locations for such additional hospital space there, according to Gov. Andrew Cuomo.
Several states, however, have taken almost no action to curb the spread of the virus which is present now in all 50 states. Those states, as of last night, included Missouri, Texas, Indiana, Oklahoma, Mississippi, Idaho, and Wyoming.
Republican Gov. Kevin Stitt of Oklahoma said yesterday that he was taking his family out to have dinner in restaurants "every night" and encouraged others to do the same. Texas and Mississippi, however, began taking some limited measures today.
Other governors, including Cuomo in New York, have called for the Army Corp of Engineers to come in and help build added capacity, but thus far nothing along these lines has been done by the federal government.
Hospital situation becoming desperate
The lack of adequate testing ability at most hospitals, meanwhile, continues. The Boston Globe is reporting that even where some test kits are available at some hospitals in Massachusetts, they lack the swabs needed to administer the tests. In addition, doctors need PPE equipment when they use the swabs and that equipment is not available.
The president of Massachusetts General Hospital issued a plea last night for people with 3D printers to produce masks and deliver them to the hospitals. Members of the public across the country are sewing cloth masks and delivering them to hospitals. None of the millions of masks Trump said are now available have reached hospitals.
Health care workers are still expressing shock at CDC suggestions that they use bandanas to cover their faces. Nurses report re-using dirty masks by spraying them with alcohol until they eventually fall apart.
Hospitals in Los Angeles reported that boxes of outdated masks were delivered and that when medical personnel tried to use them the straps that go around the ears snapped apart.
Trump yesterday said the federal government, which owns the Postal Service, was not a "shipping clerk" to send needed things to the states.
At Friday's press conference, when PBS reporter Yamiche Alcindor ask the president when everyone who needs a test will be able to get one. He responded by saying, "No one is talking about this except you, which doesn't surprise me." He previously attacked her at another coronavirus press conference last week, accusing her of asking him "a nasty question."
When she emphasized again that she was asking about people with symptoms now but who cannot get a test. Trump dismissively claimed, "Yeah, well, OK. I'm not hearing it."
Trump praise-fest carries on at White House
In today's briefing, Trump continued to refer to the coronavirus as the "Chinese virus." He claimed that Mexicans coming in across the border could cause "incredible problems for our health care system." He said "there has been a week of resolute action" on his part. "If you take a look at what we did we are at a historic level," he said, giving no specifics other than, "we are helping the states a lot" and "we are speeding up the availability of new drugs."
He praised "churches that are delivering meals to the needy" and said, "we are lifting restrictions and regulations on trucking so they can get supplies to the people, we are winning this war and we will be stronger than ever before."
Secretary of State Mike Pompeo was almost as vague and non-specific. He too called the affliction "the Chinese Virus" and said, "The fight against the coronavirus is not deterring the country from fighting terrorism."
Pompeo said traffic across the Canadian border is being restricted, as is traffic across the Mexican border. He said that all international travel by U.S. citizens should be avoided and that if Americans abroad don't come home soon, they will have to stay where they are. He said "stories that this virus originated from the U.S. Army are false" and he said China and Russia and Iran are the sources of those rumors.
"We must rally behind President Trump," Pompeo said.
Chad Wolf, Acting U.S. Secretary of Homeland Security, also praised President Trump, adding his voice to the need to beef up restrictions at the Mexican border. He said all people seeking to come in from Mexico without "proper authorization" would be stopped and sent back to their country of origin. He said that this was necessary to protect health systems along the border.
HHS Secretary Alex Azar spoke about how important Trump's travel restrictions against China were in protecting the U.S. from the virus. He did not discuss anything that has to do with health or human services. All of his remarks were about the decision to stop anyone without proper authorization coming in from Mexico. He said this has to be done because the U.S. does not have the ability to protect people working and living at the border in a pandemic. "It would draw on the ability of our national healthcare system to operate safely," he said and thanked the president again before exiting.
Dr. Deborah Birx said, "We still see a trend of young people getting sick, and a trend that males are affected more than females." She said it was important for people to follow President Trump's guidelines of not gathering in groups of more than ten.
"No one is immune," she said. "It is highly contagious to everyone. That is why it is important that everyone make sacrifices every day. We need everyone following the president's 15-day guidelines."
Dr. Anthony Fauci, top epidemiologist at the National Institutes of Health, added his support to control of border traffic. He said there is a public health reason for controlling the borders.
Fauci also endorsed strong actions taken thus far by some of the nation's governors. "There are places in the country," he said, "that are being stressed harder and need extra measures." He said he was endorsing the stronger actions taken, including shelter-in-place orders, in states like Washington, California, and New York.
Vice President Mike Pence praised Americans "for putting into practice the president's guidelines" and he praised "American industry" for "stepping forward." He praised governors for "implementing the guidance of the president."
"On supplies, we are making progress thanks to the president's efforts," he said. "On medical supplies, we continue, at the president's direction, to procure and conserve the resources in our system."
The more effusive that the praise for Trump during today's press conference became, the less specific the actual information became.
Just a few hours after California's governor projected that in two months 20 million in his state could be infected Pence, at this press conference, declared that the threat to the health of the average American is "low."
In the question-and-answer session, Trump said, as he did the day before, "There are millions of masks, and we are shipping them direct to the states."
Trump said he plans no nationwide lockdown. "If you go out to the Midwest and other parts of the country, other than New York and California, you don't have a big problem. People watch it on television, but they don't face what they have in California and New York," he said.
He attacked MSNBC reporter Peter Alexander, who asked him what he would say to Americans who are looking for hope—a softball question if there ever was one. "I'd tell them you are a terrible reporter," he said, and launched into a diatribe against MSNBC and "Concast," as he called Comcast, the network's parent company. "You should be ashamed of yourself," he told the reporter.
When another reporter who asked about U.S. senators profiting from insider knowledge about the virus, Trump attacked the reporter for not mentioning that a Democrat was in that group and said: "I find that the senators mentioned are honorable people."