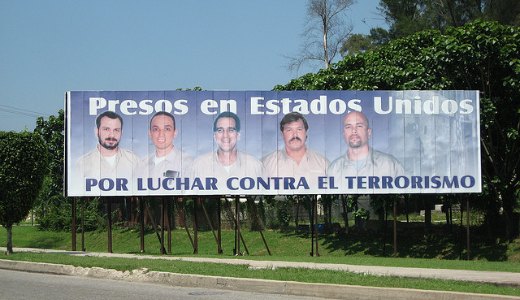 The Obama administration has made steps forward on U.S. relations with Cuba, especially in terms of loosening travel restrictions for Americans who wish to visit the island. Still, there are five innocent anti-terrorist fighters sitting in U.S. prison, and it's important to keep their spirits up.
People's World once more takes the occasion of a new year to urge readers to write to the Cuban Five. Antonio Guerrero, Fernando Gonzalez, Gerardo Hernandez, Rene Gonzalez and Ramon Labañino have been in U.S. federal prisons for twelve years – unjustly so. After a biased trial, they received long, cruel sentences. Their job had been to help protect their homeland from terrorist attacks originating in the United States.
They want to hear from people on the outside, not only those who have joined solidarity efforts on their behalf, but those too who would reach out in friendship. They are principled individuals unfairly removed from family, friends and homeland.
For more information, go to www.freethefive.org, www.antiterroristas.cu, or www.thecuban5.org.
Here's how to address your letter:
Gerardo Hernandez, No. 58739-004
U.S.P. Victorville
P.O. Box 5300
Adelanto, CA 92301
Antonio Guerrero Rodríguez, No. 58741-004
FCI Florence
P.O. Box 6000
Florence, CO, 81226
Rene Gonzalez Sehwerert, No. 58738-004
FCI Marianna
P.O. Box 7007
Marianna, FL 32447-7007
To write to Fernando Gonzalez, address the envelope:
Rubén Campa, No. 58733-004,
FCI Terre Haute
P.O. BOX 33
Terre Haute, IN, 47808.
(But address the letter inside to Fernando.)
To write to Ramón Labañino, address the envelope:
Luis Medina, No. 58734-004
FCI Jesup, 2680, 301 South
Jesup, GA 31599
(But address the letter inside to Ramon.)
Image: J.G. Blanchard Lewis // CC BY-NC 2.0