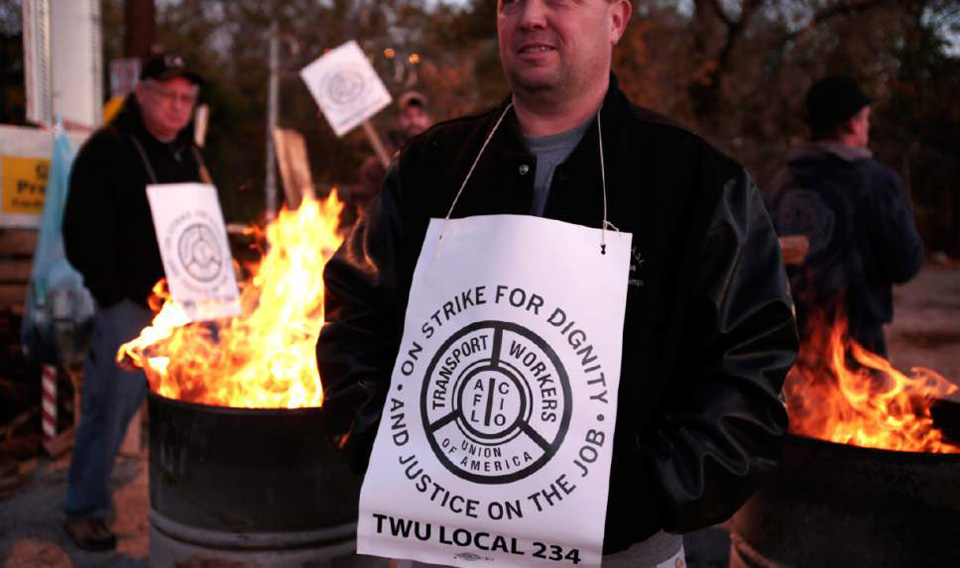 PHILADELPHIA (PAI) — Philadelphia transit system management demands to push workers into an inferior health care plan (at higher cost), add nothing to their pensions, and take away two paid holidays forced the city's 4,700 bus, subway and trolley operators to strike, starting November 1.
The workers, members of Transport Workers Local 234, walked after management not only refused to budge on its proposals, or consider any alternatives the union offered, but walked out of transit talks, the local reported. Instead, Southeastern Pennsylvania Transit Authority (SEPTA) management threatened to go to court to force workers back on the job for November 8, election day.
"SEPTA seems determined to provoke a walkout by refusing to seriously address the union's proposals, while pushing hard for major concessions impacting our health care, wages and pension benefits. Get ready. It looks like we'll have to rumble for our survival," Local 234 warned its members in a pre-strike bulletin.
And the final bargaining session ended when "SEPTA's representatives refused to address non-economic issues affecting operator and public safety. Some of the issues involve contractual provisions the union wants enforced, but SEPTA managers think they can ignore the contract and do as they please," Local 234 said in its last pre-strike bulletin, October 29.
To counter management's intransigence, local leaders also briefed Philadelphia-area politicians on the issues involved in the management-labor conflict. They also pointed out that the SEPTA board is Republican-dominated – appointed by a former GOP governor – and that its chair's actions prompted a previous strike several years ago.
Besides eliminating two paid holidays, other key management demands that forced the SEPTA workers out onto picket lines were:
No wage hike in 2016, followed by 1 percent in each of the next two years, 1.5 percent in 2019 and 2 percent in 2020. "By the time it expires, we'll be taking home less than we take home now, especially when you add SEPTA's demand to increase our health care contributions from 1 percent to 3 percent of pay," Local 234 noted.
A "buy up" health plan, inferior to the current plan, for the 3 percent pay contribution, plus $352 monthly for family coverage. Co-pays for medicines would quintuple.
"SEPTA is offering nothing, nada, zero in pension improvements, while seeking to reduce medical coverage for retirees, even though they (management) recently increased their own pension benefits by over $600 per month, on average."
"Meanwhile, SEPTA is refusing to budge on any issues the union has on the table, including improvements in pension benefits, working conditions, job security, limiting the use of video cameras for discipline and privacy."