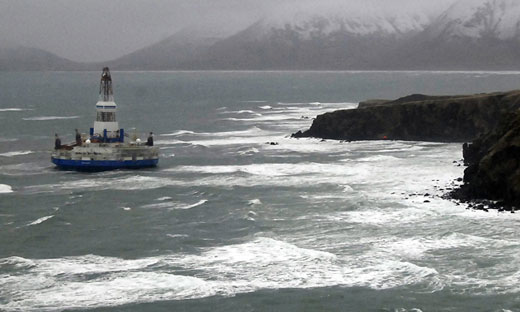 Due to a series of mishaps and protests from environmentalists worldwide, oil giant Shell withdrew its plans to drill for oil in the Arctic, after sinking $5 billion on the failed project. Now, in spite of this, the corporation is determined to resume operations there in 2014. It's already contracted a new drilling rig, which will replace the one that ran aground near an island in December 2012. Activists, meanwhile, are already raising their voices in opposition to what most see as another slew of accidents waiting to happen.
In an immediate reaction to Royal Dutch Shell's announcement, Ben Ayliffe with Greenpeace International declared, "Shell's Arctic bravado is a desperate attempt to reassure its investors, but the facts tell a different story. Brushing off the loss of hundreds of millions of dollars and casually scrapping a drilling platform are not the actions of a company that is in control of its operations."
The reassurances to which Ayliffe refers are Shell's desperate attempts to alleviate distrust even in the business world, in light of its previous costly wasted venture in the Arctic. It also didn't help that Shell's quarterly profits this year fell below analysts' expectations.
"In 2012," Ayliffe continued, "Shell proved that it is completely unfit to drill in the remote Arctic, a place of unrivaled beauty where any spill would be an environmental disaster. In April [2013, the company] signed a joint deal with Russia's state-owned giant Gazprom, one of the world's most polluting oil companies with a record of serious negligence. Shell has run out of options, and is prepared to gamble its reputation on projects and partnerships that other oil companies have dismissed as far too risky."
Greenpeace has long eyed these oil companies with fiery disapproval, and lately Shell and Gazprom have both been fanning the flames: 30 activists who boarded a Gazprom-owned rig in protest of drilling have been jailed in Russia (where they remain) and slapped with increasingly brutal charges. The ongoing case is surely taken into account by all whom decry Shell's decision to make deals with such a company.
"While 30 people languish in a Russian jail," said Ayliffe, "Shell's board sits in the comfort of an Amsterdam office planning the next phase of a wreckless hunt for Arctic oil. Greenpeace stands with the millions of people who are ready to oppose Shell or any other company that chooses to drill for oil in the Arctic Ocean."
Other facts suggest that Shell is only setting itself up for further embarrassment, on top of the continued risk for an oil disaster. The rig, for example, that Shell is replacing 2012's doomed Kulluk with is, like its predecessor, an outdated 30 year-old rig. It was built by offshore drilling contractor Transocean, to boot; that company has been linked to environmental crimes and inappropriate conduct. There will also be regulatory and safety inspection processes Shell must go through before it is given approval for drilling.
Many environmental groups intend to fight Shell on its bid to pass such processes, noting the absurdity of approving a company that was involved with so many incidents during its previous Arctic drilling campaign. Said Michael LeVine with conservation group Oceana, "Shell's 2012 drilling proved these companies are ill-prepared for the harsh conditions in the [Arctic's] Chukchi and Beaufort seas. If companies refuse to learn from their mistakes and make more responsible choices, the government must step in and say 'enough is enough'."
Susan Murray, also with Oceana, remarked, "Companies need to recognize [that] they simply are not ready to operate in the harsh and remote Arctic Ocean environment. There is no proven technology that would allow companies to drill safely in Arctic Ocean conditions, and the risks far outweigh any potential benefits."
Photo: After the failure of previous rig Kulluk (pictured), Shell plans to replace it with an equally old, outdated model as they prepare to resume drilling operations in the sensitive Arctic Ocean. U.S. Coast Guard/AP