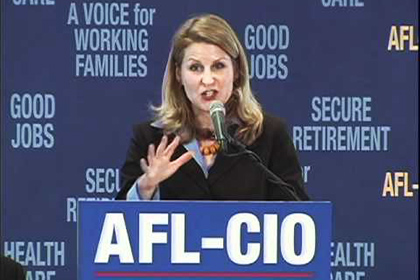 ATLANTA – AFL-CIO Secretary-Treasurer Liz Shuler, the highest-ranking woman in the U.S. labor movement, is challenging her colleagues to promote more women to top jobs.
Working women, the labor movement, the voting public and President Obama all "get it" on working women's and family issues, she told the AFL-CIO Executive Council meeting in Atlanta on Feb. 25. Those issues include paid sick days and childcare, equal pay for equal work and fair work schedules.
But "we haven't done a good job of selling ourselves as a movement that gets it," Shuler said. And that starts with a lack of leaders.
Shuler pointed out that women head only seven of the nation's 51 state labor federations, and that women hold 31 percent of "secondary offices" in those bodies. Though she did not say so, few women head the federation's unions.
The most prominent are AFT's Randi Weingarten, other AFT leaders and the four co-presidents of National Nurses United, along with its executive director, Roseann DeMoro, CWA Secretary-Treasurer Annie Hill and AFSCME Secretary-Treasurer Laura Reyes.
So organized labor "has a lot of work to do" in representing women, Shuler said. She's the sole woman among the AFL-CIO's top three leaders.
"And let's just think about it," she added. "In all likelihood, for the presidential election, we'll endorse one woman or another. We need to catch up." The leader among Democratic presidential hopefuls is former Secretary of State Hillary Rodham Clinton.
But Shuler also admitted the women's movement has a blind spot: Women of color. The labor movement can fill that gap, she said.
"We have a unique opportunity to be the place where all women – across class, race and immigration status – can come together and make the case for fair treatment and a fair economy" through collective action, organizing and winning union contracts, she said.
"So let's use our raising wages campaign to do more than message issues. Let's use it to connect with people and move them to action. Especially women. All women," she urged.
Men now head both U.S. labor federations: AFL-CIO President Richard Trumka and Teamsters President James Hoffa at Change To Win. Lilly Eskelsen-Garcia heads the independent 3.2-million-member National Education Association – the nation's other teachers' union – while Mary Kay Henry heads the 2.2-million member Service Employees, part of CTW. Colleen Kelley heads the independent Treasury Employees.
Photo: AFL-CIO Secretary-Treasurer Liz Shuler. | Pennsylvania AFL-CIO