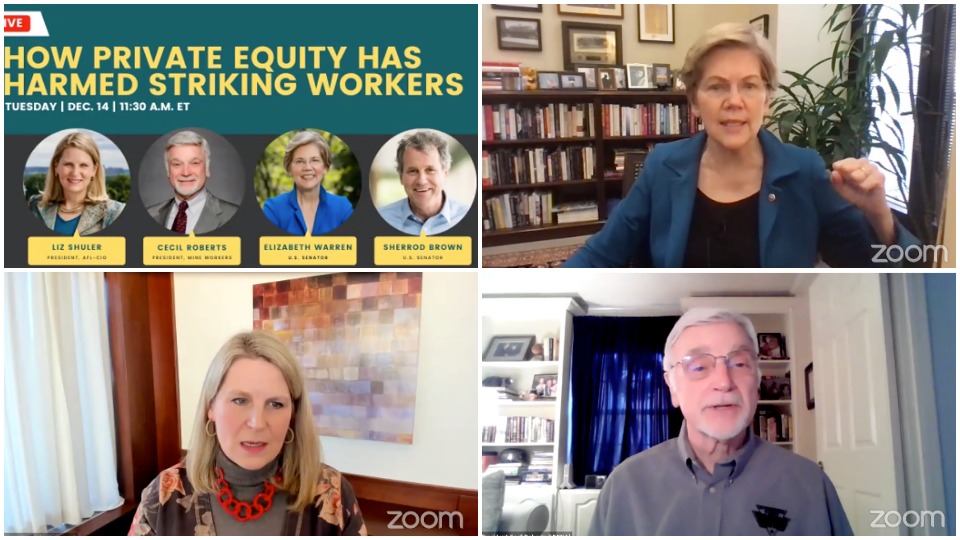 WASHINGTON (PAI)—Continuing a decades-long record of predatory financial sector capitalism, multibillion-dollar hedge funds, accountable only to their secret investors, swoop in to devour companies, devastate workers, destroy jobs, and then escape with the profits.
So say, in so many words, AFL-CIO President Liz Shuler, Mine Workers President Cecil Roberts, Sens. Elizabeth Warren, D-Mass., and Sherrod Brown, D-Ohio, and Jim Baker, head of the non-profit Private Equity Stakeholders Project, which monitors and stands up for victims.
But apparently, according to these labor and political leaders, the solution to such "private equity" pillagers isn't to legally outlaw hedge funds, despite their destruction of workers' lives at industries ranging from coal mining—Warrior Met in Alabama—to nursing homes to community newspapers.
It's to regulate the hedge funds, minimizing their profits and potential for looting firms, through Warren-authored legislation; mobilize against them in the streets as the Mine Workers have; and shine sunlight and publicity on the ravages. Hence a Dec. 14 virtual press conference.
"We need to do more to educate the public on what these private-equity firms are like," said Shuler at the Zoom session.
The forced strike at the Warrior Met mine in Alabama prompted the event. On April 1, Roberts explained, 1,100 members there were forced to strike after bosses offered total raises of between 50 cents and $1.50 an hour over a multi-year contract. That's far less than the $6 cut miners took in 2005 to save the company, and the wage freeze they've undergone since. Warrior Met is the hedge fund-influenced successor to the Jim Walter Company, which went broke that year.
Backed by three hedge funds, a new "owner" formed Warrior Met. The U.S. bankruptcy judge there voided UMWA's contract with the mine and turned over miners' pension plans and retirees' payments to the federal Pension Benefit Guaranty Corp., the UMWA leader added.
Warrior Met forced a new contract on the miners, featuring a 20% ($6 hourly) wage cut, first-ever miners' shares of health insurance premiums—in one of the nation's most dangerous and unhealthy industries—brutal scheduling, and revocation of holidays, among other abuses.
All that made Warrior Met profitable and the hedge funds, not the workers, reaped the rewards: At least $800 million during their ownership tenure before selling their majority shares. But reps of three funds, Blackrock, KKR (Kohlberg, Kravis, Roberts), and Apollo, still sit on Warrior Met's board and the hedge funds still have stakes in the coal company.
They also back its bosses, who forced the Mine Workers to walk and to stay on strike for 258 days and counting. The miners have drawn support from the entire labor movement.
Prominent: The late AFL-CIO President Rich Trumka, Roberts's predecessor heading UMWA, interrupted his vacation with his grandchildren nearby to pledge support and solidarity to the miners' struggle. Trumka unexpectedly died the next morning. Shuler quoted his speech.
But Warrior Met isn't the only instance of hedge fund predation. Alden Global Capital's destruction of community newspapers from coast to coast, leaving broken families, jobless journalists, and "news deserts" nationwide has led so many newspaper staffers to unionize for protection that in 2021 The News Guild leads all unions in percentage increase in members.
It also led one journalist at the press conference to ask why not just ban hedge funds, given their predations and secrecy. Baker politely suggested alternatives. "This is not about killing private equity, but about fixing the system," he explained. "But this is a growing threat we have to address every day."
But Baker also warned consumers to make sure they know who really owns a nursing home before placing elderly parents and relatives in it. If hedge funds do, look elsewhere, he counseled. The financiers' demand for profits from the ailing and the elderly leads to mass cuts in staffing and services, and "death rates jump by 10%."
The fixing-the-system solution gave Warren a chance to promote her Stop Wall Street Looting Act (S3022) to do so. The former Harvard professor, who specialized in studying the financial devastation which bankruptcy wreaks on workers, urged publicity and support.
Besides curbing hedge fund profits from what one speaker called their "buy-strip-and-sell" pattern, Warren would also push workers to the front of the line in bankruptcy proceedings and remove immunity hedge fund financiers "now have when they break labor law."
She got support from Shuler and in a video from Brown, chair of the Senate Banking Committee, which would handle it. Rep. Mark Pocan, D-Wis., a former Progressive Caucus co-chair and a member of the Painters Union, introduced the measure in the House (HR5648).
But the forced strike at Warrior Met took center stage, especially since UMWA has taken the struggle to financiers' headquarters, with informational picketing at hedge fund offices on Wall Street, and in D.C., Boston, Denver, Newport Beach, Calif., and even Australia.
"It was Apollo who claimed it saved miners' jobs" at Warrior Met, Shuler said. "It didn't. It was the Mine Workers who sacrificed" income and pensions and health care who did.
And those workers deserve a share of the profits they've created for Warrior Met since it came out of bankruptcy, Shuler, Warren, and Roberts added. "They want fair pay and fair practices," the senator declared.
"What gets lost in all this is that the money that used to be spent in" relatively poor Alabama "in local markets and stores" and paid in local taxes "now winds up in New York billionaires' pockets," the Mine Workers president said. "We should be on the side of people who are trying to keep money in Alabama."