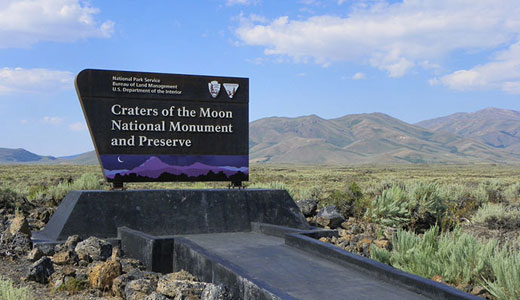 BOISE, Idaho – The government shutdown halted a search for a missing Boise hiker on Oct. 1 as Craters of the Moon National Monument park staff were forced to stop searching and go home. Family of the missing person, Dr. Jo Elliott-Blakeslee, issued a plea for volunteers to replace the furloughed searchers.
No one was searching for her on Tuesday morning, according to Ted Stout, chief of interpretation and education at the park. The Butte County Sheriff's Department said people did begin searching again late Tuesday and were continuing the search today.
"It's pretty much park staff that are continuing the search," Stout said in a phone interview. "But we're also faced with the government shutdown – we've been busy with that." Federal workers, he said, are technically not allowed to do their jobs during a government shutdown because U.S. law says they can't do any work for which funding hasn't been allotted.
Stout said all 16 of the Craters of the Moon staff were ordered to go home when the shutdown began and that three can remain but only to do "essential" work like keeping utilities running. He said they may not be paid for their work.
Elliott-Blakeslee, 63, and Amy Linkert, 69, were last seen on Sept. 19 when they left for a day hike. Linkert's body was discovered seven days ago.
"We are hoping for the best," Teresa Hamilton, a friend of Elliott-Blakeslee, said in a phone interview today. "They found Amy last Wednesday, before the shutdown but we don't know what actually happened – how she died. When the family finds out, they will send out a statement."
Hamilton said that Elliott-Blakeslee and the deceased Linkert "were good friends. They were doctors who met on their missions in Africa and forged the kind of ties that lasted forever."
Before the shutdown, searchers did find the two dogs (labradoodles) that belonged to the women. Hamilton told the People's World that the dogs were found in Elliott-Blakeslee's truck in which they had been left with water and open windows. "That's an indication that they only intended to go out for a very short hike and return quickly," Hamilton said. "Otherwise they wouldn't have left the dogs there." She said that other than being thirsty, the dogs were "fine" when they were found.
"We realize the chance of Dr. Jo surviving in temperatures that dipped below freezing are slim," her family said in a statement they have issued. "However, we are not ruling out the chance that she has found shelter in a cave or under vegetation. Either way we are committed to bringing her home to keep the search going.
One of the problems with furloughs of skilled federal workers is that highly skilled volunteers are needed in this type of search. Federal park workers are trained to hike 10 or 12 miles at a time and to climb 1,000-foot rocky slopes. Volunteer searchers, to be as effective, need similar skills.
With the normally responsible federal park agency shut down Elliott-Blakeslee's friends have had to rely on the Butte County Sheriff's Office.
Hampton said, "We are so grateful for the way the Sheriff's office has stepped in to handle things now. I don't know what we would do without them." Hamilton added, however, "some of the regular staff are coming back in also, even without pay to, help on a volunteer basis with the search."
The effects of the government shutdown remain, though, despite the return of some of the workers. Lack of helicopter support in the search operation is a problem because of the shutdown. "As a result of the shutdown we don't have the helicopters helping out," Hamilton said. "Those are paid for by the federal government too."
Photo: J. Stephen Conn/Flickr