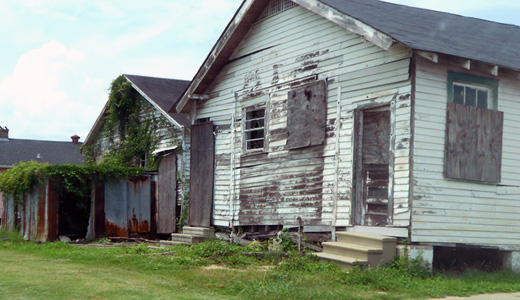 NEW ORLEANS – As a reporter in this city, you can't help but hear the stories about Hurricane Katrina – even six years after the disaster. Stories of struggle, survival, and the aftermath are told not only in New Orleans, but in nearby areas like St. Bernard Parish.
As our team of reporters drives through the city's 9th Ward, we see houses in varying degrees of dilapidation. Holes in roofs indicate where homeowners struggled to climb out when the floodwaters rose. Some of them never made it. Numbers written upon water-tarnished doors indicated the number of dead people removed from the homes by volunteers.
Driving with us is Chet Held, a bayou fisherman and newly sworn-in president of Local 130, International Brotherhood of Electrical Workers. He grew up in St. Bernard Parish, which saw devastation just as great as that in New Orleans itself.
"You'll see a few houses that have been rebuilt," says Chet. "Those belong to people who were lucky enough to come back and put their lives back together." However, he laments, "We used to be a close-knit community. Everybody knew everybody, everybody was family. Now they all scattered in different directions."
Jeff Pohlmann, owner of nearby seafood restaurant Today's Ketch, elaborates on why exactly everyone did scatter.
"There was nothing to come back to," he says. "Some people, they would ride up the road in empty trailers, thinking they were going to retrieve all their personal and valuable items from their homes." But, he says, "they came in with empty trailers, they left with empty trailers. There was nothing there to save."
As a result, he continues, "everyone spread out. Now there's new people here. But there's still so much uncertainty."
"These were nice homes – working people," Chet adds. "The bayou is in their blood. This was home, and I miss it."
Again, during a ride through New Orleans East, the damage is plain to see, but hard to take in. Here is a community that was, at one time, well-off financially. Now, previously elegant houses sit with roofs and windows blown out. Less fortunate homes lie in ruins.
The effects of Katrina are permanently etched into the consciousness of the people affected.
As we pass through the 9th Ward and enter the downtown section of New Orleans, we see a bright, tourist-friendly sign that reads, "Welcome to New Orleans!" A few blocks behind us lie abandoned hospitals, ravaged streets, and people who are truly homeless.
Isn't that section a part of New Orleans too?
"Not to the people in power," says Chet. "New Orleans is controlled by big money." He suggests that city officials would rather pretend the 9th Ward didn't exist and simply cast it into the background, while making visitors believe that the area near the French Quarter is the only "true New Orleans."
The key, of course, would be to rebuild the affected areas, rather than pretend they're not there.
Still, there are new signs of hope throughout the city and neighboring parishes, and its residents don't appear to be ready to give up.
Robert "Tiger" Hammond, president of New Orleans' AFL-CIO, tells us who is going to help rebuild New Orleans: the unions.
"It is the unions that fight for families across the board," says Tiger. "The AFL-CIO's all about helping people. We want to keep this community strong. We're about giving people jobs, we're about saving businesses." The initiative of union activists, he says, is the motivational force of "what's gonna make this happen?"
"We're not winning the war yet," Tiger says, "but we're winning a few battles."
"In recent years, union workers have been involved in construction at 80 percent of all major construction sites in the city," he says. Non-union electrical workers and builders "can't match our skills. Our training and apprenticeship programs are second to none. When it comes to a major project, they can't compete.
"In the state of Louisiana alone, we have about 3,000 journeyman electricians. They have decent living wages, health insurance, and pensions."
Unions are essential, he says, in making rebuilding the city a reality.
The fight against injustice in New Orleans is far from over, and, even though post-Katrina neighborhoods aren't quite the same as they once were, it's evident that the working class of places like New Orleans and St. Bernard Parish is on the move.
And, "just like Wisconsin," says Tiger, "we're getting ready for battle."
Photo: One of the many homes in the 9th Ward that, six years after Katrina, still lies in ruin. Unions are essential in rebuilding communities in New Orleans. PW/Blake Deppe