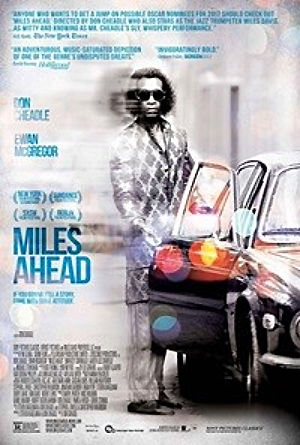 When the Motion Picture Academy considers nominees for 2016's films, in order to avoid the debacle regarding the awards for 2015's movies with the all-white acting and Best Picture Oscars, the voters should keep in mind Don Cheadle's performance as Miles Davis in Miles Ahead. At times, Cheadle's rendition of the pathbreaking trumpeter and composer, in terms of look and sound down to that raspy voice, is uncanny. The star (Best Actor nommed for 2004's Hotel Rwanda) claims he actually learned how to play the horn in order to more truthfully play the role. This biopic about one of our great jazz musicians should also be considered for Oscars in the editing and soundtrack, plus, perhaps, other categories.
The one hour and 40 minute film focuses on the period in Davis' life when he sort of "went underground," stopped performing and largely disappeared from public (and private) view in the 1970s. There are flashbacks to other periods, such as when Davis and his collaborators were giving "Birth to the Cool," so to speak, and to his marriage to dancer Francis Taylor (Emayatzy Corinealdi, who starred in Ava DuVernay's 2012 Middle of Nowhere). Some of the scenic and time transitions are exceedingly creative and clever in this story co-written by Cheadle, who also directed and co-produced.
Having said that, the script centers around the more negative, seamier side of Davis' life, in terms of drug addiction and crime. The film has a significant amount of gunplay and the like, presumably in order to appeal to fans of action movies. Likewise, the screenplay teams Davis up with purported Rolling Stone reporter Dave Brill (Ewan McGregor), During a Q&A after a screening at the ArcLight Hollywood, Cheadle coyly refused to answer repeat questions (hey, it's hard to defend the indefensible, as Donald Trump is learning the hard way) about the factual basis for his film, including about the veracity of the journalist character, who serves as a vehicle for Davis to tell his story. McGregor's inclusion also conveniently serves the interests of crafting a commercially-oriented "buddy" picture, once again pairing a Black and white guy, as in those action flick franchises like the Beverly Hills Cop and Lethal Weapon, co-starring Eddie Murphy and Nick Nolte, Danny Glover and Mel Gibson, etc. Indeed, at times Ahead seems like a cheesy Blaxploitation flick.
In doing so, and concentrating on these aspects of the titular artist's life and in the script, Cheadle cheapens the musical pioneer and his contributions to music. Maybe this is because, in addition to crowdfunding, Cheadle sunk some of his own loot (perhaps earned from the awful Showtime series he stars in?) into the reportedly $8.5 million film, in hopes of attracting as wide an audience as possible, including the teenage male demographic at the multiplexes.
In structuring the movie in these ways Cheadle undercuts Miles' narrative and trajectory. Cheadle may be an expert in Davis' back story, but most audience members aren't. There is little if any insight into what was eating this tortured talent, what his inner demons were that turned him to use heroin and (in Ahead) cocaine, to retreat from performing and the world, etc. Hints may be given onscreen by a police brutality scene and Miles' clashing with record company executives, which are among Ahead's finest vignettes. Racism and the exploitation of capitalist execs of the artist/worker may explain part of his erratic behavior, but what we see on the screen does not flesh out and offer explanations (which, Cheadle said at the ArcLight Cinema, was not his intention, which seems more to have been creating an experience based on Davis' vanishing from sight for about five years). To be fair, there are, however, some insights into what inspired Miles to compose, create and perform.
In any case, Miles is depicted as an abusive wife beater and as a pretty violent-tempered guy. Even if he was a genius, there's NO EXCUSE for battering your spouse and women (and people) in general or for blowing huge amounts of money on illegal narcotics. And it is particularly despicable that he prevailed upon Francis to give up her dancing career – what a male chauvinist pig. "Genius" (assuming Davis was one) does NOT give one license to behave reprehensibly and dangerously – indeed, talented artists have a responsibility to society and to create, not to vanish into one's brownstone or behind the fences of one's home perched above Mulholland Drive. Despite onscreen flashes of genius, this vile, violent depiction of Davis feeds into and arguably reinforces many of the worst stereotypes white racists have about African American people – in particular of Black males during our age of mass incarceration. At times, one wants to yell at the screen: "Miles, compose yourself!"
Ahead also makes no mention of Miles' marriage to actress Cicely Tyson in the 1980s. Fortunately, Cicely did not stop acting. Now here's the factoid of the day (that may explain a lot?): The best man at Davis' 1982 wedding to actress Tyson, which was officiated by Andy Young, was none other than comedian and accused rapist Bill Cosby.
This trendsetting trumpeter, composer, and visionary deserves a biopic worthy of his talents. Unfortunately, Miles Ahead only hits the high notes intermittently in a flawed film designed to turn a complex subject into a crowd pleaser in order to sell tickets.
Miles Ahead
Director: Don Cheadle
Writers: Steven Baigelman (screenplay), Don Cheadle (screenplay) |
Rated R