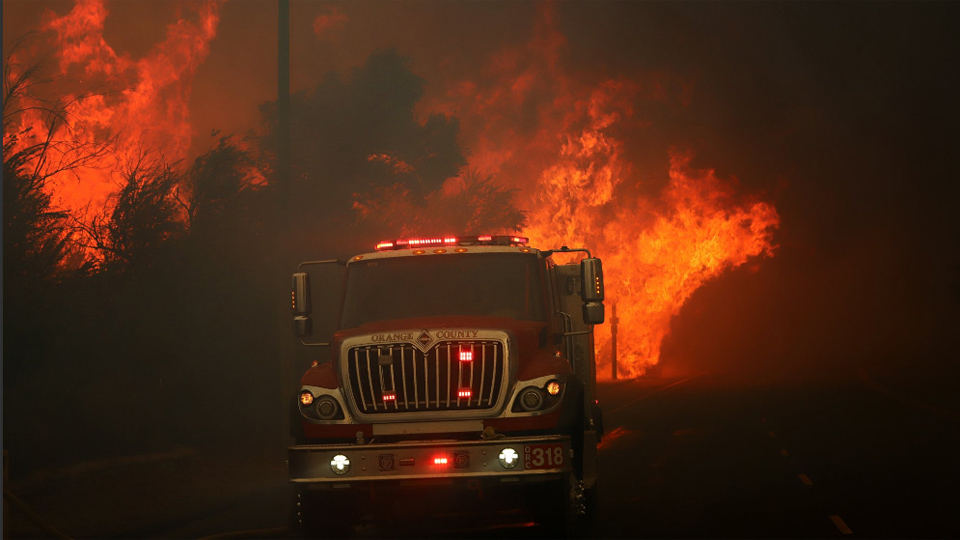 SAN FRANCISCO—Millions of Californians on Tuesday saw their lawns covered in ash and air filled with smoke as firefighters battled ferocious wildfires in the northern and southern parts of the state.
The fast-moving blazes produced thick, gray clouds that hovered over densely-populated areas in Northern and Southern California, forcing many schools to keep students inside and air quality agencies to issue smoke advisories calling on residents to limit outdoor activity.
At Disneyland, visitors snapped photos of hazy, orange skies that gave an ominous glow to a theme park already decked out for Halloween. Ash fell like snow over seaside Southern California communities more than a dozen miles from the hillside neighborhoods where the fire raged.
"My eyes tear and it's uncomfortable for me to breathe," said Yolanda Ramos, 66, who had driven to Santa Ana from her Los Angeles County home to visit her 91-year-old father. "I wanted to take my father out in the wheelchair, and they said no."
At least 17 people have been killed, and families are frantically searching for more than 180 people who have been reported missing. Authorities believe communications issues are preventing many of those people from checking in with family. As many as 2,000 homes and businesses have been destroyed in the onslaught of fires stretching across Northern California.
The West this year has been hit hard by dozens of fires that have blanketed the air with choking smoke, prompting officials to issue air quality advisory alerts throughout the region.
The fires in Napa and Sonoma counties, home to dozens of world-renowned wineries, sent smoke as far as San Francisco, about 60 miles away. Air quality concerns prompted schools throughout the San Francisco Bay Area to cancel outdoor football, soccer, and other sports practices.
The Bay Area Air Quality Management District issued a warning saying the wildfires north of San Francisco are causing very unhealthy air quality throughout the region, and advised residents to stay inside if possible and keep windows and doors closed:
"Very unhealthy air quality from the wildfires in the North Bay is causing unprecedented levels of air pollution throughout the Bay Area. Due to active wildfires and changing wind patterns, air quality could be impacted for many days to come. Outside of the active fire areas, air quality will be variable and unpredictable. Air quality may improve at times or get worse, very quickly."
San Francisco officials put air filters in four public libraries for those seeking relief from the smoke.
Some office workers in the city wore masks as they went to the street from their offices.
Caitlin Burke is a former Sonoma County resident who was born and raised in the area, and has many family and friends still living there who are currently being displaced by the fires:
"The NorCal fires continue to ravage the community, more than ten of my friends have lost their homes, relatives are unaccounted for. Ranches I've worked on evacuated as many horses as possible, and some set loose their herds in a desperate attempt that they could outrun the fire. The level of devastation and loss is surreal. There's no other word for it."
To the south, the wind-driven brush fire that burned 12 square miles in northeastern Orange County led officials to close more than a dozen schools. Schools as far away as Long Beach limited outdoor activity as a precaution or have kept children inside for physical education and recess.
"We're trying to keep them indoors," said Annie Brown, a spokeswoman for Irvine Unified School District. "At this time, outdoor activities/sports are on modified and/or canceled status."
In the 24 hours since the fire began, Orange County health officials recorded a 7.5 percent uptick in emergency respiratory transports to emergency rooms compared with the daily average for such cases last week. Most of these cases were related to asthma.
The South Coast Air Quality Management District issued an advisory in effect through Thursday morning that warns the air quality may be unhealthy in large stretches of Orange and Riverside counties.
According to an article in the Los Angeles Times, Sutter Santa Rosa Regional Hospital and Kaiser's Santa Rosa Medical Center were evacuated as the Tubbs fire spread from Calistoga into Sonoma County late Sunday and early Monday.
"Imagine there's a wind-whipped fire…burning department stores, burning box stores, impacting hospitals," Cal Fire Director Ken Pimlott said during a press conference Monday.
"We have safely evacuated the Santa Rosa medical center due to fires burning in the area. Many patients were transported to Kaiser Permanente in San Rafael and other local hospitals," Kaiser spokeswoman Jenny Mack said in an email.
"All Sutter Santa Rosa Regional Hospital patients are safe and have been transferred to other area hospitals," Sutter Health spokeswoman Liz Madison said in an email Monday morning. "Due to road closures, Sutter Santa Rosa Regional Hospital is inaccessible at this time."
"We've had hospitals that have required evacuation…all of those take significant amount of coordination and assets to ensure…that special needs populations and others that require special assistance are taken care of," said Mark Ghilarducci, director of the governor's Office of Emergency Services. "That will remain our priority."
This story features content from the Associated Press, supplemented with material gathered by People's World staff. AP: Olga R. Rodriguez reported from San Francisco. Amy Taxin reported from Santa Ana, California. Paul Elias in San Francisco contributed to this report. People's World: Barbara Russum and Chauncey K. Robinson contributed to this article.