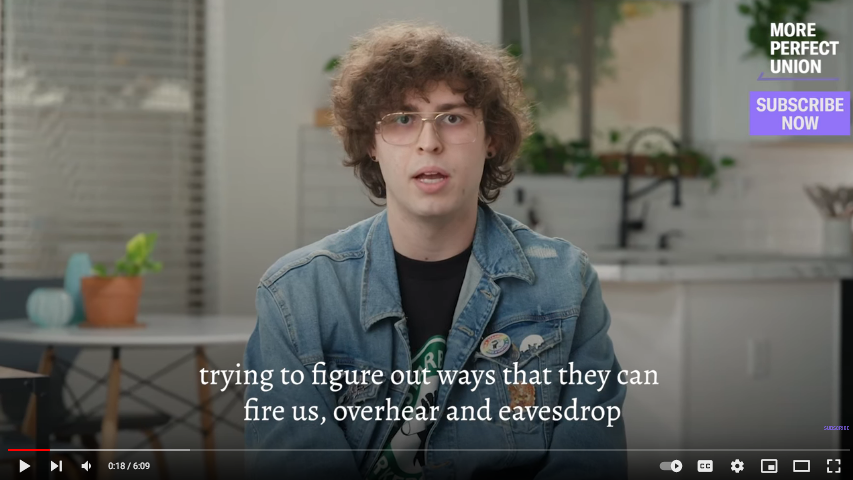 MESA, Ariz.—A sudden swarm of snooping supervisors. An anti-union meeting where the union-buster speaker lies about its purpose—and a worker calls the speaker out on it. Writing up another worker for going to visit his sick mother in the hospital.
Welcome to some of the abuses Starbucks has visited upon its 30 workers at its store at 6807 East Baseline Road in Mesa, Ariz., because, as one said, they dare to vote to unionize.
The Mesa workers will receive voting materials starting January 14 and must return their ballots to the National Labor Relations Board's Phoenix regional office by January 28. Mesa's one of three unionizing drives in the accelerating national campaign by Starbucks Workers United, a Service Employees sector, to organize low-paid workers at the coffee chain.
The other two elections, which workers filed for in early January, are in Eugene, Ore., and Knoxville, Tenn., NLRB records show. They join another pending unionization demand at Starbucks in Boston. All are energized by last year's Starbucks workers win in Buffalo.
The Starbucks workers are a growing segment of the mass movement of oppressed low-paid no-benefits workers who, having had it up to here, and still exploited during the coronavirus pandemic, are organizing, often on their own. Most are in their 20s and early 30s.
Other growing legions of exploited workers—many also exposed to the virus with little or no protection from employers—include adjunct professors, grad student RAs and TAs, Amazon warehouse workers, fast food workers, and port truck drivers.
The workers are organizing themselves and then approaching unions for cooperation, resources, and legal help when bosses break labor law through retaliation, intimidation, and spying. Unions responding include the Auto Workers, the News Guild, the Teamsters, the Teachers (AFT), Workers United, and the Retail, Wholesale and Department Store Union.
Predictably, the Mesa workers report Amazon has lashed back at them with many of the tactics it used unsuccessfully against their Buffalo colleagues. Their six-minute video, after an initial tweet, is on the Workers United Twitter feed. More about their movement is at the More Perfect Union website @MorePerfectUS.
Starbucks also tried two ways to skew the vote. It contended the vote should occur at all 14 Starbucks stores in its Region 380, which includes Mesa. And, like virtually every other employer contesting union recognition petitions since the coronavirus pandemic began, Starbucks demanded in-person voting, not mail-in balloting, despite the virus risks.
NLRB Phoenix Regional Director Cornele Overstreet rejected both demands. Besides the hazards of in-person voting, Overstreet ruled there's no "community of interest" linking East Baseline Road workers with those at other stores, due to "no interchange" between them.
The tweet says the Mesa workers "began organizing after Starbucks fired their sick manager for calling
out corporate's union-busting in Buffalo. Now they're facing extreme anti-union tactics at their own store."
"What changed after we petitioned to file a union was that they employed a lot of espionage, and intimidation tactics, such as flooding the floors with many managers who are already trying to nickel and dime us on every little thing, trying to figure out ways they can overhear and eavesdrop on conversations so they can kind of get a read of what's going on in the store," Mesa worker Zechariah Schwartz said in the video.
"I was standing up for my fellow partners and I was in trouble for it," Brittany Harrison added, leading Schwartz to add: "Watching them treat Brittany in this way was really the straw that broke the camel's back."
"They had a couple of meetings where they kind of split us up and offered us pizza and stuff, you know, trying to get on our good side before telling us 'You have to vote no,'" worker Tez Enghauser said.
Picking up that narrative, Veronica Brown said she got up and asked: "'So, this is an anti-union meeting?' And they were like 'No, it's not,' and so I asked them: 'Are the only reasons you're having this meeting, one, to give us space, and two, to vote no on unions?' They were like, 'Yes, this is why we're having this meeting.'
"I was like 'Cool, this is literally anti-union.' If you're telling me 'no to unions,' I don't know what you think 'anti' means, but I think we can figure it out."
There's also been an explosion of managers at the Mesa store. Before the NLRB filing, Brown said, its volume was so small it didn't even qualify for one assistant manager. Now there are two managers and three assistants. "They're just spies," Enghauser said. "Like they're scaring all of our baristas, and I've seen it on some of the other baristas' faces. They're scaring us during the meetings."
Starbucks also seeks excuses to write up union supporters. "It does feel kind of intimidating because there are these people that have the power to just take you out," said worker Arath Guijarro. "You're not working there anymore, for one reason or the other.
"They put me down as sick when I was only visiting my mom at the hospital because I had to call off. And I wasn't sick. I told them I was at a hospital. It just feels like they're looking for more things to put on us, really."
Starbucks touts its workers are "partners." Companies these days call their workers, "partners," "associates," "assistant managers," and a variety of other things trying to disguise the fact that they are exploited workers The Mesa workers are dubious.
"Basically our only perk during Covid was a free drink on our day off, and they've taken that away because Covid's over?" Schwartz asked, somewhat tongue-in-cheek. "All the managers have definitely made it harder being in our store," said Enghauser. "Supporting us was never in the equation." Concluded Brown: "Nothing about this is making it easier to be a partner."