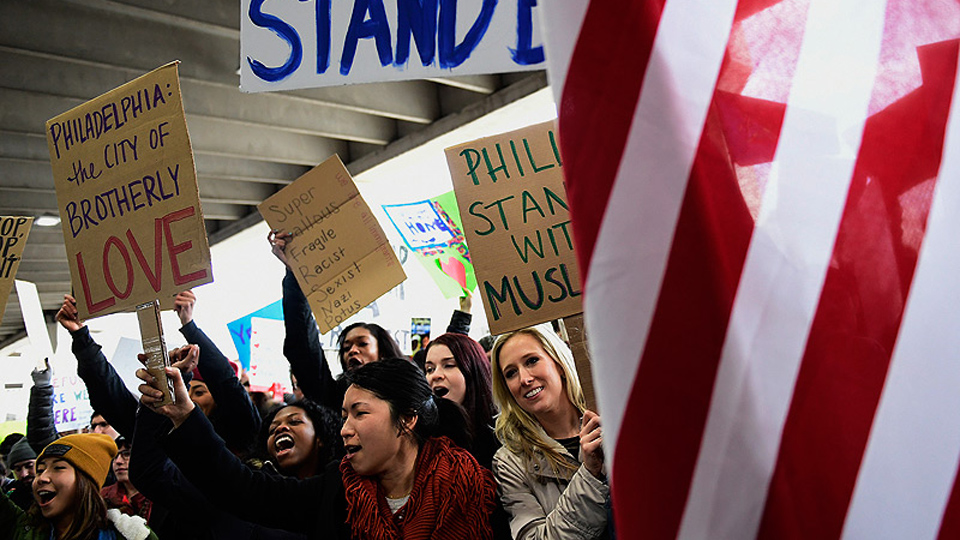 SAN FRANCISCO (AP) – What are the roles of the executive branch and the court system? On February 7, a panel of federal appellate court judges will hear state and federal lawyers on the fight over President Donald Trump's travel and refugee ban, a fight that could reach the Supreme Court.
On Friday, Seattle U.S. District Judge James Robart temporarily blocked Trump's order, saying a judge's job is to ensure that an action taken by the government "comports with our country's laws."
The Justice Department filed a new defense of Trump's ban on travelers with the San Francisco-based 9th U.S. Circuit Court of Appeals asking it to  restore the administration's executive order. The Department's lawyers said the travel ban was a "lawful exercise" of the president's authority to protect national security and said Robart's order that put the policy on hold should be overruled.
The judges hearing the arguments – two Democratic Party-appointed judges and one Republican appointee – are from a randomly assigned panel.
The appeals court refused to immediately reinstate the ban, and lawyers for Washington and Minnesota argued that any resumption would "unleash chaos again," separating families and stranding university students.
The Justice Department responded that the president has clear authority to "suspend the entry of any class of aliens" to the U.S. in the name of national security. It said the travel ban, which temporarily suspends the country's refugee program and immigration from Iran, Iraq, Libya, Somalia, Sudan, Syria and Yemen – allegedly with "terrorism concerns"—was intended "to permit an orderly review and revision of screening procedures to ensure that adequate standards are in place to protect against terrorist attacks."
On Sunday, Trump tweeted, "Just cannot believe a judge would put our country in such peril. If something happens blame him and court system. People pouring in. Bad!" University of Pittsburgh Law Professor Arthur Hellman told NBC News, "My sense is this is a president who lashes out at people. He is extraordinarily thin-skinned, and he personalizes everything. I really hate to say this about a president, but he doesn't seem to understand judicial function. He portrays judges as acting on their personal instincts and desires instead of the law."
Syrian immigrant Mathyo Asali said he thought his life was "ruined" when he landed at Philadelphia International Airport on Jan. 28 only to be denied entry to the United States. He was back on U.S. soil Monday. "It's really nice to know that there's a lot of people supporting us," Asali told Gov. Tom Wolf, who greeted the family at a relative's house in Allentown.
More than 100 former national security officials, many but not all of them Democrats, signed a letter to the Trump administration expressing "deep concern" about the travel ban.
Will the case go to the Supreme Court? The travel ban itself is to expire in 90 days, meaning it could run its course before a higher court takes up the issue.
The Associated Press and Barbara Russum contributed to this article.