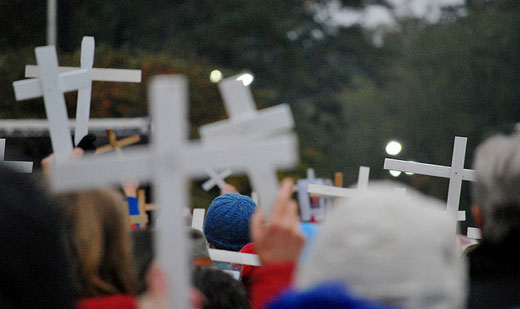 WASHINGTON – Denis McDonough, deputy national security adviser to President Barack Obama, met with a delegation from the SOA Watch movement here Nov. 13.
SOA Watch worked hard to meet with McDonough because he is a critical aide to the president and he has a deep Catholic justice background. A grad of College of St. Benedict and Georgetown, Denis comes from a big Catholic family, which includes two priests.
Participating for SOA Watch were Congress Representative James McGovern, Father Roy Bourgeois, Adrianna Portillo-Bartow, Sister Marie Lucey, Father Charles Currie and [article author] Bill Quigley.
McDonough admitted he has in the past been a supporter of SOA-WHINSEC but wanted to hear more from the movement. Family members and even former teachers have talked to him about closing the school.
Click here to read the full article.
Photo: Demonstrators hold crosses with names of victims of torture and violence at the hands of soldiers trained at the Western Hemisphere Institute for Security Cooperation, formerly called School of the Americas, at a 2009 protest at Fort Benning, Ga., where the school is located (alexis.lassus/CC ).