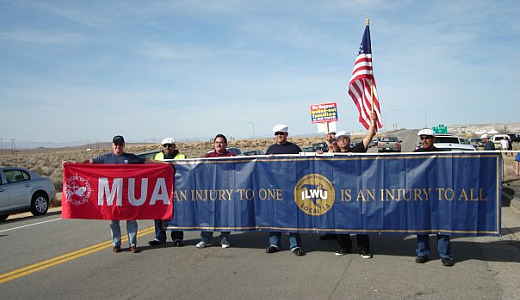 Four huge union trucks loaded with $30,000 worth of food, followed by a 150-car convoy with hundreds of supporters, converged on the gates of the large Rio Tinto Borax mine and plant in the town of Boron, Calif., last week, in solidarity with locked out miners.
With the slogan "From the Docks to the Desert," the Los Angeles County Labor Federation and its affiliates organized the Feb. 24 emergency caravan after Rio Tinto, the giant conglomerate operating mines in five continents, locked out nearly 600 members of International Longshore and Warehouse Union (ILWU) Local 30 on Jan. 31.
When the workers unanimously rejected Rio Tinto's last contract offer, the company called off contract negotiations and brought in replacement workers.
The ILWU says the company proposed to replace good paying full-time jobs with part-time temporary positions that provide little or no benefits. The package of company demands would make it impossible for working families to survive and would destroy hard won working conditions and rights.
"We're more determined than ever to stand up and see this thing through," workers declare on the local's web site, "Too many people in America are loosing good jobs and working harder, while big companies make billions. We're taking a stand in Boron, not just for ourselves and our communities, but for everyone in America who's fed up with corporate greed and a system that doesn't protect hard-working families."
Despite the global recession, Rio Tinto walked away with nearly $5 billion in profits in 2009, according to the union. After acquiring Alcan for $40 billion several years back, the company is now trying to climb out of debt on the backs of the workers in Boron and elsewhere.
Rio Tinto employees in Australia are facing similar takeaways. After years of abuses against the community and environment in Papua, New Guinea, the company is now being sued in U.S. federal court.
Photo: http://boraxminers.com/