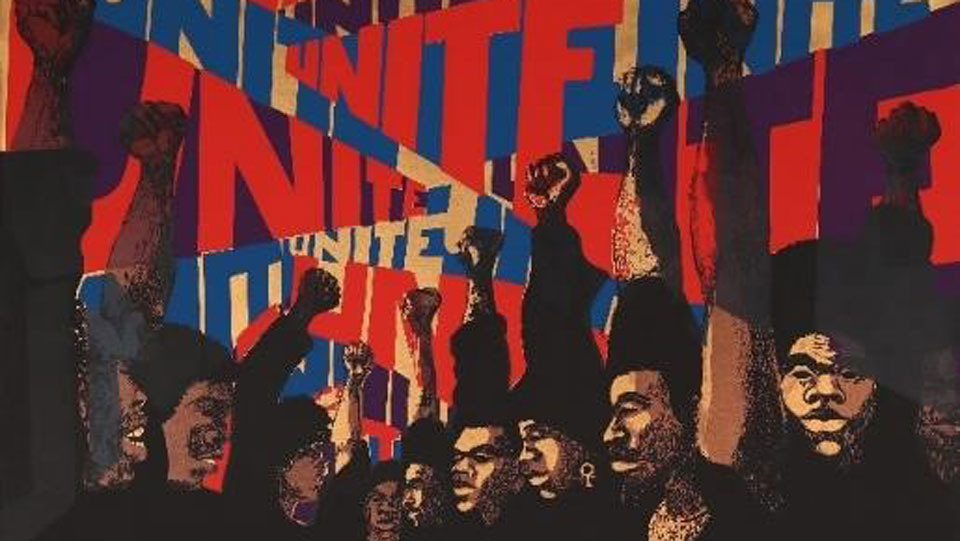 LOS ANGELES—Soul of a Nation: Art in the Age of Black Power 1963-1983 is a comprehensive, expansive, and some might consider exhaustive overview of the Black Power movement. The internationally acclaimed exhibition celebrates the work of more than 60 Black artists made over two revolutionary decades in American history, starting with the 1963 March on Washington for Jobs and Freedom. The end-date 1983 coincides with the Ronald Reagan era and a new phase of African-American consciousness.
The exhibition, spread throughout ten adjoining viewing rooms on the first floor, is housed at The Broad, a museum of contemporary art founded by philanthropists Eli and Edythe Broad on Grand Avenue in downtown Los Angeles. The building itself is a new three-year-old landmark for the city, designed by Diller Scofidio + Renfro in collaboration with Gensler. It stands right next door to the Frank Gehry-designed Walt Disney Concert Hall.
Soul of a Nation includes artistic expression in a wide variety of media: Paintings, sculptures, street photography, collage and assemblage, murals, video, newsprint and more. Each of the gallery rooms has a different theme, such as art in black and white (the principle of the Spiral group in New York), or the work of a specific art collective, abstract art, or prints. Well known artists (though perhaps not to every gallery visitor) Romare Bearden, Barkley Hendricks, Noah Purifoy, Martin Puryear, Faith Ringgold, Betye Saar, Alma Thomas, Charles White and William T. Williams are represented by significant pieces. Women artists are generously represented.
The Black Emergency Cultural Coalition is a good example of an arts group that formed in protest against racial exclusion. The sophisticated Metropolitan Museum of Art in New York City mounted a famous exhibition in 1969 called Harlem on My Mind, which incredibly enough failed to invite any African-American artists working there to show their art. That was a wake-up call to artists of color challenging the exclusively European esthetic guiding American museum practice.
Los Angeles-based artists appear throughout Soul of a Nation, and more deeply in three specific galleries, foregrounding the significant role of this city in the art and history of the civil rights movement and the subsequent activist era, and the critical influence and sustained originality of locally based artists, many of whom have lacked wider recognition.
The work of pioneering Los Angeles artist Betye Saar is explored in a gallery that recreates a portion of the artist's first survey exhibition in 1973 at California State University, Los Angeles. Another gallery examines the unique approaches to the graphic image by Charles White, David Hammons and Timothy Washington, remounting part of the Los Angeles County Museum of Art's (LACMA) 1971 exhibition Three Graphic Artists that featured them. That exhibition arose out of the activist efforts of the Black Arts Council, an organization founded in 1968 by Cecil Fergerson and Claude Book, who were Black art preparators who worked at LACMA, to advocate for African-American artists and to support their community.
The aftermath of the Watts Rebellion and its impact on the assemblage movement are explored in a gallery featuring the work of Melvin Edwards, Daniel LaRue Johnson, John Outterbridge, Purifoy, John T. Riddle, and Saar.
A substantive sampling of the work of the Black Panther Party's in-house artist Emory Douglas is part of the show. The exhibition does not shy away from indicating artists' embrace of nonviolent political theory and subsequent disillusionment on the part of some, reflected in imagery of revolutionary violence.
Images of Angela Davis, Malcolm X, and Martin Luther King Jr., as well as sports figures and cultural icons, are seen in several works. One of the few exceptions—perhaps the only one—to the general idea of showing work by Black artists is a wonderfully glowing 1977 portrait of a colorfully attired Faith Ringgold by white painter Alice Neel, who was well known in left-of-center art circles (she also painted portraits of several Communist Party leaders).
In a work such as Barkley L. Hendricks's self-portrait Icon for My Man Superman (Superman Never Saved Any Black People–Bobby Seale), from 1969, the artist riffs off popular art created by (and for?) whites by making himself, as the Black artist, the superhero painting himself into the role of savior of the world, not caring to wait indefinitely for an invitation to superhero status that might never come.
One artist, David Hammons, created Nap Tapestry entirely out of African-American hair.
There was serious discussion of the question whether or not abstract art could be a legitimate esthetic for Black artists. The exhibition does not attempt to answer that, of course, but a number of abstract works that are included, mostly from East Coast artists, will have to speak for themselves. Speaking surely for the representational side of the debate, Elizabeth Catlett said, "Art for me now must develop from a necessity within my people. It must answer a question or wake somebody up, or give a shove in the right direction—our liberation."
A good number of the works displayed at The Broad show a distinct African influence or references. Many of the artists traveled to and studied in Africa. The 1960s and '70s was a time when more and more African nations became independent and the struggle against apartheid in South Africa was raging.
Not all the work shown is owned by The Broad. The exhibition has borrowed work from other institutions, including the California African American Museum in Los Angeles and LACMA, and from private collectors.
Jazz, often cited as the only musical genre that was completely a product of the New World, was a musical voice of the Black Power movement, inspiring many visual artists to experiment by expanding the types of ideas that artworks could address, and by radically altering the form of artists' creations. Several of the artists in Soul of a Nation collaborated with free jazz musicians in "happening"-like performances that incorporated visual art, dance and music in a community setting.
Although not part of Soul of a Nation, The Broad's third-floor galleries also show a number of significant works by Black American artists, including Ellen Gallagher, Kara Walker, and Jean-Michel Basquiat that are not to be missed.
Like many earlier benefactors of the arts, such as the Church and the royal families of Europe, industrialists Andrew Carnegie and Henry Clay Frick, and more recently the Walton family of Walmart fame, philanthropists Eli and Edythe Broad amassed a fortune and financial empire. The Broad name is associated with Kaufman & Broad, or KB Home, developers since the 1950s of large-scale, middle-class suburban housing divisions. In 2005, at the zenith of the real estate boom, KB built close to 40,000 homes in tracts in various states across the country. The Broad name also appears on a performing arts hall in Santa Monica, an exhibition building at LACMA and a number of civic institutions. The Broads became major collectors of postwar and contemporary art with their largesse. Their purchases, in many cases, established or helped to solidify the reputations of any number of artists who might otherwise not have achieved renown.
This exhibition is organized by Tate Modern, London in collaboration with The Broad, Los Angeles, Crystal Bridges Museum of American Art, Bentonville, Arkansas, and Brooklyn Museum, New York, curated by Mark Godfrey and Zoe Whitley of the Tate Modern. The Broad presentation is curated by Sarah Loyer, associate curator and exhibitions manager.
In conjunction with Soul of a Nation The Broad has been sponsoring a number of multi-faceted programming events to round out the public's appreciation of the period and the artists. Coming up on Aug. 14 at 8:30 pm will be a Jazz Night featuring Anthony Braxton and choreographed interventions by dancers in the Soul of a Nation galleries and throughout the museum. Tickets are $25, available at thebroad.org/events.
Also in connection with the Broad exhibition is Time is Running Out of Time: Experimental Film and Video from the L.A. Rebellion and Today, on view through Sept. 14, 2019, at Art + Practice, 3401 W. 43rd Place, Leimert Park, Los Angeles 90008. Tickets are free. This exhibition presents early short works of Black filmmakers and video artists in Los Angeles in dialogue with works from following generations. Themes include the robust representation of communities, families and lineages and the complexities of identities informed by social and political realities. Curated by The Broad's Jheanelle Brown, programs manager, and Sarah Loyer, associate curator and exhibitions manager, the exhibition recognizes the vital work and deep influence of the L.A. Rebellion filmmakers, offering Los Angeles audiences a fuller understanding of the era addressed by Soul of a Nation. For more information, visit www.artandpractice.org.
The museum offers free general admission to its third-floor galleries showing highlights of the collection. Soul of a Nation, however, has a separate admission charge. Tickets can be purchased in advance on The Broad's website, and same-day standby tickets are also available for purchase onsite each day the museum is open. Tickets to the Soul of a Nation exhibition are $18 for adults, $12 for students (18+ with valid student ID), and free for children 17 and under. Exhibition tickets include same-day general admission access to The Broad's third floor galleries. The Broad offers free admission to Soul of a Nation every Thursday from 5-8 pm (last entry at 7 pm) through Sept. 1, 2019.
One odd feature of the exhibition is that a historical timeline, possibly 20 feet long, is strangely tucked away in a corridor on the second floor, which is mostly administrative offices. It can only be seen when you take the stairs between the first and third floors. Many visitors to Soul of a Nation would likely miss it. Why it was not installed in a more visible place is a mystery.
For more information on The Broad and to sign up for updates, please visit thebroad.org. Installation images, credited "Pablo Enriquez, courtesy The Broad," showing virtually the entire exhibition can be seen at this Dropbox link.